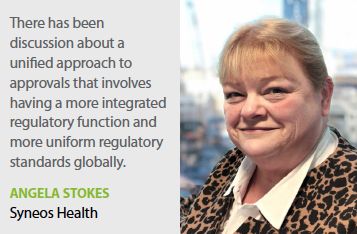 When it comes to pharmaceutical regulations, change is constant. Regulatory authorities have become more cautious with product approvals, there are increased demands for more comprehensive data, digital is creating new opportunities and challenges, and globalization of the industry means companies must navigate different requirements.
According to PwC, over the next decade the industry can expect a lot more centralization as well as changes in how products are approved. Among changes predicted are a common regulatory regime for all healthcare products and services;
potentially even a single global system administered by national and federal agencies; and a cumulative process to approval, with products getting licenses based on further real-life testing for safety and efficacy.
Regulatory uncertainty remains a huge concern for the industry. Globally, companies are having to gear up for many new developments, the demand for more data, and an increasingly patient-focused environment.
Among recent developments that are having a profound impact on the industry are:
Identification of Medicinal Products (IDMP), and the continued delays to implementation
The 21st Century Cures Act, which affects trial design and data collection, patient-centric drug development, drug manufacturing, and health information technology
The focus on real-world data from electronic health records and mobile devices
Health Authority Expectations
According to John Lawrie, VP of Veeva Vault RIM, Veeva Systems, the biggest regulatory change to hit companies over the last few years is IDMP and its continued postponement.
"IDMP preparations gained a lot of momentum in 2017, and despite the setback of an additional delay, many life-sciences companies are still moving forward their data initiatives,"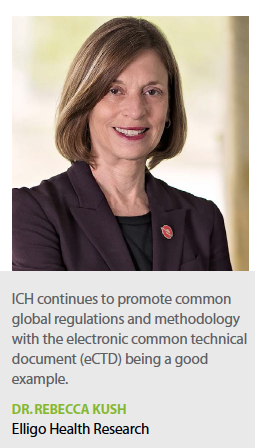 Mr. Lawrie says. "Additionally, the EMA continues to progress its IDMP by phasing-in a master-data management system to control terminology specific to substances, medicinal products, organizations, and referentials or product attributes (SPOR)."
Rebecca Kush, Ph.D., scientific innovation officer at Elligo Health Research says the U.S. Food and Drug Administration and the European Medicines Agency have published guidance documents on the use of eSource in clinical investigations, and a draft guidance has been developed by the FDA on the Use of Electronic Health Record Data in Clinical Investigations.
According to Angela Stokes, senior director, global regulatory consulting, Syneos Health, three major new pieces of EU legislation — the Clinical Trial Regulation (CTR), Medical Device Regulation (MDR) and in- vitro Diagnostic Regulation (IVDR) — bring both problems and opportunities.
"Some companies have been preparing for the CTR for years and yet it is still not implemented, mainly due to software issues," Ms. Stokes says. "The MDR and IVDR bring a different set of problems with companies having to change processes, gather more data and ultimately re-apply for their CE mark certification." (Editor's note: CE signifies that products sold in the European Economic Area have been assessed to meet high performance, safety, health, and environmental protection requirements.)
She says another directive causing concern is the new European General Data Protection Regulation (GDPR), since organizations violating the law are risking fines of 4% of annual revenue or €20 million EUR ($23.6 million), whichever is greater.
"This new law applies to most companies, regardless of where they are located, and requires companies to have a broad understanding of all the data they collect, including data collected in clinical studies, and to know how third parties that have been given access to the company's website use any data collected," she says. "In addition, the new legislation will make it necessary to obtain explicit consent from patients every time any information about them is used in any form of research."
"To complement the eCTD, the U.S. FDA and Japan's PMDA are now requiring that the data submitted be formatted using global clinical research data standards (CDISC)," Dr. Kush says, "not only for data common across clinical trials such as demographics, but also for specific therapeutic areas such as diabetes, virology, influenza, Ebola, and malaria."
In January 2017, the U.S. Department of Health and Human Services, along with 15 other federal agencies, published revisions to the Common Rule, the human subject regulations applicable to federally conducted or supported research, says Michele Russell-Einhorn, chief compliance officer at Advarra.
"These revisions include a requirement for the use of a single IRB for multi-site research as well as revisions to the informed consent process and the informed consent document," Ms. Russell-Einhorn says.
Although FDA-regulated research is not subject to the revised Common Rule, the 21st Century Cures Act requires the FDA and HHS, to the extent practicable, to harmonize the differences between the Common Rule and the FDA human subject regulations, she adds.
"We anticipate that the FDA will review and revise its human subject regulations to more closely align with the new Common Rule in a manner that should be positive for sponsors,"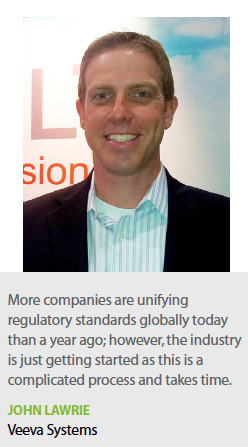 Ms. Russell-Einhorn says. "For example, the 21st Century Cures Act requires the FDA to allow single IRB review for device studies; changes the regulations currently requiring local IRB review of devices; and permits a waiver of consent for minimal risk research, which is not now allowed under the current FDA regulatory framework. It is likely the FDA will mandate a single IRB review for all multi-site research conducted within the United States."
Pushing Standardization
The 2014 PharmaVOICE article, Global Regulations Becoming More Uniform, looked at efforts to take more unified, harmonized approaches to regulations and product approvals.
Having global standards would deliver significant benefits for the industry, and there are growing efforts to harmonize.
But Ms. Stokes says it remains unclear to what extent a uniform approach is happening and what direction the current regulatory landscape will take.
"These discussions seem to have been going on for many years and progress is slow, however there is movement and we should embrace what has already happened," she says.
In Europe, regulations are being adopted that remove the ability for member states to implement laws in a different way to their neighboring country, which was often the case with directives, thus harmonizing EU markets.
Globally, some moves toward harmonization are evident in the introduction of parallel procedures for the FDA and European Medicines Agency EU EMA scientific/protocol advice and orphan drug procedures, the common technical document (CTD) and eCTD for licensing submissions, and expansion of the ICH.
"While the FDA and PDMA require data for eSubmissions, the EMA does not yet require individual patient data," Dr. Kush says. "However, EMA has been linking the fields in its clinical trial portal with CDISC study summary (protocol/registration) standards."
The International Council for Harmonisation (ICH) has been working toward greater regulatory harmonization worldwide. Today, the ICH has 15 members and 24 observers.
The recent submission by the China Food and Drug Administration (CFDA) for ICH membership — alongside the U.S., Europe, and Japan — is an important step in expanding the scope of ICH globally.
Dr. Kush says China has recently endorsed CDISC standards and encouraged their use.
"Recent movements by regulators to require a uniform set of global data standards is a welcoming step toward addressing disparate research, processes and requirements," she says.
In addition, Ms. Stokes says there appears to be closer collaborations between EMA, FDA, and PMDA with each body regularly having observers in each other's agency.
"This collaboration can only be good for global public health and it was very encouraging to see the global problem of antibacterial resistance being discussed at their meeting in Japan in October 2017," she says.
Industry Opportunity
While some see regulatory challenges as hurdles, others view them as opportunities, Ms. Stokes adding that beyond demonstrating that products meet quality, efficacy, and safety standards, companies wishing to sell in the EU and beyond must now prove their product has value for money.
"The increasing involvement of health technology assessment bodies has been seen as an extra hurdle to overcome and is clearly informing decisions on how drug development should proceed," she says.
Dr. Kush says companies can reduce study start-up time and decrease costs for product development by streamlining their processes and implementing data standards.
"A significant new opportunity lies in the recent harmonization of the FDA/NIH standard protocol with TransCelerate's Common Protocol Template," she says.
According to Mr. Lawrie, many pharma companies are now shifting from a decentralized model to a holistic, global regulatory operation that consolidates regulatory functions and regions in an integrated platform. Another trend is to submit product information directly as data.
"Today, most information is submitted in the form of documents, which is inefficient and impedes analysis. It also makes handling changes cumbersome," he says. "The next advance in submitting information as data would be replacing document-based Type IA variations with simple data updates.
"In preparation for these regulatory changes on the horizon, many companies are thinking about how they can manage both documents and data and ensure the two are in alignment without the extensive checking and cross-checking that is frequently done today," Mr. Lawrie adds.(PV)
~~~~~~~~~~~~~~~~~~~~~~~~~
The FDA's 2018 Regulatory Agenda
The U.S. Food and Drug Administration has outlined some of its initiatives aimed at modernizing its approach and improving efficiency, while upholding its gold standard for regulatory decision-making.
Advancing Drug Safety — FDA plans to issue several regulations on drug compounding to ensure the quality of products. An August 2018 proposed rule will establish minimum good manufacturing practice requirements for drugs compounded by outsourcing facilities.
Empowering Patients — The agency is working to help patients make more informed health decisions, including a rule to ensure patients have access to clear and understandable written information about their medications.
Greater Access — The FDA is look at ways to expand the scope of drug products that can be made available to patients without a prescription, including using digital technologies.
Harmonizing Global Standards — The FDA will update requirements for accepting foreign clinical data used to bring new medical devices to market, with the objective of harmonizing with standards for drug regulation.
Expanding Electronic — A new framework will let the agency and product developers take greater advantage of electronic submissions for devices and veterinary products.
Moving Away from the Past — Outdated inspection provisions for biologics and obsolete drug sterilization requirements will be removed.
Source: FDA.gov