Following the implementation of the Food and Drug Administration's  Breakthrough Therapy Designation in 2012, both the European Union's and Japan's regulatory agencies began the process of determining how to provide an expedited review for therapies for serious diseases with unmet needs. The results of these efforts included the European Medicines Agency's launch of the PRIME (PRIority MEdicines) program in March 2016 and the Ministry of Health, Labour and Welfare's (MHLW) "Strategy of Sakigake" in June 2014.
Industry experts say these programs are similar to the U.S. Breakthrough Designation with regard to providing an expedited regulatory pathway for medications that address serious conditions.
Through PRIME, the EMA offers early support to developers. It builds on existing regulatory tools, particularly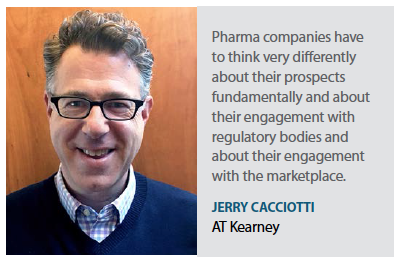 scientific advice and the accelerated assessment procedure. The PRIME concept seeks to address some of the bottlenecks that currently impact medicines development and access.
Japan's Sakigake aims to put in place a system to bring innovative medicines, medical devices, and regenerative medicines to patients in Japan. It provides a structure for Japan's Pharmaceuticals and Medical Devices Agency (PMDA) to review drugs for serious and life-threatening diseases.
These programs help cut, on average, at least two years off a new drug development time, explains Suchira Ghosh, a counsel at the law firm of Axinn Veltrop & Harkrider.
The programs, which enable scientific dialogues with regulators during development, are similar in principle, says Rob Kowalski, Pharm.D., global head of regulatory affairs at Novartis.
These programs are intended to help make drug development more efficient and reduce overall drug development time.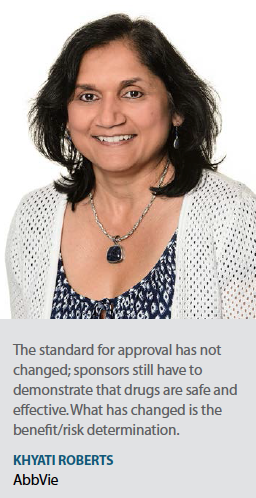 "They are focused on the pre-submission phase, increasing collaboration and consultations with the sponsors prior to submission of an actual dossier or submission," says Khyati Roberts, head U.S./Canada regulatory policy and intelligence, AbbVie.
These new regulatory pathways can help companies build global development plans, says Martha Carter, chief regulatory officer, Albireo Pharma.
"For example, a company may want to do a single pivotal trial or two pivotal trials but different regulators may want different data sets," she says.
"Getting alignment is difficult. One of the components of the PRIME program helps brings this in line with the way things work already with the U.S. FDA and with PMDA."
Ms. Carter adds these programs flag the products reviewers need to focus on.
"Regulators are drowning with submissions," she says. "This is a way to call out the drugs that are deserving of extra time and attention to make sure they get shepherded through the system, which is especially important for smaller companies that don't have the resources of a big pharma company. Some additional handholding along the way can be very valuable."
Ms. Roberts points out these programs don't change the standards for approval, but what changes is how the benefit/risk evaluation is done.
"If a medication shows a high benefit in earlier stages, there may be more acceptance of a bit more risk," she says. "Sponsors still have to do the required studies, but there may be postmarketing commitments to prove that the earlier data still hold up. This is about a benefit/risk decision."
The Japan and EU Programs
One difference in these programs is that whereas EU's PRIME and the U.S.'s Breakthrough Therapy designation have open windows for application, Japan's MHLW has specific windows of opportunity. So far, MHLW has made available two such windows: one from April to May 2015 and the other from October to November 2016. During the first timeframe there were 60 submissions, and six products were given the Sakigake designation.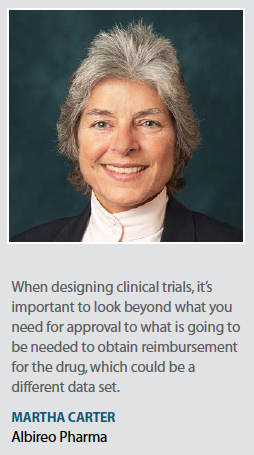 "The last window has just closed and we don't know when the next window will open," says Alberto Grignolo, Ph.D., corporate VP, global strategy, Parexel. "It's very time-limited and the Ministry of Health has not announced the next date."
Industry leaders say the closed window for applications was created so as not to overburden the staff of Japan's PMDA with too many Sakigake-designated products at the same time. Sakigake products require more resources by PMDA, faster consultations, and more attention.
"My understanding is that the MHLW together with the PMDA in Japan, is reviewing the applications and scheduling meetings with the applicants," Dr. Grignolo says. "These meetings are expected to end in January 2017, and the designations are expected to be announced more or less in March 2017."
Dr. Grignolo says Japan's regulatory authorities, like regulatory authorities in Europe and the United States, agree to review applications more rapidly under the Sakigake scheme, and companies are assigned a PMDA project manager to help them move through the process more quickly.
"The Japanese authorities have made a big point to note that every development program and marketing application is handled on a case-by-case basis," Dr. Grignolo says. "Every company needs to go in and make its case for sample size, design of the study, etc. The authorities then will decide one product at a time what is appropriate."
Dr. Kowalski says Novartis has in the past had programs where the lead market was Japan.
"If a product has a unique indication that was more prevalent in Japan, it would make sense," he says. "It would depend on how we sequence our dossiers."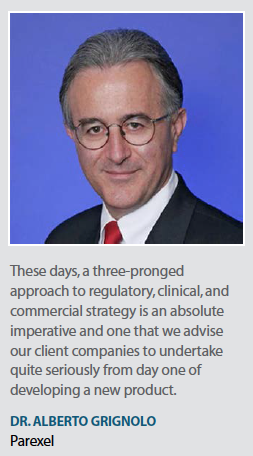 In March 2016, the EMA launched PRIME to focuse on medicines that may offer a major therapeutic advantage over existing treatments, or benefit patients with no treatment options. These medicines are considered priority medicines within the EU.
Through PRIME, EMA offers early, proactive, and enhanced support to sponsors to optimize the generation of robust data on a medicine's benefits and risks and enable accelerated assessment of applications. This will help patients benefit as early as possible from therapies that may significantly improve their quality of life.
With the PRIME program, companies would have a dedicated contact, or rapporteur, from the Committee for Medicinal Products for Human Use (CHMP) at the EMA. Additionally, there is a kickoff meeting with the rapporteur and relevant experts from the different EMA Scientific Committees and the working parties so that companies begin to have access and early dialogue about key development issues.
As of November 2016, 14 products have been given the PRIME designation.
The most recent product to be considered for the program is A4250, Albireo Pharma's candidate being developed for the treatment  of pediatric orphan liver diseases. The lead indication is progressive familial intrahepatic cholestasis (PFIC), a rare disorder that causes progressive, life-threatening liver disease. A4250 is currently being evaluated in a Phase II study in children with chronic cholestasis pruritus, intended to support a potentially pivotal Phase III trial in PFIC planned to be conducted in the United States and Europe.
Ms. Carter says the biggest advantage with PRIME is the appointment of a rapporteur who provides scientific guidance and advice on the development plan to companies during the development process.
"In the United States and in Japan, the filing of the IND and the clinical development plans are attached to the product through the marketing application," Ms. Carter says. "In Europe, this is not the case. There is no such thing as a centralized IND. In Europe, I've had the experience where the first introduction to the people who will be reviewing the application was at the pre-MAA submission meeting, which is very late in the game."
Another company that has received the PRIME designation is Novartis for CTL019, which received the designation in June 2016. CTL019 is a chimeric antigen receptor T cell (CAR-T) therapy in Phase II trials for children and young adults with relapsed/refractory acute lymphoblastic leukemia.
"It makes sense to have close collaboration and better access to regulators to talk about the development challenges whether they're technical or clinical," Dr. Kowalski says. "PRIME has adhered to its timelines and we're following normal procedures in terms of having good scientific interactions with the European regulators during the course of the process."
In July 2014, the FDA designated CTL019 as a Breakthrough Therapy for the treatment of pediatric and adult patients with r/r ALL. Dr. Kowalski reports that  CTL019 is nearing registration in the United States.
Because cell and gene therapies are novel, U.S. regulators are still developing the regulatory pathways for these therapies, which is why the FDA will grant Breakthrough Therapy designation even for products that are later in the development lifecycle.
"When we're dealing with new innovations not only are they medical breakthroughs, but oftentimes they're regulatory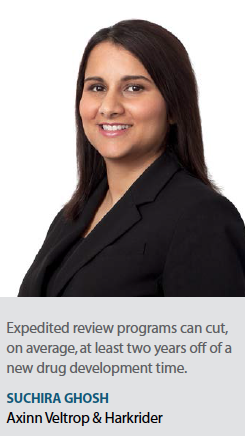 breakthroughs," Dr. Kowalski says. "When there is no regulatory path, together we, the company, and the regulator, and in some cases academia, have to create the regulatory path. Having these conversations during the drug development process and having better access to regulators can be very beneficial."
Dr. Kowalski says the company assesses every product in the Novartis portfolio to determine if the medicine is a candidate for either PRIME or Breakthrough Therapy or the Japanese Sakigake.
"When we are transitioning from early development to full development, somewhere in the early- to mid-Phase II timeframe, is when we make that assessment," he explains. "Our general philosophy is if we believe a product qualifies, we will make the application."
Impact on Pharma Development
Industry leaders say a sponsor that has early clinical data and appropriate nonclinical data might be in a position to apply for all three expedited programs, and this can help in global development planning.
But to take full advantage of these programs requires companies to be creative and to think outside of the box, Ms. Roberts says.
"Companies have to work collaboratively with the health authorities and obtain their advice early on," she says.
Jerry Cacciotti, partner in the health practice, AT Kearney, says expedited review programs require a more agile process flow.
"Companies will have to reengineer the organizations to make them much leaner and more agile," he says. "There are real organizational and process design implications for most innovator organizations. They have to think about managing risk to take a product fully to market."
Expedited review programs require a much more nimble, adaptable R&D process, because products will move into Phase III development very quickly. Accordingly, all of the support functions — regulatory, market access, marketing, and manufacturing — have to react very quickly.
"Organizations have to behave very differently in how they pursue development of their molecules under these accelerated pathways," Mr. Cacciotti says. "Throughout the clinical development program, the handoffs are much, much shorter, which can be a surprise to an organization accustomed to traditional molecule progression."
Additionally, Mr. Cacciotti says companies will need much deeper and broader engagement with regulatory agencies, because it's not simply a conversation about what is the standard for approval. As such, the nature of collaboration with the regulatory agencies will change.
With expedited review, in a sense, innovator companies will bring a product to market with less data initially, which is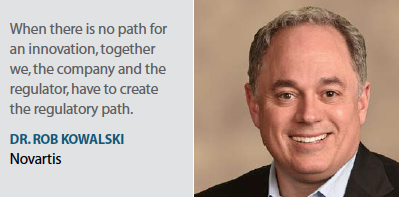 why Mr. Cacciotti believes there is a need for great collaboration with regulators in terms of how a product can and should be introduced to the market.
"Although there will be more data developed in subsequent clinical trials and in early clinical experience, we are in unproven territory," he says.
"Regulators will take on more of a sponsorship role to help to determine appropriate corridors for early commercial engagement when the profile of the product is still not completely proven and known."
Ms. Ghosh agrees that more collaboration is needed earlier in the process.
"We encourage our clients to talk to regulators early on, and even if they have a disappointing response from the agency we usually encourage them to reinitiate contact later, when and if there is additional data," she says.
Impact on the Commercial Side
Mr. Cacciotti says expedited review programs could strain the traditional promotional model.
"Commercial functions have to ready a launch program faster and far earlier in the development of a compound than most organizations are used to," he says. "Particularly when talking about biologics, the transition into clinical supply and commercially scaled-up manufacturing processes requires the organization to manage investment risk much more aggressively."
This will require transparency within the organization and alignment with all departments within the company.
Mr. Cacciotti says the nature of the relationship between innovator companies and the healthcare delivery system is likely to change as well, and medical affairs will likely be called in to support healthcare professionals in the absence of a "complete" Phase III data package.
"Lacking what we would consider a full clinical submission package at launch and with greater uncertainty about the profile of a product, the nature of the exchange with the marketplace will more heavily involve medical resources," he says. "This creates huge demands on the organizations to scale differently, with more focus on medical affairs as opposed to traditional salesforce-driven launch activities where the messages are set and constrained. Pharma companies have to think very differently about their prospects and their engagement with the regulatory bodies and with the marketplace."
There's no doubt, industry leaders say, that there will be greater scrutiny on product pricing and market access.
Payers, Ms. Carter says, may not be satisfied with data from expedited programs, and they could start to put barriers in the way of reimbursing for the drug.
"I have learned when designing clinical trials, it's important to look beyond what is needed for approval to what is going to be needed to get reimbursement for the drug, which could be a different data set," she says. "If companies are not designing studies that their marketing people can use to sell the drug when it gets to the market or receive reimbursement, they will be at a disadvantage."
But she points out that it's not always easy to design a perfect study that's going to satisfy regulators and payers, and contingency plans are important.
"You don't want to put all the effort, time, and money into developing a drug and then to find out that you don't have the right tools in place when it's time to launch and successfully get the medicine to patients," she says.
Dr. Grignolo says he could see how some payers may be resistant to paying for a drug that is approved through one of the expedited review mechanisms.
He says three types of strategies must be developed from the start of drug development. One is a regulatory strategy to achieve regulatory approval.
The second is a clinical development strategy to craft the right development plan. And the third is the commercial strategy that considers what is needed for a new product to be put on formulary and receive reimbursement.
"These days, the three-pronged regulatory, clinical, and commercial strategy is an absolute imperative and one that we advise our companies to undertake quite seriously from day one of developing a new product," Dr. Grignolo says.
Mr. Cacciotti says the marketplace is ready for new therapies, at the same time there is greater scrutiny.
"Healthcare professionals are looking for higher standards of evidence as they adopt new therapies into the treatment pathway," he says. "Patient advocacy groups are typically on the side of originators and bringing these therapies rapidly through to the marketplace. The physician community also is eager to get these new therapies into clinical practice. But everybody is looking for more data and more evidence, these innovative therapies are going to come to market with less data, albeit in the right spaces for the market."(PV)