Digital Health Initiatives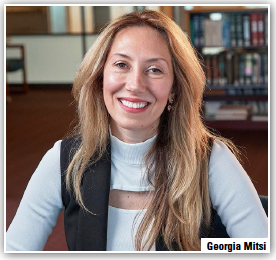 Georgia Mitsi, Senior Director, Search Evaluation & Digital Health Care Initiatives, at Sunovion Pharmaceuticals, discusses the company's digital health efforts.
PV: What is the driving force behind the many digital health initiatives at Sunovion?
Mitsi: Sunovion's intent is to continue to access digital technologies designed first and foremost to help patients. At Sunovion, patients are at the center of everything we do, and we believe that digital technologies should have a patient-centric focus.
PV: What do these projects demonstrate in terms of what the health technology future holds for pharma?
Mitsi: We are assessing various areas important to the future of health technology, including wearables and other smart devices, digiceuticals (Software as a Therapy), artificial intelligence, and other advanced analytics for population health management.
These are key areas for the pharmaceutical industry to continue to explore as digital innovation provides an excellent opportunity to connect on a different level and in new ways with key stakeholders, including patients, physicians, and payers.
PV: What is the long-range relevance of some of the projects you are experimenting with?

Mitsi: Sunovion has a growing role in integrating digital health technologies into our solutions and advancing our future contributions to society. Ultimately, we expect our digital solutions to help contribute toward the goal of significantly empowering patients to better manage their symptoms and improve quality of life especially for those who are living with chronic medical conditions.
Additionally, we are supporting public-private partnerships designed to accelerate digital healthcare solutions.
PV: What more do you expect your company to be doing five or more years from now regarding healthcare technology?
Mitsi: Because of Sunovion's therapeutic area focus, technology can become a great opportunity to provide beyond-the-pill solutions to our patients.
We expect to remain focused on applying evolving digital healthcare technologies to improve patients' healthcare experience for those living with serious medical conditions, including respiratory, neurological, and psychiatric conditions.
PV: What other conditions or diseases might see a rise in smart devices, technologies, and sensors?
Mitsi: We see opportunities for smart devices, monitoring, and sensor technologies in psychiatric and neurological conditions. For example, we are using Embrace, a scientifically validated wearable, in a Phase IV trial with our therapy Aptiom, which addresses partial onset seizures. The wearable is collecting objective data, which is based on electrodermal activity. It measures temperature and skin conductance. We pair it with a mobile app that acts as an online diary — combining objective data with patient-reported data.
PV: Who will be the biggest drivers for healthtech: patients, pharma, or payers?
Mitsi: Throughout the entire value chain, from clinical research to everyday care, all stakeholders — from patients to payers to providers — are striving to drive better outcomes, create greater efficiencies and provide more personalized and targeted solutions. This is a great opportunity for companies that can help bring transformational change to healthcare. Additionally, healthcare consumers are embracing technology more and more, which is actually helping to advance areas focused on patient-reported outcomes.
PV: What will it take for healthcare technology to be impactful?
Mitsi: For digital healthcare technology to be impactful, all stakeholders could benefit from successful partnerships between tech and pharma companies and sharing lessons between these two different sectors. The relationship should be a symbiosis between two partners focused on a common goal, sharing the same values and complementing each other. It needs to be an ongoing effort and a long-term commitment.(PV)
SmartCube Technology
Sunovion and PsychoGenics entered into a research collaboration to use PsychoGenics' SmartCube technology to develop proprietary compounds for psychiatric disorders.
SmartCube is a platform that provides a sequence of challenges to a mouse, extracts more than 2,000 features during a session and using proprietary bioinformatics to detect the potential of compounds to treat psychiatric disorders in an unbiased way by comparing their complex behavioral profiles with those from a proprietary reference database.
With SmartCube, changes are frequently detected much earlier than using standard behavioral tests and it allows assessment of investigational compounds on their ability to reverse critical features of a disease model prior to the stage when clinical signs fully develop and become irreversible.
SmartCube uses computer vision algorithms and bioinformatics to eliminate human intervention and subjectivity and tests tens of thousands of compounds for CNS activity in a year. It collects thousands of features and proprietary bioinformatics algorithms that are employed to detect drug effect or subtle phenotypic differences associated with a disease model.
The collaboration identified SEP-363856, which is in Phase II program for the treatment of patients with schizophrenia or Parkinson's disease pyschosis.