The Next-Generation Artificial Lung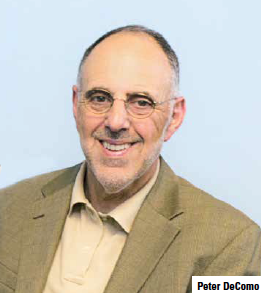 Patients with acute respiratory failure have a new treatment option beyond ventilation. ALung Technologies has developed a next-generation device that could minimize or even replace mechanical ventilation. It is a simple, minimally invasive device that could be a new standard in the treatment of respiratory failure and CO2 retention.
Although not approved yet in the United States, Hemolung Respiratory Assist System (RAS), developed by ALung Technologies, is a dialysis-like device that removes carbon dioxide and delivers oxygen directly to the blood through a process called respiratory dialysis.
The device is available in 31 countries outside the United States — including 19 countries in Europe, Canada, Australia, countries in the Middle East, Asia Pacific, and Latin America — for up to seven days use for patients with acute respiratory distress syndrome (ARDS) and acute exacerbation of chronic obstructive pulmonary disease (COPD).
"We liken our product to kidney dialysis, and call it respiratory dialysis," Mr. DeComo says. "We use that term to differentiate it from what has been around for many years, called extracorporeal membrane oxygenation (ECMO), which can be an invasive and harsh therapy because it uses large catheters and has a very high blood flow rate out of the body and back into the body."
Mr. DeComo says ECMO is used primarily for patients who have significant problems with oxygenation.
But often, Mr. DeComo says, the problem is excess carbon dioxide. In some cases, the body is unable to remove the carbon dioxide from the blood. That is where ALung's Hemolung RAS comes in.
"The Hemolung RAS is designed to be much less invasive than ECMO," he says. "We use one small catheter. It goes into either the jugular or the femoral vein. It's a dual lumen catheter; blood is taken and returned from the same vein. Because of the low blood flow, it's a very gentle procedure."
Additionally, use of the Hemolung RAS can help COPD patients avoid intubation and mechanical ventilation, which means patients can remain mobile.
For patients with acute respiratory distress syndrome, the Hemolung RAS can reduce the time spent on mechanical ventilation, improve spontaneous breathing, and facilitate lung protection as measured by the reduction of pulmonary cytokines.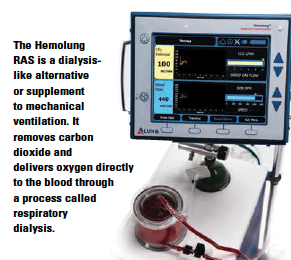 The Hemolung RAS was developed at the University of Pittsburgh Medical Center McGowan Institute for Regenerative Medicine. Development of the Hemolung RAS began more than 10 years ago in the laboratory of Dr. William Federspiel, W.K. Whiteford Professor of Bioengineering, Chemical Engineering, and Critical Care Medicine at the University of Pittsburgh and co-founder of ALung Technologies. Dr. Federspiel continues to develop new technologies in his medical devices laboratory at the university.
The Hemolung RAS is composed of three devices — the Hemolung Cartridge, the Hemolung Catheter, and the Hemolung Controller — that together provide an integrated extracorporeal CO2 removal system.
"The controller has been designed from the ground up to be a very comprehensive device," Mr. DeComo says. "Most devices are off-the-shelf components put together to try to do what we do. Sometimes this is like putting a square peg in a round hole. They do the job, but they are not as comprehensive and simple to use as our device."
Additionally, the Hemolung RAS uses an integrated pump oxygenator.
"What that means is that there is a central spinning core within the fiber membrane that creates a gentle action of mixing the blood," Mr. DeComo says. "This mixing creates a very efficient CO2  transfer across the membrane."
Mr. DeComo says the company is working with the Food and Drug Administration to develop a protocol for trials in the United States, which would include about 500 patients to be enrolled in 20 to 30 sites.
The company plans to submit an investigational device exemption application to the FDA for U.S. trials in patients with acute exacerbation of COPD sometime in 2015, with a trial possibly starting in 2016, Mr. DeComo says.
Because the FDA has not previously approved any device like the Hemolung RAS the company is required to obtain a premarket approval (PMA) instead of the 510(k) approval process under which many of the devices used for traditional ECMO have been approved.
In February 2014, the first patient in the United States was treated with the Hemolung RAS through the FDA's emergency use rules, which permits physicians to use unapproved medical devices in life-threatening situations where there is no suitable alternative. Jon Sacker, a man from Oklahoma with cystic fibrosis, was referred to UPMC for re-transplant following failure of his lungs due to a viral infection. But when his carbon dioxide levels spiked, he became too sick to be immediately relisted for transplant. He was also too sick for ECMO.
The Hemolung RAS effectively removed carbon dioxide from Mr. Sacker's blood, allowing him to be more safely ventilated and giving him a chance to gain enough strength to undergo a double lung transplant in March 2014.
Additionally, ALung continued to invest throughout 2014 in a variety of clinical programs, including a key investigator-initiated study using the Hemolung RAS in moderate ARDS patients to support ultraprotective ventilation strategies. This particular study enrolled 15 patients at four leading European hospitals.
In 2014, ALung experienced significant year over year growth, with use of the Hemolung RAS increasing three-fold compared with 2013. ALung also experienced strong increases in new customer acquisition, with more than 75 hospitals in 19 countries having now treated patients with the Hemolung RAS since its mid-2013 launch. (PV)