The clinical trial horizon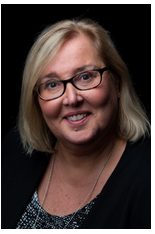 The rise of decentralized clinical trials, otherwise known as DCTs, is the hottest topic in the clinical research arena at the moment, and appropriately so. The global pandemic exposed significant cracks in the structure of how clinical trials have been conducted for decades. As we start to embrace the beginning of the end of the first phase of life after the pandemic, there is hope for a better tomorrow for patients, clinical research sites, and sponsors. There are definite win-win-win possibilities.
With increasing buy-in around virtual or hybrid trials, there are opportunities to streamline the entire drug development process from patient recruitment to database lock. Most experts agree that a fully virtual experience is not appropriate for every trial or every indication; at the same time all of the experts we have spoken to over the past 14 to 15 months do believe there is an opportunity to include a tech-enabled solution to every trial that will deliver improved efficiency, a reduced timeline, or a better ROI. In this month's Showcase Feature on Clinical Trial Solutions, industry experts explore the opportunities of DCTs as well as other major trends impacting clinical research, such as AI, wearables, and enhanced patient engagement.
Another added benefit of the DCT evolution is the ability to reach more diverse patient subpopulations, many of which have been woefully underserved either because of geography, economic standing, or cultural influences. Hopefully, DCTs will be able to address many of the health inequities that were illuminated during the pandemic. Already we are seeing the industry make strides in this direction. In one of this month's feature articles, we just scratch the surface of the health inequity issues that disproportionately impact at-risk populations based on social and economic conditions and their effects on people's lives, which are clear determinants of their risk of illness and the actions taken to prevent them becoming ill or to treat illness when it occurs.
Another clinical trend we are tracking is the momentum around personalized medicine. While there is still a good deal of work to be done, in this month's cover story we explore the advances in big-data analytics that are increasingly being employed to extract targeted information with the potential to drive life-sciences research and clinical practice closer to the goal of personalized and precise medicine.
As we look forward to our second virtual DIA experience, these are just a few of the trends that we will continue to track. We are excited to launch a series of initiatives around this annual meeting with our Countdown to DIA, which kicks off Monday, June 21 with a virtual Super Panel: A Tech-Enabled Clinical Future featuring a dozen industry experts. We are honored to donate each $25 registration fee to Girls Who Code, a national nonprofit organization working to close the gender gap in technology. We hope you are able to join us for an engaging 90 minutes and do some good at the same time.
Taren Grom, Editor
~~~~~~~~~~~~~~~~~~~~~~~~~

Their word…
Robin Robinson
Senior Editor
To reach the up- and-coming Gen Z generation, pharma needs to promote a positive purpose and strong values, and use digital channels.
Kim Ribbink
Senior Editor
Addressing health disparities requires dismantling systems of oppression and engaging marginalized communities in trusted, meaningful ways.
Carolyn Gretton
Features Editor
The lightning-swift advances in data collection have led to both breakthroughs and challenges in analyzing and interpreting this information for use in personalized and precision medicine.
~~~~~~~~~~~~~~~~~~~~~~~~~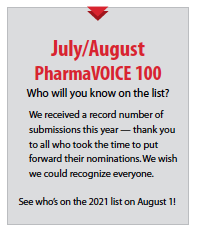 July/August
PharmaVOICE 100
Who will you know on the list?
We received a record number of submissions this year — thank you to all who took the time to put forward their nominations. We wish we could recognize everyone.
See who's on the 2021 list on August 1!
~~~~~~~~~~~~~~~~~~~~~~~~~
Masthead
The forum for the industry executive
Volume 21 • Number 6
Publisher Lisa Banket
Editor Taren Grom
Creative Director Marah Walsh
Senior Editors
Robin Robinson
Kim Ribbink
Features Editor
Carolyn Gretton
Design Associate
Ariel Medel
National Account Manager
Suzanne Besse
National Account Representative
Amy Bishop
Webcast Network Producer
Daniel Limbach
Circulation Assistant
Kathy Deiuliis
Copyright 2021
by PharmaLinx LLC, Titusville, NJ
Printed in the U.S.A.
Volume Twenty One, Number Six
PharmaVoice (ISSN: 1932961X) is published monthly except joint issues in July/Aug. and Nov./Dec., by ­Pharma­­Linx LLC, P.O. Box 327, Titusville, NJ 08560. ­Periodicals postage paid at Titusville, NJ 08560 and additional mailing offices.
Postmaster: Send address changes to PharmaVOICE, P.O. Box 292345, Kettering, OH 45429-0345.
PharmaVoice Coverage and Distribution:
Domestic subscriptions are available at $190 for one year (10 issues). Foreign subscriptions: 10 issues US$360. Contact PharmaVoice at P.O. Box 327, Titusville, NJ 08560. Call us at 609.730.0196 or FAX your order to 609.730.0197.
Contributions: PharmaVoice is not responsible for unsolicited contributions of any type. Unless otherwise agreed in writing, PharmaVoice retains all rights on material published in PharmaVoice for a period of six months after publication and reprint rights after that period expires. E-mail: [email protected].
Change of address: Please allow six weeks for a change of address. Send your new address along with your subscription label to PharmaVoice, P.O. Box 292345, Kettering, OH 45429-0345. Call us at 800.607.4410 or FAX your change to 937.890.0221. E-mail: [email protected].
Important notice: The post office will not forward copies of this magazine. PharmaVoice is not responsible for replacing undelivered copies due to lack of or late notification of address change.
Advertising in PharmaVoice: To advertise in Pharma­­Voice please contact our Advertising ­Department at P.O. Box 327, Titusville, NJ 08560, or ­telephone us at 609.730.0196. E-mail: [email protected].
Letters …
Send your letters to [email protected]­voice.com. Please include your name, title, company, and business phone number. Letters chosen for publication may be edited for length and clarity. All submissions become the property of PharmaLinx LLC.