"I realized that if I was willing to step up and be in the spotlight, I'd be able to make everyone else around me much more powerful as well."
– Alaina Percival, CEO, Women Who Code
Welcome to our second annual Woman of Influence feature. We are excited to continue our coverage of the women throughout the life-sciences industry who are changing the status quo and providing inspired leadership to their teams, companies, and the industry at large.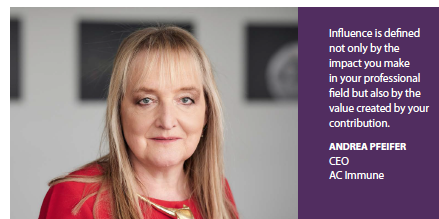 We asked these leaders to define their view of influence, discuss the traits that make a leader influential, and outline how they are influencing their organizations.
For additional inspiring stories, we encourage you to visit our WoW podcast series and if you were unable to attend our first-ever WoW virtual panel, please visit PharmaVOICE.com to download dynamic panels featuring amazing leaders who are powering change in the boardroom, R&D activities, and commercial enterprises.
Defining Influence
Jennifer Byrne. Javara Inc. I define influence as the ability to bring life to something in a thoughtful and intentional way — a new idea, innovation, product, partnership, team — that might not necessarily be obvious or expected but has staying power with genuine authenticity. The greatest influence happens when those around you adopt the idea or concept as their own, become an advocate and rally others to champion as well.
Dr. Pearl Huang. Cygnal Therapeutics. Influence is the ability to help others understand how they can uniquely contribute to teams and organizations, for example, perhaps by seeing things in a different way than before, and then also inspire them to want to act on their new insights about themselves and the problems we need to solve.
Andrea Pfeifer. AC Immune. Influence is defined not only by the impact you make in your professional field but also by the value created by your contribution. For example, my vision of a treatment or prevention for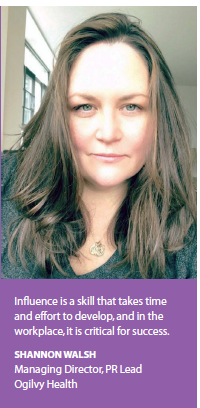 Alzheimer's disease has global influence as it addresses major social, health, lifestyle and economic issues. Thus, a key dimension of influence is its scope.
Anshal Purohit. Purohit Navigation. Defining what makes up influential leadership is difficult — it relies on a combination of many tangible and intangible qualities. Communication, compassion, drive, and consistency are all key traits that make up an influential leader, but ultimately, I believe that true influence is measured by the willingness of one's team to follow, and further their ability to lead.
Laurie Stelzer. Arena Pharmaceuticals. I like to think that influence is when your actions inspire and motivate those around you. In an organization, true influence should not be confused with authority but used to lead others to find their own greatness. This is when influence is the most powerful.
Amanda Powers Han. Greater Than One. Influence is the ability to inspire those around you to be their very best, to create the environment for greatness. Influence can be subtle or overt, grand or small. It is continuous and lasting. When done successfully, influence is one of the most rewarding currencies of leadership.
Donna LaVoie. LaVoieHealthScience. Influence comes in many forms. It's about starting with a trust and a relationship that goes beyond a Zoom call. It is also about having a perspective and experience which others appreciate and using your influence in a productive way to shape behavior in a positive way.
Marcy Graham. Poseida Therapeutics. Influence is the ability to drive meaningful change, or to persuade others to make change by motivating them through example and engagement.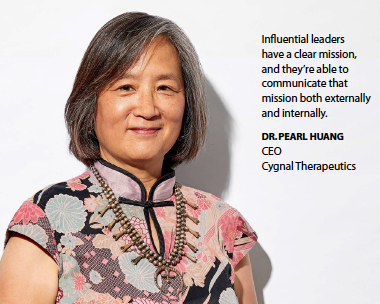 Meghan Oates-Zalesky. Apollo Intelligence. Influence is the ability to shape or sway the direction, inclinations, or spirit of a person, group, movement, or idea. Influence occurs when there is an authentic connection made between the influencer and his or her audience. To make this connection, the influencer needs to be perceived as credible at some level to his or her audience and be able to inspire trust.
Shannon Walsh. Ogilvy Health. Influence is a skill that takes time and effort to develop, and in the workplace, it is critical for success. At its core, influence is the ability to shape the opinions of others without force, but rather through relevance, proof, and belief. It doesn't matter what level you are; influence is about being a leader and having the respect of your colleagues, which is one of the most important factors of success and impact.
Laura Blair. ConnectiveRx. Influence is being respected enough so people will listen to what you share and truly value your opinion. Influence can be positive or negative. My goal is to have a positive influence, which produces better outcomes, relationships, and overall satisfaction of both internal and external partnerships.
Lisa Gulledge. Ogilvy Health. Having influence means that what you do or say has an impact on the behaviors, attitudes, and opinions of others.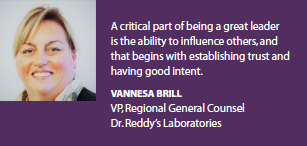 Vanessa Brill. Dr. Reddy's Laboratories. Influence is how one person moves another person to a desired action or outcome. A critical part of being a great leader is the ability to influence others, and that begins with establishing trust and having good intent. The most effective influencers utilize a win-win versus win-lose approach. You must understand the other person's needs and concerns, and address them, if you are going to influence that person in a productive — versus coercive — way. When discussing leadership styles with others, the issue of influence vs. manipulation is a common topic. More specifically, "is it not being manipulative to adjust your leadership style to the person with whom you are interacting for that situation?" In response, I distinguish influence from manipulation by going back to the fundamental of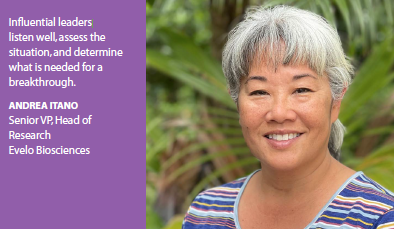 good intent. Of course, you are trying to get the other person to agree with what you want, but how you accomplish this goal matters. If you are listening to them, and are open to compromise to address their needs and concerns as well as yours, that will lead to positive outcomes on both sides.
Andrea Itano. Evelo Biosciences. In a narrow sense, influence is the ability to get others to adopt or incorporate our ideas or way of doing things. In the broader sense, influence can be an indirect effect that starts with subtle movements like the wind blowing small ripples on the ocean, causing them to build naturally into larger waves. Influence is about aligning thoughts to a vision, or even changing the vision itself.
Anne Quinn Young. MMRF. Influential leaders must embody and exude both passion and compassion, enthusiasm and energy, curiosity, and a collaborative spirit. The most positive and effective influencers are steadfast, yet able to adapt or pivot when needed without losing sight of their organization's purpose and goals. They listen, encourage, and most importantly, act thoughtfully and decisively to foster the momentum necessary for growth and success. Since Kathy Giusti founded the MMRF in 1998, and over the course of my 18 years at the organization, we have been unwavering and laser-focused on extending patient lives and driving toward cures. We are an organization of influencers bolstering, supporting, and driving each other as a team. As brand president, the greatest contribution I can make is to act and lead in a way that epitomizes our values, culture, and mission.
Ronda Dean. Afaxys. Influence is about community and about having the greatest possible positive impact on those with whom you live and work. It means using your experience and position to empower others, creating opportunities that otherwise would not exist. Our influence at Afaxys is focused on ensuring all patients can access the sexual and reproductive healthcare they need, no matter their background or socioeconomic status. We believe access to reproductive healthcare should be a right, not a privilege.
Leading Through Influence
Laurie Stelzer. Arena Pharmaceuticals. To be an influential leader, it is important to be authentic and transparent. These are the keys to building trust within an organization, establishing honest relationships with team members, and becoming a leader who others will follow. Additionally, influential leaders keep their teams focused on the long-term objectives, ensuring strategies and actions are aligned to meet these objectives. From a talent development perspective, influential leaders acknowledge and embrace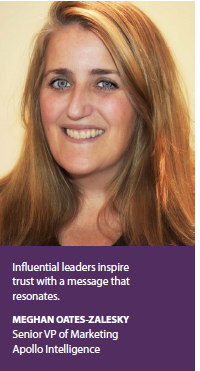 the unique strengths and character of each person, while inspiring them to become the best version of themselves.
Andrea Pfeifer. AC Immune. An influential leader must be recognized in his/her field across its geographic scope. This is a platform that demands networking skills, contacts in many domains, vision, excellent communication and negotiation skills, good decision-making, and persistence. Leading by example, an influential leader will bring together the right people, at the right time and generate the positive energy and direction that drive his/her team to success.
Meghan Oates-Zalesky. Apollo Intelligence. Influential leaders have presence. Their followers give them that presence and they follow because they trust their leader. Influential leaders inspire trust with a message that resonates — a tone that rings true. In this respect, these influential leaders are perceived as credible and authentic by those who follow them.
Donna LaVoie. LaVoieHealthScience. Influence as a leader allows you to share your thinking, experience, and perspectives with confidence. Influence is a power that should be harnessed positively so that everyone wins. Leaders need to becareful to not abuse the power of influence in the wrong way. It needs to be a win-win for all.
Marcy Graham. Poseida Therapeutics. Anyone can be an influential leader, regardless of rank or title. Influence starts when you give — and get — respect and support. Influential leaders have a humble confidence, innovative thinking, and the ability to understand different points of view. Influence requires credibility, conviction, and charisma. It also takes the courage to embrace new ideas, spark action, and inspire others.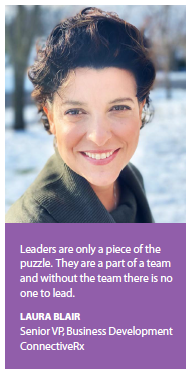 Laura Blair. ConnectiveRx. Being an influential leader is knowing your stuff, having confidence in your abilities, and being genuine. If you are confident you will not be afraid to ask questions, admit when you still don't get it, and not be afraid to defer to an expert and then truly listen. Leaders are only a piece of the puzzle. They are a part of a team and without the team there is no one to lead. I say trust your instincts as they have been developed through your experiences.
Shannon Walsh. Ogilvy Health. Being an influential leader begins with making a commitment to honing your skills, to staying curious, to keep learning, and to investing in your own abilities. There are several traits that come to mind when I think of an influential leader: one is having demonstrated ability — showing instead of telling; another is demonstrating ideas through real examples; a third is being personable. Influential leaders also are deft at building relationships and cultivating a team through kindness and attention; being integrous — doing the right thing when it may be the harder thing to do; listening to others and acknowledging opinions and letting people know that you value them; and being trustworthy, open, and honest, and stating opinions, disclosing trepidations.
Amanda Powers Han. Greater Than One. An influential leader is self-aware, confident, inclusive, and an excellent listener. By understanding oneself, a leader is capable of understanding those around them and how to create influence from all points of view. Confidence and inclusiveness allow for the great and delicate balance between inspiration and the openness that leads to the best ideas. And active listening is the only way to ask thought-provoking questions and to connect authentically.
Andrea Itano. Evelo Biosciences. Influential leaders listen well, assess the situation, and determine what is needed for a breakthrough. For example, an influential leader may take a contrarian stance if the team is starting to suffer from group think or are agreeing too quickly. Or perhaps she will pose the provocative questions in order to push the team to consider more unusual possibilities. Or sometimes, the influential leader will just create space to allow quieter voices to be heard.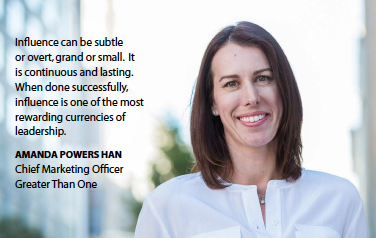 Dr. Pearl Huang. Cygnal Therapeutics. Influential leaders have a clear mission, and they're able to communicate that mission both externally and internally. They're willing to take their organization directly into the company's mission, even when the decision is controversial or difficult.
Ronda Dean. Afaxys. To be influential, I believe leaders must first be good listeners and then focus on executing the opportunities that will have the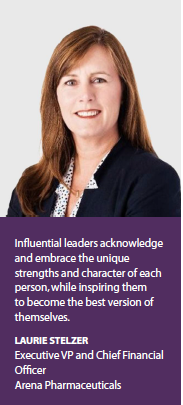 greatest impact. Ignoring distractions has enabled us to grow Afaxys from a startup to the No.1 provider of oral and emergency contraceptives to clinics in the U.S. community health sector. Staying focused on the community health providers we serve — and the patients they care for — helps me keep that perspective.
Exerting Influence
Jennifer Byrne. Javara Inc. Involvement is key, with consistent engagement across the organization, or you could say I remain involved and engaged across the organization. I seek to understand new perspectives, own and acknowledge both our successes and challenges, while creating a climate and culture whereby we are better and stronger together. The whole is always far greater than the sum of its parts.
Donna LaVoie. LaVoieHealthScience. Communicating my intentions and vision are shared in our organization at LaVoieHealthScience through one-on-one contact and reinforced in written communications. Leading by example and walking the talk are key.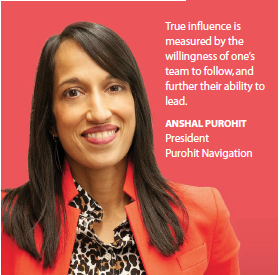 Laura Blair. ConnectiveRx. I don't think I exert influence. I'm just Laura. I have been very successful in business development and have a lot of experience. I am comfortable questioning what doesn't make sense and I will tell you when a reply doesn't work. I try to compliment as much as I question. If I like the answer, you will know and if I don't, you will know. Levels in my mind are only naming conventions for jobs so I don't change my approach based upon who I am dealing with.
Anshal Purohit. Purohit Navigation. Leading with purpose is the first and foremost way that I feel I exert influence at Purohit Navigation. I try to model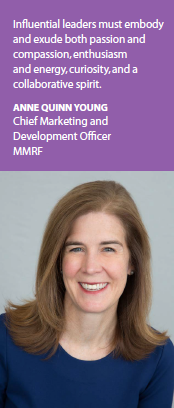 this behavior, as well as expect it in our teams, and I truly believe that the resulting collective passion for what we do is what drives our teams to go the extra mile, and to collaborate so well in order to produce their very best, each and every day.
Lisa Gulledge. Ogilvy Health. I've always been a doer — someone who doesn't just talk the talk, but also walks the walk. Given today's cynical environment, it's important for team members to know that the leaders they look up to will actually follow through. I also try to exert influence by setting clear goals, motivating staff to meet team and individual goals, listening, and demonstrating open and transparent communication, as well as encouraging myself and others to constantly stretch and learn. (PV)