In the high-demand, high-service, high-stakes advertising and communications sector of the life-sciences industry, agency executives consistently juggle myriad client priorities, business pressures, and channel opportunities, all the while keeping the creative juices flowing.
Some of the industry's top strategists and creative talents join this month's
Agency Roundtable to raise their voices on what's hot and what's not.
What are some of the new demands facing your agency that you didn't have to worry about five years ago?
Moss. QBFox Healthcomm.
Five years? I'm going to stay a bit more current and keep the demands to the past 18 months. A certain global virus in 1Q 2020 changed everything for us as businesspeople and human beings. Isolation and distance, well beyond 6 feet, changed our physical relationships. How will we keep people connected and get the work done? What will this do
to an agency culture? Will clients see an agency as a cohesive unit that they can engage with? Will we continue to define what an agency is in the same way we've always done? And should we anyway? And how will we help a staff balance work with home and kids and dogs and doctors and Zoom mute buttons?
But even keeping this within 18 months, there's more than a pandemic to deal with. There are ever-expanding expectations for social media interaction. There's market/information saturation for audiences. There's AI making inroads, and more — much more.
Of course, seeing change as worry serves nothing. Worry must be flipped on its head to embrace evolution.
Johnson. Ogilvy Health.
It's a simple truth: we live in remarkable, rapidly changing times and the best agencies and businesses need to adapt to thrive. We've accomplished extraordinary things in the last 18 months as the world moved entire workforces to remote work. As we look forward amid the pandemic's unpredictability and how it has impacted the ways in which we work now and want to continue working in the future, this is obviously new territory for all agency leaders.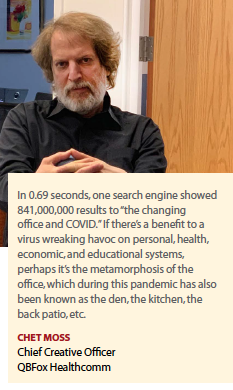 To cultivate the creative and entrepreneurial environments that allow our staff to do their best work has always been a strong pursuit. An agency culture is a team sport, and there has been an increasing demand to ensure we offer our teams the best experiences for professional growth and creativity, both in a virtual environment, and as we consider what agency life will look like in the future. Navigating the evolving nature of the ways in which we work, as well as how our clients work signal new challenges, but I believe they also represent opportunities to be more attractive to talent and clients moving forward.
Gross. Spectrum Science.
Our industry has always competed for top talent, but the intensity of that competition has escalated. In this employees' market, top talent has their choice of employer, every agency has open positions and the things that used to win new employees (e.g., salary, remote work options) are table stakes. Prospective employees choose to work for companies that positively impact the world around them beyond the day-to-day work, and, not only take a stand on key issues, but also act on them.
Clients want to see more diversity on their teams. Agencies must demonstrate their long-term commitment to diversity and inclusion (D&I) and provide data on the makeup of their staff and teams. While Spectrum has always been dedicated to fostering an inclusive community, the events of the past year have placed renewed focus on the importance of proactive efforts around D&I. This March, we launched our first D&I plan with goals across talent and recruitment, client work, agency culture and marketing, and new business.
To meet the demands of today's marketplace and future needs of the industry, Spectrum continues to focus on supporting the entire product life cycle for health and science clients with a full suite of capabilities across marketing, communications, and media. We approach business challenges not as a PR agency or a digital agency, but as a strategy-first agency with the capabilities to execute integrated programs across the full spectrum of marketing, communications, and media. This allows us to exceed client expectations and go beyond their wheelhouse to bring different, innovative solutions to reach diverse audiences.
Walters. Sonic Health.
With an exponentially increasing reliance on digital communication tools to connect people today, the need to listen has never been stronger. That task is proving more and more difficult with more people actively online than ever before. How can healthcare brands cut through the noise? Reach hard-to-find patients and saturated professionals? And, once engaged, sustain their interest and drive a measurable call to action? With increasing options and competition for attention, the need for "a better story" has never been so important.
We faced these new demands with a combination of innovative technology, human-powered empathy, and storytelling. We understood from the beginning that behavioral change — especially in healthcare — is predicated by making deep emotional bonds with consumers. Therefore, we listen. We find that the themes, analogies, relatable moments, and humanity that we hear translate into stories that audiences love.
More so than at any time in the past five years, powerful storytelling that hooks customers, creates emotional tension, and communicates a reason to care has been key to cutting through the noise.
Pantello. Syneos.
The way we work as an agency, as well as how we engage with our clients, has completely changed from where we were five years ago. Working virtually, and more often in a hybrid format these days, is in some ways extremely productive and in other ways isolating. Adjusting to this "new normal" of working with colleagues and clients will continue to be top of mind for the foreseeable future.
The engagement model with healthcare professionals has also shifted, which was spotlighted in our third wave of COVID-19 research conducted with our panel of 11,000 HCPs within AnswerSuite, a Syneos Health company dedicated to HCP insights. For
example, in regard to telemedicine, our study found that most specialties have seen an increase in patients keeping their office visits since our Wave 2 study, and psychiatrists have seen a rise in virtual/phone interactions.
Further, 43% of psychiatrists responded that their patients are opting for virtual or phone interaction, compared with just 36% in Wave 2. PCPs' patients are moving in the inverse direction. We'll be tracking HCP and patient engagement for months to come to gauge how best to move forward with future interactions.
Shirley. Saatchi & Saatchi Wellness.
The most obvious challenge we have faced is learning how to effectively manage a distributed workforce. We see this as an issue that will not magically disappear but will remain an ongoing evolution of knowledge work in the months and years ahead. We are fortunate to have the talent, flexibility, and technology to have made the transition during this challenging time and are leveraging these learnings to build a more flexible and agile future for our employees and clients.
Micarelli. McCann Health Managed Markets.
The approaches to strategy and creative are much more sophisticated today than they were five years ago, especially in the managed markets space. Many organizations were focused on being the best at one or the other — strategy or creative — but not necessarily prioritizing both equally. Clients that focus on market access have always demanded strategy, but today they are also putting more pressure on creative. Creative is no longer defined as "professional-looking" but is catching up to how commercial brand team counterparts define it — concepts and campaigns that stay on strategy, have stopping power, and can work overtime.
Nowadays, strength in both strategy and creative is a prerequisite for building trust and relationships with clients. The competition grows fiercer every year as the once-traditional agencies build robust payer strategy teams, and consultant organizations expand to include creative teams.
One of the more exciting evolutions in creative specific to managed markets is the addition of creative awards categories to now include managed markets marketing. These new categories have increased awareness of managed markets marketing in general and given agencies the opportunity to showcase smart, strategic, and creative work for a complex set of audiences.
How difficult is it to find right-skilled new hires and how do you overcome that obstacle?
Pantello. Syneos.
We are in one of the tightest labor markets that we have seen in more than 30 years. Our industry has been greatly impacted by the fact that we're experiencing record levels of new drug approvals over the last two years, as well as the ever-evolving global pandemic, which has elevated the need for high-quality medical information and communications to both HCPs and patients. As an organization, we are passionate about creating solutions that allow our customers to bring their life-changing healthcare to the world, and our shared success starts and ends with our people. Our focus on people — with the highest respect for a diversity of perspectives — will enable us to design extraordinary products and achieve top performance. Our culture continues to be entrepreneurial — based on the portfolio of agencies we brought together more than a decade ago — and we're developing creative business leaders positioned for what's next. We are "at the heart of health," and to us that means being at the intersection of what matters most — to customers, employees, and patients. This philosophy, coupled with our commitment to hire and nurture candidates of diverse backgrounds and talents, will help us overcome this current market obstacle.
Moss. QBFox Healthcomm.
In 0.69 seconds, one search engine showed 841,000,000 results to "the changing office and COVID." If there's a benefit to a virus wreaking havoc on personal, health, economic and educational systems, perhaps it's the metamorphosis of the office, which during this pandemic has also been known as the den, the kitchen, the back patio, etc.
Working from home has had a liberating effect on hiring. Where WFH once enabled people to experience some balance in where and how they worked, the remote/virtual employee has greatly expanded the talent pool. People can be part of your group from anywhere now — 18 empirical months in a real-world lab has proven it.
But what one looks for in a candidate has also changed, beyond process. Definitions of roles besides functional skill sets have expanded to evaluating prospects as self-starting, independent thinkers. We've always valued those traits but now with a broader meaning, as has the need for strong communication skills. It's not easy relying on screens, phones, and texts. You just can't be on remote control.
Presumably the pandemic will lighten up and people will return to offices in ways that are still unpredictable. But we have a newfound flexibility in hiring.
Shirley. Saatchi & Saatchi Wellness.
Talent is our business. At Saatchi & Saatchi Wellness, it is our No. 1 differentiator, and something we make a priority. By embracing a more flexible model, we have been able to break through traditional boundaries and look outside of traditional geographies, by hiring outside of the New York City metro area and by leveraging the power of the Publicis Groupe network to bring talent from other industries into the health and wellness space.
Walters. Sonic Health.
Today, hiring is one of the most challenging things to do. Prospective employees have more choices than ever before, which makes it hard to find the type of talent we need and who want to be a part of our team and family. What's worked for us is remaining true to ourselves and the talent we recruit throughout the process. We don't over-promise and under-deliver. We don't sugar coat things. We speak honestly and truthfully about our work, work styles, expectations, and the accountability our team has to the work and to each other.
We believe that the best way to develop talent is to give talent room to develop. On-the-job training, trying new things, and learning while doing is human nature and our agency maintains an environment where employees can become experts in their own craft while exploring and developing new expertise along the way. As an integrated part of the "Alchemy Factory" think tank incubator consisting of inVibe, CureClick, and other startups, Sonic unites the enthusiasm of its talented team with their ideas and expertise.
Gross. Spectrum Science.
Our talent recruitment team is critical to identifying potential Spectrumites and introducing them to the agency. We're also having to put more thought into how we talk to prospective talent about our career offerings, both in terms of marketing and during the recruitment process.
While finding the right people for the job is a challenge no matter your industry, our challenge is increased because we hire across multiple areas, pulling top talent from all aspects of professional services — scientists, communicators, marketers, etc.
Micarelli. McCann Health Managed Markets.
Market access is a hot commodity these days, and it is incredibly difficult to find new hires with the right skill sets to fit business needs. Creative teams are responsible for understanding certain aspects of the market access landscape, channels, and stakeholders that impact brands to develop materials and campaigns that are strategically sound. With a very limited candidate pool, we've changed our approach to identifying and hiring talent to ensure we have the right people in the right place. We participate in a handful of pharmacy fellowship programs and have had success in hiring students who have done a rotation through our agency and enjoyed working with our teams.
Another approach is identifying younger talent who might be newer to the pharma industry and agency world, and train them through the work and mentorship of our leaders. In addition, we have engaged and hired seasoned professionals who do not have agency backgrounds but bring knowledge and expertise from other specialties to our organization and our clients.
How has digital marketing opened new opportunities to be creative in engaging and reaching out to both HCPs and patients?
Winell. Greater Than One Group.
Digital marketing has shifted in priority and importance since the global pandemic. Just look at the explosion of telemedicine, which prior to COVID, was growing around 15% annually, and post-COVID went 1,500% in one year. Persons who wanted to reach healthcare professionals discovered a single button that allowed them to schedule an appointment, have a face-to-face video consultation, and get prescriptions, all without having to leave the house. This kind of innovation extended to digital marketers. Many firms promoted that their field force was instantly available to meet with HCPs to provide valuable information about their products through tools like Zoom. Similarly, with the insertion of AI and machine learning algorithms, many companies took advantage of the massive amounts of data collected to better recruit for clinical trials. Lastly, we are starting to see digital ad placements in apps such as Teledoc, and social media platforms such as Facebook and Instagram are even hosting channels that reach more patients and HCPs than ever before. We have entered an era where digital marketing is key in connecting with HCPs and patients.
Johnson. Ogilvy Health.
It's been said before but there really has never been a more exciting time to be working in health. Health and wellness as an industry is evolving and diversifying, and science as a solution is on the world stage amid the pandemic. The experience economy has reached healthcare and increasingly, the ways in which HCPs and, patients prefer to engage with health is through digital and virtual channels. Look no further than the acceleration in telehealth/virtual health that we've seen in the last 18 months. Virtual health is clearly here to stay, as consumers are increasingly in control, and hospitals and systems are beginning to reflect the demand for a smarter and more personalized approach. These trends in health and customer experience open pathways for greater creativity to support positive outcomes. The onus is on marketers to use the digital tools that are available to solve the real health challenges we're seeing — from unmet patient needs across disease states and categories to disparities in health equity.
Shirley. Saatchi & Saatchi Wellness.
It's time to stop talking about "digital" versus "traditional" and to start focusing on the wellness experiences we build. The most engaging experiences are not just digital but are driven by data and the power of personalization. It is the intersection of data, technology, and creativity that provides the most novel opportunities to maximize engagement across audiences and channels.
Micarelli. McCann Health Managed Markets.
When it comes to HCP and patient engagement, digital marketing has pushed us to think about cross-functional solutions to support access to the products that patients need. These solutions are taking shape through investment in areas such as patient journey work, patient support services, and electronic health record (EHR) integration strategies. We are also able to explore opportunities on how we can engage synergistically.
Digital marketing broadens our communications and reach within health systems focused on population health. Not only does it allow for coordinated and consistent messaging across different stakeholders, but it allows for targeted communications to appropriate patients. With increased efforts on diversity, equity, and inclusion, pharmaceutical manufacturers want to close gaps in access to treatments and the digital platforms offer opportunities to reach a broader patient population.
Finally, access decision-makers and healthcare professionals alike were already limiting engagement time with pharmaceutical manufacturer field teams. Today, time given to these conversations is even more restricted, and digital marketing offers a way for us to communicate a value story and key messages in creative ways while anchoring to a brand strategy.
Gross. Spectrum Science.
Technology advancements have helped digital marketers understand audiences and what engages them like never before — where they go for information, what types of content they engage with, and how this differs across platforms. Armed with both this new information and the current technologies, content can be hyperpersonalized to maximize engagement, providing exactly what the end user wants at all levels of their experience.
As global privacy laws evolve in concert with artificial intelligence (AI) and targeting abilities, healthcare providers and patients will need to opt into data sharing. Yet, these same things are critical to providing the value through personalized content that will encourage consent to the connection.
Growth toward continuous and omnipresent dialogue at the individual level will take digital marketing from linear interactivity to understanding human behavior based on 360-degree life inputs — the implications of which go far beyond promotional messaging, adding tangible value to decision-making at every point along an individual's digital journey.
Pantello. Syneos.
Everything we've learned throughout the pandemic indicates that digital is a relationship extender, not a replacement; multiple channels drive more success and relationships are the great accelerator of growth. It's about reinforcing the impact of the field with tailored, connected, and supportive messages delivered in all the places our customers are already spending time.
For example, for a therapy we helped launch during COVID-19, Digital Amplifier, a product from Kinetic, our customer engagement capability, allowed us to consistently reach 80% of HCPs on the call plan when access was down industrywide. Our program also generated a double-digit lift in total prescriptions written by HCPs that were both called on by the field and received digital amplifier compared with those who were only called on by the field.
Walters. Sonic Health.
Technology is merely a tool — one that falls flat without an equally powerful and compelling story. We've long understood that being creative in digital marketing means discovering ways to tell stories that patients and professionals can immediately relate to and want to act on. Whether we are educating about a rare disease, creating tools to help patients advocate for themselves, or connecting KOLs through webinar content that feels like television programming — it takes empathy, eagerness, and ability to listen first, and a willingness to create something new to create a digital experience that breaks through.
Moss. QBFox Healthcomm.
For well over 100 years, the industry had sworn allegiance to the axiom, "know thy customer." But time was spent persuading people on the other end of a newspaper or TV set that a brand had good stuff for them to buy. And did we really know them? Digital, if done well, is inherently engaging, ergo, the customer is actually and willingly participating with you. A two-way street. It's what we also call communication.
So, how do we now speak with — not talk to — our customers? We create experiences for them. I'm reminded of the Google Project Re: Brief campaign. A TV spot like Coke's legendary "Hilltop" commercial was revisited decades later as banner ads with recorded messages beamed onto a screen on a vending machine. So, you could share a Coke with a stranger thousands of miles away.
If you imagine how anything and anybody can be linked together, you can be wildly creative. You create social communities, you heighten transparency, you develop interactive visualizations. Of how to build your car online. Or how a disease looks. You generate content customers want to see, choose to see, act on. It's a good time to have a screen nearby.
What has been a recent success for your agency, or another, in terms of strategy and creative and what elements made it successful?
Gross. Spectrum Science.
With stress and worry related to the pandemic negatively impacting mental health, we partnered with leading biopharmaceutical company Neurocrine Biosciences on a campaign to bring the mental health community together during a challenging time. The campaign took a unique creative approach to not only connect people but encourage them to share their monumental moments — how they take care of themselves and their loved ones.
Recognizing that artistic expression can help improve mental health and forge bonds between people, we worked with Me2/Orchestra, the only known classical music organization for those affected by mental health and those who support them, to help turn isolation into inspiration. The orchestra produced and performed an original score based on members' shared moments. The piece is a celebration of these moments, big and small, that offers a new perspective of hope to help get through these challenging times. It premiered Oct. 28, 2020, with a virtual performance of nearly 100 Orchestra members to an exclusive audience of media, advocacy partners, and supporters of mental health via webcast. The performance has since been shared with and amplified by media and advocacy groups and continues to live on MonumentalMoments.com.
Johnson. Ogilvy Health.
There have been a couple of recent campaigns that, for me, epitomize the borderless creativity Ogilvy is capable of marshaling, allowing us to produce some truly meaningful work in the health and wellness spaces.
At a time when there were no vaccines in sight, soap was one of our first lines of defense and our client, Dove, understood their obligation to help. Ogilvy developed an idea at the intersection of current events, a known need, wellness, and brand purpose. "Courage is Beautiful" is an award-winning campaign created in just six days — a touching tribute to healthcare workers on the front lines of the COVID-19 pandemic.
Another idea that comes to mind is the "Naming the Invisible by Digital Birth Registration" campaign. 60,000,000 children in Pakistan don't have one thing many take for granted — a birth certificate. Without one, children struggle to find medical care, schooling, and protection from illegal child labor and trafficking. Our Ogilvy team worked with a mobile network in Pakistan to create an SMS app community leaders can access to help millions obtain a birth certificate, providing hope for a different future. An innovative idea addressing an unmet human need where technology, government, and data meet — all in the service of life-changing impact and healthy living.
Moss. QBFox Healthcomm.
We were given the opportunity to rename and rebrand a biotech that needed a more focused interpretation of their technology and the treatment of rare diseases. Our name for the company was rare in and of itself as we unearthed a creature on the verge of extinction. That name was translated into an unusual graphic that visualized — in one icon — three disparate elements: rare disease, technology, and the mechanism. Sounds ambitious, but we created a simple, elegant solution.
After the branding was established in various media, the company was acquired by another biotech functioning in a similar therapeutic space. The new entity bore the name of the acquiring company, but the branding in place was so highly regarded that it was impossible to displace: the icon, the color palette, the typography, and the bold website graphics all lived on. Sometimes, in design, the idea of new gives way to a complete overhaul. Other times, it makes perfect sense to embrace what's already working well.
We were successful two times over.
Pantello. Syneos.
In May 2021, the Novartis Breast Cancer team launched More Than Just Words, a multiyear commitment to promote health equity in breast cancer, where there is significant unmet need.
The campaign includes partnerships with a multidisciplinary team of experts to identify the most pressing issues, beginning with those facing the Black community, and ultimately move from discussion to action.
To launch the campaign, the team conducted a GMA media integration with More Than Just Words (MTJW) advisor and R&B star Jazmine Sullivan and hosted a virtual media day. In just one and a half weeks, the team booked and confirmed over 10 top-tier interviews spanning across national lifestyle, music, entertainment, business, and broadcast, including MSNBC, Sirius XM, New York Magazine's The Cut podcast, Yahoo!, Essence, BET, INSIDER/Business Insider, Ebony, Black Enterprise, and Revolt (Sean "Diddy" Combs' network).
Additionally, the team launched the following resources to coincide with the GMA airing:
"A Black Woman's Guide to 'The Breast Cancer Talk' With Doctors" — a discussion guide developed in collaboration with MTJW advisor Dr. Monique Gary.
Anthem video — spoken-word anthem raising awareness of the health disparities in breast cancer care, with voice-over talent from the breast cancer franchise lawyer.
Shirley. Saatchi & Saatchi Wellness.
Recently we partnered with Walmart to roll out the "Community Immunity" initiative for seasonal flu and COVID-19 vaccinations. As the nation's largest retailer, Walmart has more people visiting their stores in one week than all U.S. hospitals do in an entire year. This positioning, along with our expertise in the health and wellness space, made us a perfect pairing to launch their first ever stand-alone health centers, which offer services such as primary care, radiology, mental health, and more. These health centers are strategically located to help serve those in traditionally underserved "health deserts" and provide access to affordable healthcare to the surrounding communities. We are proud of the work that went into launching these health centers, including ethnographic research with almost 100 community members and Walmart associates to ensure we were delivering on what the people really needed. After launching at the end of 2020, the health centers have seen great results across multiple platforms including in-store/pharmacy, social, and targeted online display, and we are optimistic of the momentum we are gaining on the vaccination front. (PV)