The future is now, and how the industry responds to the COVID-19 pandemic will set the course for drug development for years to come.
The COVID-19 pandemic has created disruption across every aspect of the world. The clinical trial ecosystem is no exception — from drug discovery through to regulatory approval — processes, drug development models, technologies, tools, etc. are being reimagined. AI, machine learning, virtual trials, decentralized trials, telehealth, direct-to-patient models, new clinical pathways, etc. are being employed. Companies are rising to the challenge and seizing the opportunity to create positive and sustainable changes.
COVID-19's Impact on Clinical Operations
Chadwick. Takeda. We made a decision after much discussion internally, with the exception of

some key oncology/rare disease studies, to put enrollment of our ongoing studies on hold. We did this to reduce the burden on the sites, as well as to ease the pressure on patients who weren't always able to get into sites. We also put new study starts on hold. When I look across the industry, we see many companies have taken the same approach. We also quickly focused on the safety of our employees, the safety of our CRO partners, and the safety of site staff. We recognized reducing in-person visits as much as possible was going to be critical, hence the decision to start an initiative to ship drugs directly to patients. One other thing that I have been particularly excited by is the increased level of cooperation between pharma and biotech companies. I personally have had increased conversations with the heads of clinical operations in other pharma and biotech companies. The sharing of information has become more frequent and acceptable, which is a big positive coming out of this horrible situation.
Levy. Amgen. Clinical operations in the post-pandemic world will likely evolve in three ways.
First, the pace of change in trial design and execution will continue to accelerate through adaptive trial design, which allows monitoring of incoming data and modifying the trial protocol based on interim review. Amgen has implemented these tools in clinical programs in inflammation, cardiovascular disease, and others disease areas. Disease-focused clinical trial networks with flexible master protocols may help shorten trial start-up and recruitment times.
Remote monitoring and digital health tools will allow patients to be monitored effectively and enable physicians to intervene based on real-time data. Second, we'll see the invaluable benefits of increased collaboration and data sharing among the scientific community. An example is the Placebo Standard of Care initiative, which allows member companies to reduce

the size of comparator arms in clinical trials and better understand patient populations and endpoints. Lastly, RWE will continue to revolutionize drug development, allowing faster and more accurate testing of therapeutic hypotheses. In the development of COVID-19 treatments, RWE will allow scientists to rapidly determine which existing anti-viral agents, immunomodulators, and cardiovascular agents have the most potential to benefit COVID-19 patients.
Gloria. Horizon Therapeutics. Launching and completing clinical trials during a pandemic is uncharted territory and has presented a new set of challenges and opportunities for everyone. Many clinical trial sites are closed or are prioritizing trials for COVID-related research, and trial recruitment has slowed due to patients isolating at home and limiting travel. To continue this research, we have looked for ways to be more flexible in the design of the trials as well as allowing for telemedicine, where appropriate. As stay-at-home-orders begin to lift, we are beginning to see recruitment numbers increase. We anticipate completing enrollment of our 135-patient MIRROR randomized clinical trial for our gout treatment in the second half of this year. We are eager to start some additional clinical trials and we are leveraging this time to get all the trial-related documents completed, so that sites can be ready to start as restrictions lift.
Rolfs. Centogene. We quickly adapted to global restrictions and understood that as a patient-centric company, it is not only our responsibility to continue to serve our patients, but to contribute to the global response. We called on our colleagues around the world to ensure our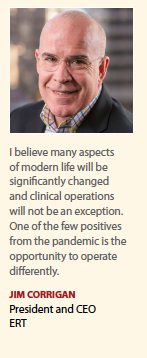 diagnostic offerings for rare disease patients could continue despite challenges caused by COVID-19 and also expanded our capabilities to offer solutions for COVID-19 and serve patients with an unmet need. By using our CentoCard, a simplified solution that allows patient samples to be sent by mail, and by communicating with patients and physicians, we have seamlessly continued to offer diagnostic services for our rare disease patients. We have also leveraged our medical expertise to expand our capabilities to address COVID-19 by designing an end-to-end diagnostic solution that allows communities to test for the virus and safely return to normalcy while preventing a further outbreak.
Trisal. City of Hope. As a federally designated comprehensive cancer center with many immunocompromised patients, City of Hope maintains the highest standards of infection prevention and control. Yet, COVID-19 required us to reevaluate clinical operations to further protect patients and staff. While we initially reduced our volumes and postponed some appointments, we never stopped providing necessary surgeries, treatments, and transplants.
We implemented mandatory masking and health screenings for patients and staff before entry into patient care areas. Our no visitor policy further safeguards patients and staff. Because interactions with family and friends can have a healing effect, our nurses have become surrogate family members. When a cancer patient is weak or in-and-out of consciousness, our nurses use City of Hope tablet devices to FaceTime or Skype family members eager to check in on loved ones. We also have extra staff on site to help patients register and to serve as guides to appointment locations. To further ensure safety, we offer on-site and drive-thru COVID-19 testing on our Duarte, Calif., campus. Asymptomatic patients must be tested before most procedures, treatments, or enrollment into clinical trials.
Corrigan. ERT. COVID-19 has impacted essentially all clinical operations to some extent and accelerated the evolution in virtual engagement dynamics between patients, sites, and sponsors. It's shed a bright light on some challenges the industry has faced for some time and has forced all stakeholders to consider and use new approaches in their current clinical study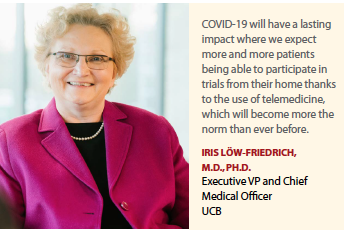 models. Pandemic-driven stay-home mandates are causing clinical trial sponsors and CROs to question their dependence on patients' access to investigative sites for routine aspects of clinical trial data collection. As a result, they are now considering, much more ambitiously, the role that virtual capabilities can play in keeping their studies on track, running more efficiently, and offering added patient convenience during and after the pandemic. In fact, an industry survey we conducted last month showed that 82% are making changes to existing trial models because of the COVID-19 pandemic; of those, three-quarters are incorporating some virtual trial elements and some are going completely virtual. We anticipate that many in the industry will continue to leverage virtual trial capabilities well after the pandemic ends, based on the improved efficiencies they offer to all clinical trial stakeholders.
Byrom. Signant Health. COVID-19 has created a widespread and urgent need for contingency planning in clinical trial operations, with study teams working hard to define study-specific strategies for trial continuation, pausing and restarting trials, or delaying the start of new studies. Social distancing has required sponsors to adapt existing methodologies and implement remote solutions mid-flight. It is clear that there is much in front of us related to this challenge. We are working to deploy our people and our technologies to keep trials going and patients cared for while capturing the reliable data needed for regulatory submissions.
Our goal, no matter how this situation evolves, is to continue to focus on open and transparent communication while supporting our customers as effectively as possible through this challenging time. We are focused on patient solutions, including leveraging our technology platform, deep therapeutic and scientific knowledge, and operational expertise to help sponsors implement thoughtful and scalable solutions to keep patients engaged and involved in continuing clinical trials.
Deieso. WCG. This pandemic has challenged the status quo of conducting clinical trials as no event in recent history has. As in-person encounters between participants and investigators have been discouraged or prohibited, technology-based solutions, once considered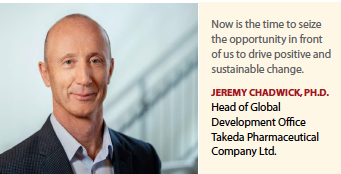 nonconventional, have been embraced as acceptable substitutes. Sponsors and research sites are pursuing technologies that will enable them to gather patient data remotely, eliminating or reducing the need for participants to travel to sites during the coronavirus pandemic. To be responsive, these technologies must be quick to implement, since there isn't time to explore, vet, and integrate new enterprise solutions into existing trials. Applications such as Zoom, SharePoint, WebEx, and FaceTime are filling the gaps and, in many cases, in a HIPAA-compliant manner. Most encouraging is that participants and investigators are reacting favorably to tele-video clinical visits. From the patient view, it saves travel time and replaces the inconvenience of the waiting rooms with an at-home interview. For investigators, the time efficiency of this process is a welcome surprise.
There is little question that this change, from brick-and-mortar trial site visits to the remote experience, where clinically appropriate, will become part of the post-COVID regimen. One indicator of the acceptance of change by sponsors can be seen in the increasing number of protocol amendments submitted to IRBs.
We are receiving significant numbers of requests for guidance on how best to modify clinical trial protocols to better accommodate patient and site preferences, and to assure that ongoing trials continue and that acquired data is preserved in an acceptable manner.
Saarony. Advarra. The widespread impact of the COVID-19 pandemic has highlighted the need for robust business continuity plans that cover every facet of clinical research. Sponsors and researchers have quickly prioritized which research could be safely paused, staying connected with participants through innovative virtual trial technologies, and where possible switching to telehealth or in-home visits. In many cases we have worked collaboratively with them to transfer oversight of their research to Advarra's IRB — free of charge — when their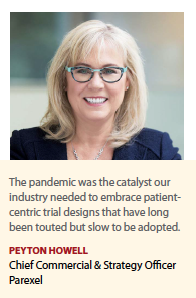 IRB was unable to continue normal operations due to COVID-19. From the clinical setting perspective, we have seen hospitals and health systems reassign medically trained research team members to emergency room and primary care operations while administrative staff switch to working from home. In private research sites, temporary halts to enrollment and new study start-up have led to interrupted revenue streams and furloughs, and the long-term impact on some of these sites is still unknown. One thing we do know: COVID-19 studies have shown that the study activation process can be done more quickly, and we as an industry should build on this momentum and innovate on the study activation process.
Löw-Friedrich. UCB. Given the ever-changing nature of the healthcare landscape at this time, we are continuously assessing the situation to ensure the appropriate steps are taken for the health of the patient communities we serve. The COVID-19 pandemic led us to temporarily halt recruitment into our ongoing clinical studies and delay any new studies. These actions were taken in the interest of patients, of public health safety, and to help reduce the impact on healthcare systems across the world during a time of extraordinary medical emergency. Since then, all around the world, countries and local governments are preparing for their next steps in response to the crisis. UCB has been preparing to quickly and fully resume recruitment activities as soon as it is appropriate. We are beginning to restart in some geographies and have an established restart guidance and will ensure all decisions are made in close coordination with local and regulatory guidance.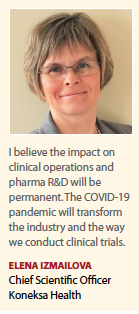 We believe these measures were able to help lessen the impact on the local healthcare systems, reduce the risk of patients being unable to receive full and appropriate medical oversight, and avoid the inherent risk of study-driven hospital or site visits. We've remained agile and resilient throughout and for patients who have been recruited into any UCB study, we continue to focus on the care, access to study medication, clinical evaluations, and safety monitoring.
Belgrave. Advanced Clinical. For an industry that has relied over the decades so heavily on face-to-face interactions, be that with our colleagues, study investigators, study coordinators, and pharmacies among many others, adjusting to operating in this pandemic has been a challenge. As a mid-size CRO, we have always been flexible, never more so than now. To follow the regulatory responses from FDA and EMA while safeguarding patients and staff, ensuring vital medical treatments reach the patients/subjects, ensuring GDPR is adhered to, ensuring the integrity and continuity of studies are maintained as close to protocol as possible has been interesting.
Despite the many innovations and brilliant scientific and medical advances across the industry, we are still fairly risk averse. One potentially positive outcome is that we are encouraged, perhaps forced would be more accurate, to consider, to deploy, and use the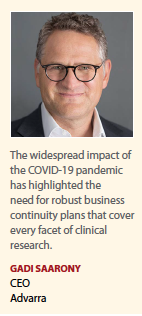 plethora of elegant and functional e-solutions and remote capabilities, some of which have been around for some time. The pandemic also has kick-started other solutions to access, treat, evaluate, and manage research subjects and as the new norm takes shape I think we can expect to see some, perhaps radical, alternatives come to the forefront.
Panagos. IQVIA. We all know that the COVID-19 pandemic has affected almost every element of clinical development from site access to patient recruitment to drug delivery. And we, like almost everyone else, have prioritized patient and colleague safety as well as data integrity above all else as we maintain trial continuity. IQVIA is using this time to reimagine how clinical development works to make things better now and long-term. We have looked at every aspect, from protocol design to regulatory reviews, clinical processes, supply chain, technologies, and tools. As COVID-19 forces companies to quickly shift gears to keep trials on track, we are providing more options, transparency, and support to help them. Without compromising quality or safety, we are mobilizing technology, information, and an agile global footprint to support a new environment for research.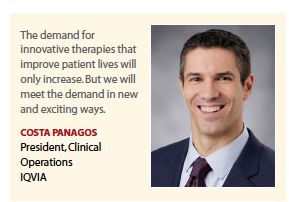 Sharei. SQZ Biotech. For every biopharma company, patients and their needs are put at the forefront, and we're all trying our best to ensure we are still serving patients and remain focused on bringing therapies to people as quickly and as safely as possible. While this is an unprecedented time, it's not a time to abandon our most vulnerable populations. Patient safety and the safety of our team is of the utmost importance to us. In our ongoing Phase I study in HPV+ tumors, our trial sites agree that continuing to treat patients is essential, especially those who are seeking clinical trials. We are accommodating reduced visits and forgoing some of our sample collections where necessary to facilitate continued patient participation and safety. Unlike other cell therapies, our patients are able to leave the clinical trial site shortly following treatment and are not subject to preconditioning, they are not immune-compromised, therefore avoiding putting additional pressure on hospitals, particularly in a time of overburden on systems.
Massey. Saama Technologies. COVID-19 has necessitated an emergency response from the life-sciences industry to identify and develop therapies to prevent and treat the devastating novel coronavirus. The pandemic has created many operational challenges, including site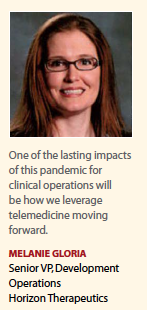 closures, travel limitations, site personnel and subject COVID-19 infections, and supply chain disruption. Meeting protocol-specified procedures, investigational product administration, and diagnostic or laboratory testing are being challenged as well. Most sponsors are taking a risk-informed approach regarding initiating or continuing trials, while making decisions at an individual program level based on multiple variables, including disease state, unmet medical need, and importance to advancing standard of care. In addition, development teams are leveraging epidemiology data to anticipate timing of impact at a regional level to restart delayed programs as the pandemic abates. The pandemic has highlighted the value, and necessity, of collaboration across the ecosystem to mount an effective response. Multiple public-private consortiums have emerged to drive collaboration across sponsors, governmental agencies, technology companies, and data providers. An example is the proposed EndPandemic National Data Consortium, a partnership of leading life-science and information technology companies working together to achieve the singular goal of integrating data and applying advanced analytics to reduce the time to find a cure.
Howell. Parexel. The pandemic was the catalyst our industry needed to embrace patient-centric trial designs that have long been touted but slow to be adopted. As the pioneer of the first virtual trial in 2011, we have conducted 70 decentralized clinical trials (DCTs) — both fully virtual and hybrid — and have continued to rapidly flex and pivot to virtual methods: telehealth, remote monitoring, home nursing visits, direct-to-patient drug shipments, and more. During the pandemic we've had the technology and tools in place to quickly transition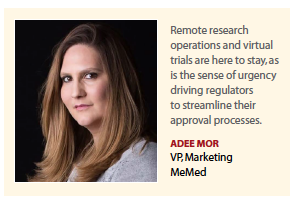 from site-based to home-based trials to ensure continuity of care for patients because regardless of the healthcare setting, caring for them is our highest priority. Many are facing serious conditions that won't wait until the pandemic ends. There is a silver lining to the pandemic — with all the progress that has been made in embracing new approaches and accelerating innovation we truly believe there is no going back and that we must continue to push forward for the benefit of patients worldwide.
Vandebelt. Oracle. COVID-19 has pushed the industry to prioritize bringing preventions and treatments to market faster than has been done before while adapting existing development programs to new world realities. Many biopharmas and CROs have pivoted quickly to develop and test potential COVID-19 treatments and vaccines — we are working very closely with customers to support those efforts. As of today, the Oracle Cloud is running clinical trials to test the safety and effectiveness of dozens of different COVID-19 drugs and vaccines. These trials span many countries and hundreds of investigator sites. In addition to gathering data from COVID-19 clinical trials, Oracle has built and donated to the U.S. government a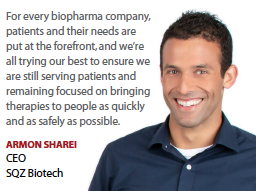 COVID-19 platform that consists of a therapeutic learning system that allows physicians and patients to record the effectiveness of promising COVID-19 drug therapies. We also built a patient monitoring system in coordination with Wake Forest Baptist Health and Javara Research that allows healthcare systems to gather data from their subscribers around symptom tracking and laboratory test results. Unfortunately, many other clinical trials today that are conducted in-person have nearly halted as people are not able to attend their clinical appointments. This highlights the importance of considering elements of a decentralized trial model as a path forward. This includes exploring alternative procedures such as study visits conducted by phone or videoconferencing, remote informed consent, or remote monitoring and auditing. Patience, mitigation planning, documentation, and communication among stakeholders are the key components to successfully transitioning ongoing trials to new execution models, while keeping patients safe.
Mor. MeMed. COVID-19 has created challenges for companies with active clinical programs, ranging from supply chain to patient enrollment issues. Like most organizations in our space, however, we've also benefited from decisive steps the FDA has taken to be collaborative and expedite the review and authorization of diagnostics with the potential to help thwart the coronavirus outbreak. MeMed measures how the levels of three immune system proteins — TRAIL, IP-10, and CRP — change in response to bacterial and viral infections. Our multidisciplinary team has dedicated years to this work, and we have gathered an unprecedented level of high-quality real-world data from more than 15,000 patients and multinational, double-blind clinical studies, which have been published in leading peer-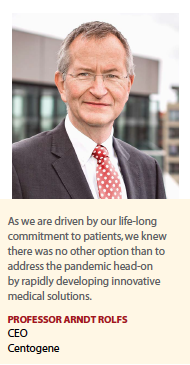 reviewed journals. In response to the current global pandemic, we're now gathering this data in COVID-19 patients by expanding existing studies and adding new clinical programs and leveraging our host immune response and machine-learning technology to develop solutions that help improve risk stratification, diagnosis, prognosis, and monitoring of patients.
Malka. BioForum. The COVID-19 pandemic has forced the industry to fast track decentralized, virtual clinical trials, and hybrid data strategies. Quarantines implemented worldwide have delayed, temporarily halted, and, in some cases, altogether stopped vital medical research. And there's a host of reasons why: patients participating and personnel involved in running studies need to self-isolate or drop out because of safety concerns or logistical challenges, trial resources have been redirected to other urgent healthcare needs, hospital systems are overwhelmed, and many clinical trial sites are currently inaccessible. Consequently, technologies and services that enable remote monitoring, telehealth, and home healthcare are no longer just discussions, but must-have components of clinical studies. Many companies have been looking to move in this direction for some time. However, it's one thing to implement when it comes to a new study, but an even more complex and challenging undertaking to redirect a study with a traditional design and data collection model to a decentralized, virtual trial, or hybrid model. The key for organizations that go down this path is to ensure they have all of the facts available to conduct proper risk management, whether they do this in house or bring in trusted partners to manage the process.
Izmailova. Koneksa Health. The regulators have been aggressive in releasing guidance about how we should be adapting to the pandemic. Following the FDA and EMA guidance to pivot clinical trials to remote where possible, we're working with more clients than ever to help them understand how digital biomarkers can help them maintain their R&D activities.
Tracy. Phastar. We are currently working on several COVID-19 projects, including vaccine, diagnostic, and antibody trials. We continue to readily approach modifications of clinical trials in light of the current situation and can help with any aspect of clinical trials from rapid database development, efficient clinical trial design/ review, and communicating with regulatory agencies.
Chadwick. Takeda. One benefit of COVID-19 is that there will be a major adoption of new ways of working. At Takeda, we have a big focus on digital, and Anne Heatherington, senior VP, head of Data Sciences Institute at Takeda, is looking to accelerate the use of digital tools in clinical studies, the use of virtual trials, and collaboration between the different parts of our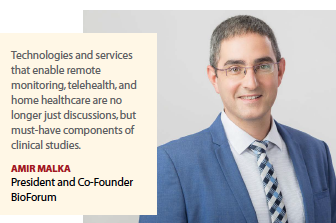 organization, as well as collaborations across companies. We need to seize this opportunity.
Patients are requesting it, sites are requesting it, CROs are requesting it, and we're seeing it. As we look to the future, we will design studies thinking about how often patients have to come to a site versus how they can be assessed at home, how many visits can be done at home, how can we use technology and wearables to collect information remotely, and so on. If we can reduce the number of site visits by 10% to 50% by doing more from home, there will be clear benefits to everyone. We see digital initiatives being accelerated, which I believe will lead to processes becoming faster, more efficient, and actually reduce timelines. We also believe there will be greater data sharing within and across companies and more collaboration. Now is the time to seize the opportunity in front of us to drive positive and sustainable change. If somebody had said to me back in December 2019 that in May 2020 we would be having significant discussions around the acceleration of virtual trials, digital, and telehealth, and sharing data at this level, I would have said impossible. Yet, in five months the industry — 20-plus biopharma, big pharma biotech, CROs, and VCs companies working closely with FDA as part of a COVID-19 R&D group — has come together to achieve the impossible. This is very exciting.
Deieso. WCG. I suspect that many of the impacts engendered by the pandemic are yet to be fully contemplated. There are, however, some signs of lasting changes that are evident today. With respect to technology and its supporting role in remote trial conduct, the pandemic, in many ways, has been a wake-up call to many biopharmaceutical companies that have long been resistant to adopting new technology-based solutions. The pandemic has brought to light the many advantages of remote encounters among trial participants and investigators. Today, driven by COVID-19's impact, we're watching the clinical trial process transform at hyper speed. Solutions deemed by biopharma to be too risky in the conduct of trials pre-COVID,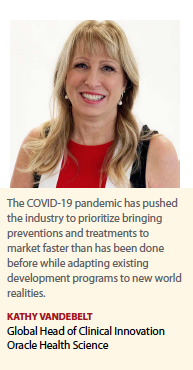 now pose a greater risk if not adopted quickly. One cannot see the rise in telemedicine and not see the immediate benefit when applied to clinical trials. The protocol requirement that a patient-participant regularly visit a trial site for examination, drug administration, or other testing can be seen as a holdover from the "fee-for-service" model of healthcare delivery in the United States. This brick-and-mortar view of a trial site is being transcended by the remote approaches being deployed during this pandemic. There is no putting the genie back into the bottle when we move to recovery. There are too many advantages that have become evident, including: easier participant enrollment, improved investigator efficiency, and lower trial costs.
Trisal. City of Hope. COVID-19 will have a lasting impact on clinical operations at City of Hope. We offered telehealth services before the pandemic, but the coronavirus prompted us to move more aggressively into virtual patient visits. We expect our telemedicine offering to expand further, even after the pandemic is over. Moving forward, we expect to use telehealth to provide genetic consultations as well as remote chemotherapy support, ongoing survivorship follow-up and palliative care. We also plan to use wearable devices to help us monitor patients so that we can expedite triage when necessary.
Gloria. Horizon Therapeutics. One of the lasting impacts of this pandemic for clinical operations will be how we leverage telemedicine moving forward. For our trial sites and patients, telemedicine will be used more in clinical trials to provide patients with greater access to trials without the burden of having to travel or take off work for trial visits. We are finding ways to infuse more fun into the workday with team challenges, which has allowed us to stay engaged as we work through these uncharted territories.
Corrigan. ERT. I believe many aspects of modern life will be significantly changed and clinical operations will not be an exception. One of the few positives from the pandemic is the opportunity to operate differently. All stakeholders have been forced to adapt, and in many instances they have been surprised by the enduring benefits of virtual technologies. I see a post-pandemic scenario where the industry emphasizes optionality and leverages advanced technologies to better engage patients in clinical trials and optimize in-person investigative site visits for important complex trial aspects that uniquely require the capabilities of site personnel. There will be more virtual site visits, which will minimize the need for patients to travel to investigative sites, and increased device integrations with consumer and medical data capture tools, all of which will simplify patients' participation in clinical trials and improve their overall engagement.
Byrom. Signant Health. Despite the disruption to the normal way of working that COVID-19 has presented, we have been able to improve key aspects of research from planning and startup through closeout, successfully supporting our customers and their clinical trials. While remote trial components have been discussed for many years, we are now implementing these in response to the crisis, with the goal of keeping trials running. One lasting impact will be a greater understanding of remote trial components — through direct experience of what works well for sites and patients. This will accelerate the adoption of approaches shown to be solid and make trial participation more convenient. The understanding we will gain from the impact of mixing modes of data collection in eCOA will help to drive greater technology adoption — and may provide important evidence to support BYOD and other data collection approaches.
Belgrave. Advanced Clinical. I believe that this spirit of collaboration, communication, and thinking outside the box will prevail and a return to the status quo would be a retrograde step.
I strongly believe that remote working, RBM, and tele-visits will continue as will the ongoing innovation associated with Internet-based applications that increase the speed and utility for all parties to communicate and safely and compliantly share information from remote locations. In addition, risk assessment and mitigation steps for new study protocols as well as new or modified requirements for SQV and SIV will continue. Overall, I do believe as an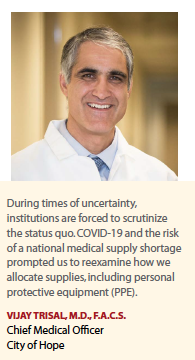 industry we have improved many of our processes as a result of COVID-19, which is a definite positive. Perhaps, more radically, I suspect we will see a blurring of the CRA and DM roles, perhaps in some instances a blended role within these new paradigms. I do not see the removal of the need for face-to-face and on-site visits, albeit perhaps at a reduced level, after all I would submit that the establishment of effective working relationships is far easier, at least initially, face to face.
Massey. Saama Technologies. COVID-19 highlighted points of risk across current drug development processes. Lasting impact will occur across four broad categories. The first is data explosion, which will increase reliance on remote data capture — virtual trials, ePRO, eCOA, wearables — with resultant exponential increase in volume and velocity of data capture and management. Medical monitors will demand access to real-time or near-real-time analytics. Data management teams will need new capabilities to adapt to an e-source environment without queries/edit checks/transfer. The second is technology-enabled process re-engineering, which will require data integration across the value chain and AI-enabled analytics such as Saama's Life Science Analytics Cloud (LSAC), innovative approaches to deliver study medications directly to patients, and synthetic arms and clinical digital twins as comparators, potentially across multiple sponsors. Source data verification via technology platforms will replace physical site visits. Third is innovative collaborative models, which will include increased partnerships among sponsors, enhanced sharing of precompetitive and placebo arm data, dynamic site allocation to regions less impacted by catastrophic events. Fourth, is a regulatory evolution, which will include prioritization of limited resources on areas with greatest unmet need, enhanced reliance on Trial Master File (TMF) for clear documentation on pandemic-related changes to ensure patient safety, and documentation of protocol deviations and trial integrity.
Howell. Parexel. The shift to decentralized clinical trials is here to stay — for the benefit of patients and trial outcomes. Now that we've seen firsthand the benefits of remote techniques and technologies, there's no going back. Reducing the burden on patients will lead to increased participation in clinical trials, which in turn will enhance the quality and quantity of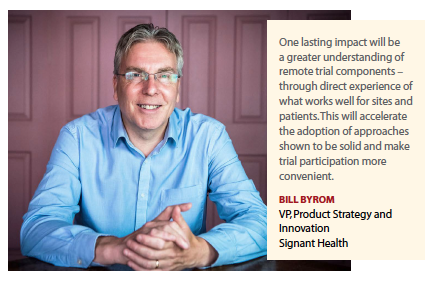 data to accelerate new drug approvals. In fact, a number of regulatory agencies have issued guidance advocating for decentralized trial approaches to support patients. Second, new technology is providing patients greater control over their own health, and matching them with clinical trials that are best suited to their respective needs. For example, Medable's research collaboration with Parexel enables individuals to contribute specific information about their COVID-19 experience, combine it with health records and data from wearable devices, and opt-in to participate in studies that diagnose and treat COVID-19. Finally, the pandemic has accelerated the evaluation of data in near-real time so that decisions can be made more quickly — without sacrificing quality or integrity of data — to bring therapies to patients faster. Our strategic partnership with Datavant is enabling the integration of data from multiple sources so that we can better assess patient health. By linking real-world data sources with other sources of study data, our customers will be better equipped to generate and submit real-world evidence for regulatory assessment.
Vandebelt. Oracle. The impact of COVID-19 on clinical operations/R&D is immeasurable. We've had to move at laser speed and there will be a long tail to what we learn from this. This is the time for the industry to embrace a much-needed change in approach and philosophy.
This pandemic created the burning platform to force new ways of working and give many stakeholders new insights and new skills. Mindsets will continue to evolve, and all aspects of clinical research will be affected for many months to come. Companies need to look at their clinical development processes holistically and think about reengineering and consolidation — not just digitizing. They must take the time to talk through managing new data sources, injecting new process management and ensuring accountabilities are clear. With the power of technology there is the opportunity of introducing better experiences and delivering to higher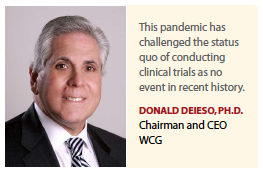 expectations. The end goal for Oracle Health Science is — and has always been — to support our customers to bring drugs to market faster to save lives.
Löw-Friedrich. UCB. The evolving COVID-19 pandemic is profoundly impacting all our lives, and places tremendous strain on healthcare systems and society at large. Since the start of the crisis, UCB has taken measures to protect our colleagues around the world, to stand by patients, to help our communities and take our part in the global response to the pandemic.
We know that it is our responsibility to help where we can make an impact. In relation to clinical trials, COVID-19 will have a lasting impact where we expect more and more patients being able to participate in trials from their home thanks to the use of telemedicine, which will become more the norm than ever before. Beyond that, we are setting up a UCB Fund to better understand and address long-term effect of COVID-19 on vulnerable populations' health. From a clinical operations perspective, I believe remote and/or virtual trials will become more widely used, and telehealth is likely the way of the future.
Panagos. IQVIA. The demand for innovative therapies that improve patient lives will only increase. But we will meet the demand in new and exciting ways. In the regulatory area, the FDA and others have shown rapid support for virtual tools and models during the pandemic.
Hopefully, they will see patient-centric technologies and approaches as a viable solution beyond this global crisis. Technology-enabled approaches such as virtual trials enhance patient engagement with more diverse patient populations, accelerating recruiting, and lowering the burden of trial participation. In addition, we have seen risk-based monitoring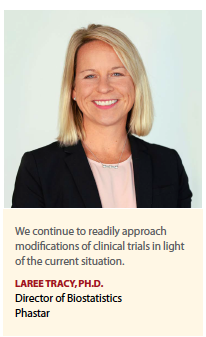 improve site and sponsor engagement. With established remote monitoring and sophisticated data analytics, we can provide agility, flexibility, and better communication. In time, we will see exactly how these current circumstances will be a catalyst for change. We believe we are shifting toward a more accessible approach to research and innovation.
Mor. MeMed. Remote research operations and virtual trials are here to stay, as is the sense of urgency driving regulators to streamline their approval processes. More focus will be placed on employing highly-validated diagnostic tests to manage infectious disease patients, in both pandemic scenarios and a post-COVID-19 world. We're entering an era in which the promise of personalized medicine will be realized. We'll soon have the ability to predict susceptibility to disease, detect disease with greater accuracy and at earlier stages, and predetermine a patient's response to treatment. Diagnostics will play a pivotal role in all of this. And yet, compared with therapeutics, diagnostics have traditionally been undervalued by the market. COVID-19 has sparked a wake-up call, making it clear it's time to give the diagnostics sector the attention and resources it needs and deserves. Governments will continue putting considerable resources into accelerating the development and delivery of diagnostic tests for specific, highly infectious pathogens. We'll also see investments in complementary, first-line-of-defense testing that offers a more universal response to managing patient care. For example, host-response technologies have the potential to enable risk stratification, early intervention and the implementation of measures to effectively reduce the spread of outbreaks and improve patient management.
Izmailova. Koneksa Health. The COVID-19 pandemic will transform the industry and the way we conduct clinical trials. Clinical trials will become far more decentralized than they are today, and more reliant on remote visits and remote data collection, and that will enable patient-centric approaches that are a reality, not an aspiration. Right now, the conventional clinical trial model is undergoing a major disruption. Some of the change has been hard, but it enables a paradigm shift towards a more agile clinical-development model that will open participation to many more patients.
Saarony. Advarra. From our perspective, we have seen sponsors, CROs, institutions, and sites pivot quickly and adapt to the new environment. There has been a rapid shift to remote trial modalities and an increased focus on emerging infectious disease research. Our review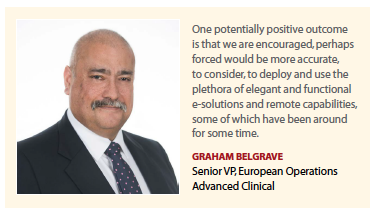 committees continue to see growth in gene therapy research, and our consulting practice is staffing more hospital and academic IRBs and CTOs than ever before. The industry is rapidly adopting virtual trial practices and outsourcing strategies to mitigate risk, control costs, and provide a better participant experience, increasing patient-centric research. From a technology perspective our products have enabled remote study management and monitoring, and our centralized services for calendar build and coverage analysis have enabled research to keep moving forward despite restrictions and limited resources at sites. COVID-19 has disrupted our industry and has been a catalyst for change. While we expect many of the adaptations during COVID-19 will continue, previous practices will return, and new hybrid trial modalities will be the reality. Most importantly, the challenges and disruptions of the last few months have reminded all of us that we are connected, and this has reinforced our resolve that as a clinical research community we truly are "altogether better."
Malka. BioForum. We're beginning to see significant R&D investments in vaccines, new drugs, and diagnostics to help combat COVID-19. Collaborations within the industry and between industry and governments, academia, and nonprofits are quickly evolving and showing promise. Regulators are also doing their part, streamlining their procedures and accelerating pathways to enable fast-track authorizations, while ensuring scientific rigor and the highest ethical standards remain paramount. When it comes to tackling global public health threats such as pandemics, we'll see a continued focus on and sense of urgency around such investments as well as collaboration, at all levels and across all geographies, including a new multifaceted approach that facilitates public-private partnerships. Across the clinical development ecosystem, all parties — from regulators to pharma, biotech, medical device, diagnostics, and startup companies to academia and nonprofits to CROs and technology providers — will keep joining forces to prioritize public health. While the focus is currently on the coronavirus, this sense of true partnership will set a precedent for tackling and preventing future pandemics and developing next generation medicines that address significant health risks, challenges, and unmet needs worldwide, and hopefully continue to emphasize the need to put patients and, more broadly humanity, first.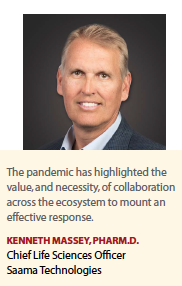 Rao. Bloqcube. If we can turn the clinical trials process into a Moore's law driven process, as I postulated in 2012, and not an Erom process as it is now then we will have made a lasting impact for mankind and patients. When I joined the industry 28 years ago it took $250 million to launch a molecule; now it takes more than $2.5 billion to launch one. This is the lasting impact of COVID-19, a populace that is unhappy with the slow process by which drug development takes and the uncertainty associated with it.
Tracy. Phastar. A central repository housing essential information — for example, trial protocols and analysis plans, interim findings, and real-time reporting of primary results — on completed and ongoing clinical trials is important to promote information-sharing and to avoid redundancy in research efforts. We see this as a lasting, positive impact on clinical operations and R&D. (PV)
~~~~~~~~~~~~~~~~~~~~~~~~~
Raising the Bar: Striving for the Extraordinary
Companies across the clinical ecosystem are creating new processes and products to address the challenges brought on by the global pandemic.
Advanced Clinical — Graham Belgrave
We are innovating, first, by recognizing and managing study subjects' safety and continued access to investigational product, and second, by having a robust and rapidly implemented risk mitigation plan. Our leadership took the step early in the process to withdraw all our CRAs from the field to safeguard both our staff and the site staff and their patients. We implemented a COVID-19 Risk Mitigation Tool, which is partly based on the industry-accepted Transcelerate RACT and our own SOPs. We implemented the "planned non-compliance SOP" for all relevant global trials making it much simpler for sponsors to adapt their study protocols and maintain continuity. Furthermore, we immediately modified our Remote Monitoring SOP and ensured all staff were trained within 48 hours. We took steps to implement secure portals thus ensuring workflow and document hand-off. Through efficient technology and processes we are also providing effective training and support to site staff and our own clinical research staff, which ensures continuity and compliance of the studies, but most importantly, patient safety.
Advarra — Gadi Saarony
Central IRBs have been leveraging online, virtual meeting platforms for years as a means to assemble a broad range of expertise for face-to-face meetings as required by the regulations. In light of COVID-19, we have chosen to focus our efforts on thought leadership and technology. We launched "Ask Advarra," a dedicated free resource for specific questions about research during COVID-19, and published the online "Coronavirus Guidance: Answers to Your Urgent Questions About the Research Impact of COVID-19." We launched a new version of our Part 11 compliant document system, eReg Lite, at no cost for sites to enable remote monitoring. We partnered with clients to implement our technologies and provided study activation services in record time; our IRB team has worked continuously to ensure we reviewed COVID-related protocols within 24 hours; and we pivoted our consulting activities to remote modalities.
BioForum — Amir Malka
Even though regulatory authorities have provided helpful guidance, innovating during a global pandemic can be overwhelming. To support our customers as they navigate unchartered territory, we're providing solutions that enable sponsors to more easily adhere to FDA and EMA guidelines for conducting clinical trials amid the COVID-19 pandemic. This includes support around risk evaluation for each specific trial, as well as rethinking data collection and handling strategies to protect data integrity. It also involves introducing and implementing new technologies for data collection and monitoring and to mitigate existing and COVID-19-related risks. Additionally, we're helping clients leverage these technologies to document the various implications the pandemic has on their trial operations, such as protocol deviations. As we assist clients in managing through the current crisis, we're simultaneously working with them to incorporate decentralized, virtual trials, and hybrid models into their future clinical development programs so that they are better prepared for future pandemics.
Centogene — Professor Arndt Rolfs
As a rare disease company focused on transforming clinical, genetic, and biochemical data into medical solutions for patients, we couldn't have predicted that we would one day expand our capabilities to help mitigate the impacts of the worldwide spread of an infectious disease.
However, as we are driven by our life-long commitment to patients, we knew there was no other option than to address the pandemic head-on by rapidly developing innovative medical solutions. Leveraging our medical expertise, existing technology, and streamlined workflows, we designed an end-to-end diagnostic solution for the novel coronavirus, despite numerous global restrictions in place. By calling on our colleagues to spearhead innovation and form specialized task forces, we were able to develop a fully validated sample collection kit for the detection of SARS-CoV-2, open a new laboratory dedicated to COVID-19, and start clinical studies to assess potential genetic factors for at-risk populations. Our latest initiatives support the earliest possible diagnosis of COVID-19 and our hope is that our technology will create a blueprint for the rest of the world to demonstrate how we can come together to prevent future outbreaks and lead the path forward for a global return to normalcy.
City of Hope — Vijay Trisal, M.D.
During times of uncertainty, institutions are forced to scrutinize the status quo. COVID-19 and the risk of a national medical supply shortage prompted us to reexamine how we allocate supplies, including personal protective equipment (PPE). We implemented safe and more efficient ways to use PPE and found additional supply sources to ensure that patients, caregivers and staff will continue to be properly protected. Our physician-scientists have joined the global effort to combat COVID-19. We currently have more than two dozen COVID-19 research projects under way in the areas of vaccines, possible new therapies and better screening and testing approaches. Cancer doesn't stop, and neither do we. We continue to conduct cancer research, though we've implemented new policies and limited access to labs so that physical distancing is observed at all times. Researchers who now spend less time in the lab have been gifted time to analyze their body of scientific data to make connections that may have been previously overlooked due to busy lab schedules. Many City of Hope researchers have had eureka moments and are working on protocols for new projects that are expected to start as soon as lab restrictions are phased out.
ERT — Jim Corrigan
We have accelerated our innovation pipeline to expand our virtual solutions across our endpoint collection modalities and increase the optionality our customers need to successfully execute their specific safety and efficacy endpoint data collection. Simultaneously, we are expanding our partnerships and collaborations with technologies that further increase flexibility and information capture. For example, we've recently launched additional Virtual Visit capabilities that are enabling patients to easily interact with investigative sites, and our COVID-19 Dashboard is integrating data on coronavirus infection rates in geographic areas surrounding study investigative sites, so sponsors and CROs can identify and proactively intervene where patient and site compliance to study protocols may be at risk. In addition to our "At-Home" solutions that enable investigative site personnel to capture respiratory and cardiac safety data when they visit patients' homes, our patient-administered ECG Solution enables patients to easily conduct their own cardiac safety assessments from home by themselves, via a novel hand-held ECG device deployed in partnership with AliveCor. Of course, these examples are just the beginning of our innovations around patient-centered end-point capture across all modalities.
IQVIA — Costa Panagos
Our advances in human data science and technology are really helping us help our clients. Artificial intelligence (AI), machine learning, virtual trials, decentralized trials, telehealth, and direct-to-patient models keep trials moving. We address site restrictions. Remote monitoring solutions enable us to monitor safety trends across sites, participants, or regions to make adjustments swiftly. Our analytics teams have adapted AI models that assess the infection rates by country to predict the pandemic impact on sites. We use these to help guide when sites will be available for relaunch of study activities. We also bring the trials to patients. Our IQVIA Study Hub cloud platform allows patients and study teams to securely connect in a televisit. Patients can also upload medical history and report outcomes from connected devices (e.g., tablet, smartphone, wearable devices). And through our network of partners, IQVIA offers at-home support by trained nurses and phlebotomists. So lab tests, infusions, or anything that requires a healthcare professional can be done safely right at home. And we are advancing COVID-19 trials specifically. The COVID-19 Trial Matching Tool, one of the world's first online screening platforms, matches individuals with specific COVID-19 studies and our COVID-19 Active Research Experience (CARE) Registry provides opportunities for the patients to receive information related to their systems.
MeMed — Adee Mor
We're focused on providing insights to help determine whether individuals who may have been exposed to COVID-19 — if they present with symptoms or not — have been infected with a pathogen, whether this pathogen is a bacteria or virus, and the potential severity of the infection. Additionally, we're evaluating how our host-response solutions, which use the human immune system as a disease sensor, can be leveraged to monitor response to treatment and, in turn, guide COVID-19 patient management decisions. Working with leading medical centers, we're assessing how our diagnostic tools can be used in COVID-19 and future pandemics, to provide physicians with the early, actionable insights needed to identify which patients are at risk of going on to develop severe disease and will likely require care in the ICU, and who can be safely discharged for self-isolation at home. Additionally, we're studying how our solutions can be leveraged to protect healthcare workers on the COVID-19 front lines. For example, we're exploring our blood test's utility in helping to identify pre-symptomatic and asymptomatic carriers, reducing the spread of infection; avoid unnecessary isolations, easing the burden of medical staff shortages; and enable the early treatment of physicians, nurses and other front-line healthcare workers.
Oracle — Kathy Vandebelt
We are changing the way we work with software today. Clinical trials require a single source of truth for data that is available to regulatory authorities, statisticians, and data managers. The cloud can offer this source of truth along with continuous improvement in the software, access to real-time data, and most importantly, systems that don't require extended downtime to accommodate migrations. Oracle Health Sciences Clinical One is positioned to support the move to the cloud and the shift to decentralized trials. Oracle has long been one of the world's leading suppliers of clinical trial systems. Clinical One is focused on a platform-led future to help accelerate digital transformation with an emphasis on developing integrated solutions to assist trial design, site management, and patient safety.
Parexel — Peyton Howell
We are involved in more than 50 COVID-19-related projects for both industry and nonprofit organizations focused on accelerating the discovery and implementation of preventive, diagnostic, or therapeutic tools and treatments for COVID-19. We have several examples of how we are working to address the COVID-19 crisis. For one, we launched a prevention study for a global nonprofit examining the effects of current medication usage on the risk of COVID-19 infection and severity of disease among healthcare workers in developing nations. We also initiated a volunteer effort through which almost 30 Parexel physicians, nurses, scientists, and laboratory personnel are serving as validators and trainers at COVID-19 testing sites across the United Kingdom. We entered into a research collaboration with Medable to employ its ACCESS mobile app, which connects researchers and clinical trial teams with homebound patients, enabling them to share their COVID-19 experiences and opt-in to participate in clinical trials. We spearheaded the new #KeepingPatientsFirst integrated real-world evidence (RWE) research platform, powered by Microsoft Azure, that collates critical evidence by enabling physicians and researchers to better understand and adjust treatments in real time, with the goal of accelerating patient access to novel treatments. Additionally, we rolled out a new risk mitigation offering that analyzes manufacturing operations to reduce the risk of viral contamination using a four-step methodology to support companies as circumstances change or new risks arise. We adopted new mobile sensors for at-home or mobile use that dispense preprogrammed doses of medication, provide patient reminders, collect real-time data, and offer video conferencing with site staff to keep patients engaged and connected at home and at work. We entered into a strategic partnership with Datavant to connect real-world data to Parexel's clinical trial data across all our studies to provide a more holistic view of patient health than clinical trial data alone. We also enhanced the use of our in-house clinical trial supplies and logistics services to ship study drugs and supplies directly to patients.
Saama Technologies — Kenneth Massey, Pharm.D.
Samma and iNDX.Ai developed and launched the new COVID-19 Command Center, a purpose-built data and analytics solution to drive precision medicine. The end-to-end R&D platform supports teams from translational research through clinical development and serves informational needs for key decision makers, including senior executives, therapeutic area heads, medical leads, clinical operations organizations, data management, CRO oversight, and investigative site personnel. The COVID-19 Command Center includes patient data from ongoing clinical trials in China, South Korea, and the United States with nearly 8,500 patients, including more than 3,000 positive cases. The Command Center delivers all the multiomics and clinical data analytics needed to manage COVID-19 clinical studies. In addition, to enable the global research community's use of the COVID-19 Open Research Dataset (CORD-19) more effectively, Saama built a semantic search capability on top of CORD-19. To obtain the highest search accuracy possible, we applied a deep learning comprehension model — ALBERT QA — using the most advanced natural language processing technology available. As a result, researchers can efficiently investigate the 63,000-plus scholarly articles on COVID-19.
SQZ Biotech — Armon Sharei
When the global pandemic arose, we found ourselves thinking about how we could allocate our resources and expertise to make a difference. Our answer was to accelerate our research in infectious disease by leveraging our existing platforms and research. We believe that by employing our technology's cargo interchangeability we can more easily explore expansion into infectious disease and potentially plan for rapid response to future pandemics.
Additionally, to improve the accessibility of our therapeutics, we are in the beginning stages of developing a point-of-care system, which could potentially generate patient product at the treatment center and enable even faster turnaround for patients.
Signant Health — Bill Byrom
To respond to the needs of the industry, our team of experienced scientists, clinicians, and technology and data experts are offering custom one-on-one guidance for any organization —whether customer or non-customer — seeking support in navigating this unprecedented time. We are leveraging our technology platform to support different approaches to collecting clinical outcome assessments (COA) data that would have been collected on site. We have implemented video meeting technology to enable certain complex clinical assessments that would have traditionally been conducted during a physician-patient consultation. For patient-reported outcome measures that are typically collected during site visits (e.g., quality of life questionnaires), we have enabled site personnel to input data directly for studies in which patients have completed the instruments on paper or via a telephone/video interview. We have also enabled direct web completion for patients from home. We continue to support alternative approaches to medication supply using our RTSM (randomization and trial supply management) system in cases where patients are unable to visit sites for repeat dispensation of study medication. In addition, we have made our patient engagement application available to help sites interact with patients via secure video meeting, and to manage additional email and SMS messaging to ensure trial participants feel valued, informed, and supported.
UCB — Iris Löw-Friedrich, M.D., Ph.D.
UCB's response to COVID-19 is focused on ensuring our employees are safe and supported; enabling patients through continued supply of medicines and expanded patient support programs; helping our local communities through donations and volunteerism; and contributing to scientific research projects worldwide. For some time, we've been focused on using technology to transform our clinical studies. And because of COVID-19, we're accelerating digitalization to bring existing, clinical trials to patients' homes. We've digitized all of our clinical studies protocols, which has streamlined our operations to manage the risks and executions of our trials, to make sure there is less burden on patients. We have used and are further implementing telemedicine to connect with patients in our clinical studies. We developed and are using the myUCB app platform to allow for patient reported outcomes and to provide reminders to people in our studies to take their medication if they have forgotten, which has led to better compliance. The app also includes helpful information for people in our studies to prepare for their next in-person visit and provides a means for study participants to give us feedback as study sponsors. Using patient-centric design, we have been able to implement remote site monitoring and assess hundreds of patients at home outside of a hospital setting. Our study team can monitor real-time study compliance and adapt as necessary, making the entire process much easier for patients and providers alike. These design features include increased flexibility as it comes to timing of study procedures, direct to patient shipment of study medication, home nursing in place of on-site visits, telemedicine, and use of digital platforms to collect efficacy and safety data as well as patient´s general feedback on the study. This approach has resulted in strong patient continuation rates in our studies even during the COVID-19 pandemic. From a scientific innovation perspective, we have embarked on a number of local and global collaborations to offer our scientific expertise to researchers and governments. In the United States, we are working with the Seattle Structural Genomics Center for Infectious Disease on a project to analyze SARS-CoV-2 proteins. We are also part of the COVID R&D Collaboration with other industry innovators as well as Transcelerate where collaboration related to COVID-19 is ongoing. Recently, UCB participated in the virtual Myasthenia Gravis Foundation of America (MGFA) national conference. It is more important than ever for organizations to reach communities where they are, and we were grateful for the opportunity to virtually connect with the global MG community to elevate patient voices in a safe environment. From a community engagement perspective, our research facility in Bedford, Mass., donated safety glasses, gloves, disposable lab coats, protective suits and gowns, and more to be used in Massachusetts to test and treat patients with COVID-19. We've been actively contributing to local community efforts, including supporting the feeding of healthcare workers, through donations and volunteerism. And UCB announced the establishment of a global fund that aims to support researchers and organizations committed to better understanding and addressing the medium-and-long term impact of COVID-19 on vulnerable populations' health.
WCG — Donald Deieso, Ph.D.
A deep sense of purpose and commitment to patients and the research community guides our work. We believe that the emergency measures being implemented today must become best practices — not for tomorrow, but today. COVID-19 has taught us that remote or virtual trial approaches must become part of the regular portfolio of solutions we offer. Perhaps a silver-lining to this crisis is the imperative we feel to provide our clients home-based clinical support solutions with which to conduct trials. Whether it's measuring a patient's vitals, drawing blood or collecting data, it's imperative that our industry enables all of this to happen remotely. We are also considering approaches to reliably ship experimental treatments directly to trial participants and to confirm their receipt. At WCG, we're partnering with clients to help them get there, going the extra mile to drastically reduce timelines, while continuing to maintain quality, even in these challenging times. Teams across our business are guiding sponsors as they incorporate new technologies into trial activities to make them virtual, in a regulatory compliant manner.