Ten years after the launch of Apple's iPhone in 2007, mobile healthcare (mHealth) technology and consumer adoption continues to advance. mHealth is a general term for the use of mobile wireless technology for medical care, health, and fitness. As the global population moves from being digitally naïve to digitally savvy, mHealth will likely become mainstream as a round-the-clock, always-on resource.
mHealth has already gone global. In 2016 there were 3.2 billion mHealth app downloads.1 More than 90% of mHealth apps are free to consumers.2
Where mHealth Is Today
We have robots in hospitals, remote home health monitoring and diagnostic devices, digital sensors, wearables, telemedicine, electronic health records, and apps that can help monitor health and illness.
An exciting prospect on the horizon is the use of digital assistants, with Amazon ECHO, Apple Siri, and Google Now leading the way. While these assistants can't support mHealth currently, reports indicate they will be ready soon. The assistants will run by utilizing artificial intelligence technology. The much-anticipated assistant applications will be able to help patients understand and address their health problems, provide updates and vital information to healthcare providers, be able to execute things like prescription refills and appointments, and tie into electronic health records (eventually).
What About Those Wearables?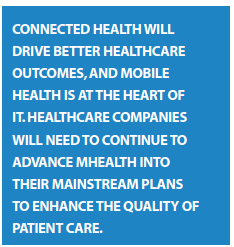 Health enthusiasts enjoy their fitness trackers, and these continue to dominate in the marketplace over smart watches. eMarketer reports that just under 16% of adults in the United States wore a wearable device daily in 2016, and more than 44 million adults in the United States will use a wearable device at least once per month in 2017, an increase of 12.6% over 2016.3 Fitbit is ranking No. 1 in the top 10 U.S. mobile health and fitness apps with more than 20 million monthly unique users and almost double the market share over MyFitnessPal at No. 2.
Consumer demand for connected fitness technology is increasing. Companies such as Google, Samsung, and Under Armour are developing sensors and smart clothes technology, weaving it right into the fabric of clothing. Watch for these GPS-equipped trackers to join the wearables mHealth category soon.
Infrastructure
As the technologies expand, so will the need for networks to be able to handle all the additional traffic and data, and security concerns. The mHealth platforms that exist today are isolated and fairly dependent on the user to advance the information.
Carmine Jichetti, Innovation Leader at Ogilvy, concurs: "For mHealth, there is no utopian infrastructure; it currently exists in small pockets. There are so many different platforms and systems. Technology will keep up, but more integration is needed."
The biggest risk in the existing infrastructure is data security: If patient data is stored on a mobile device and lost or stolen, that data could be at risk for breach. However compliance is possible, and the National Cybersecurity Center of Excellence is collaborating with U.S. organizations and working on solutions. Having the right IT technology is essential. Whether it's an athlete tracking progress or marathon achievements, or an insured patient looking to supplement a treatment plan, the storage and transport of this data is a here-and-now challenge and a future inevitability.
How Pharma Fits In
Federal regulators and health insurance companies have called upon pharmaceutical companies to demonstrate/add value to their medications. Pharma companies can utilize mHealth solutions to provide patients with digital resources (HIPPA-compliant apps, symptom trackers, QoL monitoring, disease education, fitness tracking); clinical education and digital resources for healthcare professionals; and even for monitoring of clinical trials (and beyond). Developing for mHealth benefits pharma by demonstrating tenacity for understanding customers' needs, as well as zeal for innovation. Use cases could include building communities where patients can reach other patients facing similar care issues, or using wearable data from gamified programs for personalized medical care and treatment.
mHealth Will Continue to Grow
Connected health will drive better healthcare outcomes, and mobile health is at the heart of it. Using smartphones and other types of mobile devices allows for better communication and coordination, however having the right technology, infrastructure and support remains a prominent part of the equation. Healthcare companies will need to continue to advance mHealth into their mainstream plans to enhance the quality of patient care.  (PV)
Notes:  1 Number of mHealth app downloads worldwide from 2013-2016. Statista; 2 Number of Health Apps Soars, but Use Does Not Always Follow. Medscape. Sep 18, 2015; 3 Wearables 2017: The Wrist-Worn Revolution Fails to Materialize, eMarketer March 2017.
---
Ogilvy CommonHealth Worldwide — the health behavior specialists of Ogilvy & Mather and part of  WPP Health & Wellness — is committed to creativity and effectiveness in healthcare communications, everywhere.
For more information, visit ogilvychww.com.