Turing Pharmaceuticals New Drug Company Launched
Trending now: Experienced team comes together to focus on treating unmet medical needs.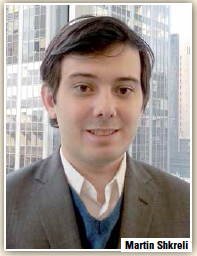 Turing Pharmaceuticals, a new pharmaceutical company, launched with news of three acquisitions for its commercial operations and development pipeline.
New York-based Turing is focused on developing and commercializing innovative treatments for serious diseases and conditions across a broad range of therapeutic areas, for which there are currently limited or no treatment options.
Turing's founder and executive chairman is Martin Shkreli, who has a history of success in the drug industry as founder and former CEO of Retrophin. At Retrophin, Mr. Shkreli led the acquisition of three key products in the six months following the company's IPO in 2014, and significantly accelerated their commercial success.
In addition to Mr. Shkreli, Turing has assembled a management team comprised of senior executives with extensive experience in the drug industry, including: Howard Dorfman, senior VP, general counsel; Hass Patel, Ph.D., VP for chemistry, manufacturing and controls; Nicholas Pelliccione, Ph.D., VP, regulatory affairs; Michael Harrison, chief financial officer; Nancy Retzlaff, chief commercial officer; and Megan Roberts, Ph.D., VP and product leader for Vecamyl.
"Our success in bringing to market a line of new therapeutic products very much depends on the caliber of our people," Mr. Shkreli said.  "We're thrilled to have assembled such a strong bench of senior talent for our launch and look forward to announcing additional key positions in due course."
Simultaneous to its launch, Turing announced the acquisition of three major assets from Retrophin:  an intranasal formulation of ketamine, Syntocinon (oxytocin nasal solution), and Vecamyl (mecamylamine HCl tablets).
Turing's strategic focus is to acquire and advance development of external compounds while also pursuing internal drug discovery through proprietary research and development to best address the needs of diverse patient populations. Reflecting its mission to address unmet medical needs, Turing has also acquired two early-stage compounds to be developed for various orphan drug indications.
"Our goal is to build a diverse portfolio and pipeline of therapies that can make a significant difference to patients," Mr. Shkreli said. "We are creating a strong, experienced team at Turing with a solid track record of success to execute on our objectives."
ICON Launches Medical Device & Diagnostics Research Group

ICON, a global provider of drug development solutions and services to the pharmaceutical, biotechnology, and medical device industries, has launched a new medical device and diagnostics research group focused on the requirements of medical device and diagnostics.
The new group combines the medical and regulatory device and diagnostic expertise of Aptiv Solutions, which ICON acquired in 2014, with ICON's global clinical development and commercialization solutions.
Device and diagnostic manufacturers can now benefit from an expanded suite of services that support the full product lifecycle, including global clinical trial execution, health economics and pricing, and market access solutions.
"The device and diagnostic development model can differ significantly from that of pharmaceutical companies, both in complexity and time to market," says Elizabeth Thiele, president, ICON Commercialization and Outcomes. "Operating under specific medical device SOPs and ISO certification, our new Medical Device & Diagnostics Research team has the expertise and flexibility to help manufacturers take time and cost from their development programs and maximize the value of their products."
ICON's Medical Device & Diagnostics Research group is led by Vicki Anastasi, VP, Medical Device & Diagnostic Research, who has more than 20 years of medical device and diagnostics experience.
Coronado Biosciences Forms New Subsidiary
Coronado Biosciences has formed a new subsidiary company, Checkpoint Therapeutics, to develop a portfolio of fully human immuno-oncology targeted antibodies generated in the laboratory of Dr. Wayne Marasco, M.D., Ph.D., a professor in the Department of Cancer Immunology and AIDS at Dana-Farber Cancer Institute (Dana-Farber). Dr.
Marasco is the chair of the Scientific Advisory Board of the company. Under the terms of the agreement, Checkpoint will pay Dana-Farber an up-front licensing fee in addition to development and sales-based milestone payments and royalties on net sales.
The portfolio of antibodies licensed from Dana-Farber includesantibodies targeting PD-L1, GITR and CAIX. Checkpoint plans to develop these novel immuno-oncology and checkpoint inhibitor antibodies on their own and in combination with each other, as data suggests that combinations of these targets can work synergistically together. Clinical trials are expected to start in the second half of next year.
In connection with the license agreement with Dana-Farber, Checkpoint Therapeutics entered into a collaboration agreement with TG Therapeutics to develop and commercialize the Anti-PD-L1 and Anti-GITR antibody research programs in the field of hematological malignancies. Checkpoint retains the right to develop and commercialize these antibodies in solid tumors. Both programs are currently in pre-clinical development. Under the terms of the agreement, TG Therapeutics will pay Checkpoint an up-front licensing fee as well as make development and sales-based milestone payments and will pay a tiered single digit royalty on net sales. (PV)