According to a recent report from JZ Med, the global clinical trial service market is expected to reach more than $64 billion by 2020, up from $38.4 billion at present, representing a CAGR of 9% between 2015 and 2020. By 2020 the average clinical trial outsourcing penetration will likely reach around 72%. In other words, by then close to three-quarters of clinical trials will likely be performed by professional CROs.
As sponsor companies — biopharmaceutical, biotechnology, drug device companies — continue to seek opportunities to increase efficiencies, reduce costs, and leverage resources, and enhance timelines, they are increasingly turning to outsourcing services offered by clinical trial service providers, both full-service CROs as well as providers of clinical trial technologies.
Analysts state that increased R&D by biopharmaceutical sponsors is one of the drivers toward increased outsourcing to CROs. Additionally, as sponsors are increasingly turning their attention to biologics and treatments for rare diseases, the complexity of clinical trials is also increasing. These factors are leading to increased pressures on the development continuum — from patient recruitment to analyzing big data to improving outcomes.
According to TechNavio's  analysts, the global CRO market is forecast to grow at a CAGR of 9.83% from 2014 to 2019.
Emerging Markets
According to Nice Insight's 2015 pharmaceutical and biotechnology outsourcing survey, 63% of global sponsors outsource their drug R&D to global CROs in emerging markets, a remarkable 68% jump from the 2014 survey, when only 43% reported outsourcing to these markets. In addition, more sponsors (88%) today will consider working with a CRO in an emerging market, up from 84% in 2014.
The rising cost of drug development is one of the trends driving movement to emerging markets. Biopharmaceutical companies are also challenged to improve productivity and efficiency, streamline clinical trials, and meet more rigorous regulatory and quality assurance requirements to sustain profitability — in essence, to achieve far more for less cost. To that end, many are implementing strategies to boost profit margins while reducing fixed and variable costs. As part of their strategy, they are looking to emerging market CROs to help them meet these challenges.
While there are valid concerns about globalizing clinical research, emerging markets such as China, Eastern Europe, Turkey, Argentina, and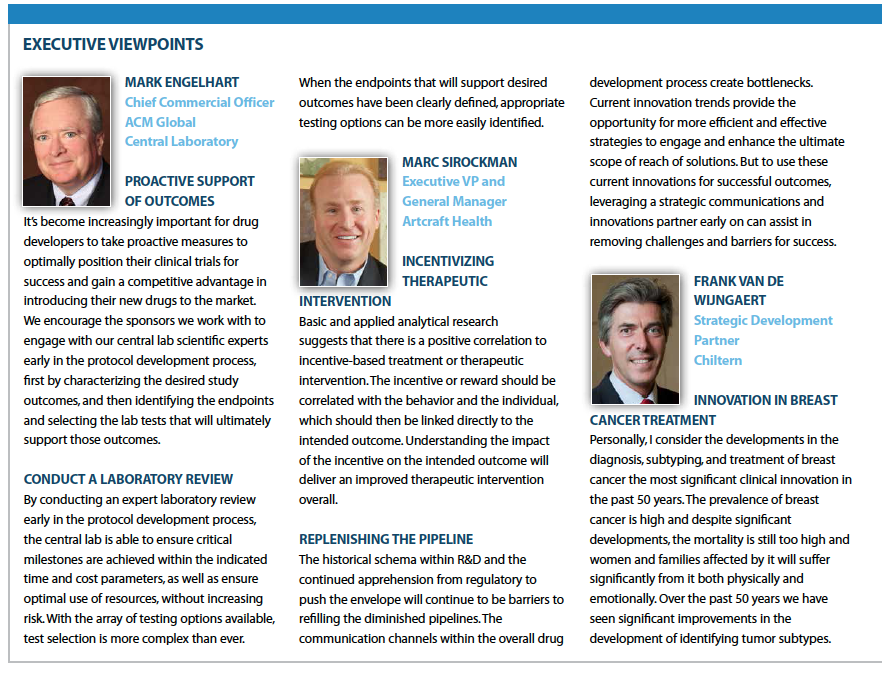 Brazil play a critical role in advancing medical science, analysts at Nice Insight report. Emerging markets offer a number of attractive features, such as the potential for reduced R&D costs and development time and the availability of a large, affordable talent pool with nearly comparable technical capabilities and skills.
Along with competition for clinical trial sites and an escalating number of clinical trials, sponsors and their CRO partners face strong competition for patients in certain therapeutic areas, increasingly complex trial protocols, and increased regulatory requirements. The cost and time to secure well-qualified sites and enroll patients have soared.
For clinical trials, emerging markets offer attractive features, with the potential for faster, less costly clinical trial enrollment, and more cost-effective trial conduct. Typically, these markets also have a larger, clinically naive patient population as potential trial subjects than established markets such as the United States and Western Europe, and offer a means of streamlining trial costs, NiceInsight's reports.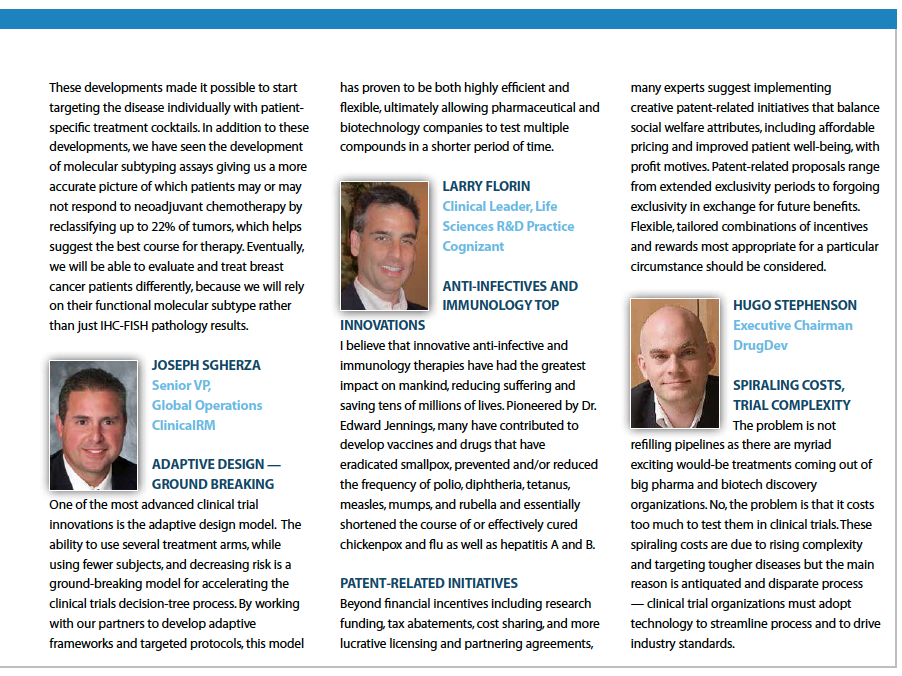 For the minority of sponsors (12%) that have not considered outsourcing projects to emerging market CROs and/or CMOs, more than half (57%) are primarily concerned that the quality level is too risky, and more than one-third (36%) say the logistics are too complicated. Other concerns were regulatory compliance (29%), intellectual property (14%), and communications challenges (14%). According to the NiceInsight's survey, global sponsors that outsourced clinical trials to CROs conducted considerably fewer of their outsourced trials in the United States and Canada in 2015 (19%) than in 2014 (31%). India and Western Europe also decreased as locations selected for clinical trial outsourcing (18% to 11% and 14% to 10% respectively). Clinical trial outsourcing continues to rise in China (15% in 2014 to 18% in 2015) and more than doubled in Argentina and Brazil (7% to 15%). Outsourcing trials also increased in Eastern Europe and Turkey (9% to 10%), the Middle East and Korea (both 2% to 6%), and Thailand and Vietnam (1% to 5%). Countries in emerging markets are subject to the same global standards for clinical trials. Local governments have supported the trials, making efforts to improve their business environment and regulatory adherence.
Big Data
The McKinsey Global Institute estimates that applying big data strategies to better inform decision making could generate up to $100

billion in value annually across the U.S. healthcare system, by optimizing innovation; improving the efficiency of research and clinical trials; and building new tools for physicians, consumers, insurers, and regulators to meet the promise of more individualized approaches.
In the healthcare and pharmaceutical industries, data growth is generated from several sources, including the R&D process itself, retailers, patients, and caregivers. Effectively using these data will help pharmaceutical companies better identify new potential drug candidates and develop them into effective, approved, and reimbursed medicines more quickly.
McKinsey outlines several scenarios in which big data and analytics can improve the future of clinical research:
Predictive modeling of biological processes and drugs becomes significantly more sophisticated and widespread. By leveraging the diversity of available molecular and clinical data, predictive modeling could help identify new potential-candidate molecules with a high probability of being successfully developed into drugs that act on biological targets safely and effectively.
Patients are identified to enroll in clinical trials based on more sources — for example, social media — than doctors' visits. Furthermore, the criteria for including patients in a trial could take significantly more factors (for instance, genetic information) into account to
target specific populations, thereby enabling trials that are smaller, shorter, less expensive, and more powerful.
Trials are monitored in real time to rapidly identify safety or operational signals requiring action to avoid significant and potentially costly issues such as adverse events and unnecessary delays.
Instead of rigid data silos that are difficult to exploit, data are captured electronically and flow easily between functions, for example, discovery and clinical development, as well as to external partners, for instance, physicians and CROs. This easy flow is essential for
powering the real-time and predictive analytics that generate business value.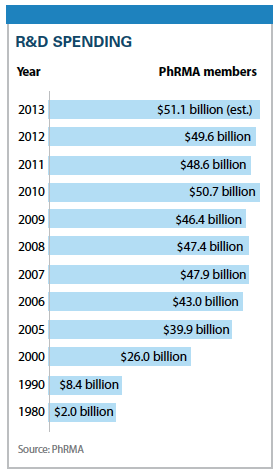 However, many pharmaceutical companies are wary about investing significantly in improving big data analytical capabilities, partly because there are few examples of peers creating a lot of value from it. Despite this initial hesitancy, McKinsey analysts believe investment and value creation will grow, stating that while the road ahead is indeed challenging, the big data opportunity in pharmaceutical R&D is real, and the rewards will be great for companies that succeed.
McKinsey research suggests that by implementing eight technology-enabled measures, pharmaceutical companies can expand the data they collect and improve their approach to managing and analyzing these data. The eight measures are: integrate all data, collaborate internally and externally, employ IT-enabled portfolio-decision support, leverage new discovery technologies, deploy sensors and devices, raise clinical-trial efficiency, improve safety and risk management, and sharpen focus on real-world evidence.
But for a big data transformation in pharmaceutical R&D to succeed, executives must overcome several challenges, including organizational, technology and analytics, and mindsets, McKinsey researchers say.
Organizational silos result in data silos. Functions typically have responsibility for their systems and the data they contain. Adopting a data-centric view, with a clear owner for each data type across functional silos and through the data lifecycle, will greatly facilitate the ability to use and share data. The expertise gained by the data owner will be invaluable when developing ways to use existing information or to integrate internal and external data. Furthermore, having a single owner will enhance accountability for data quality. These organizational changes will be possible only if a company's leadership understands the potential long-term value that can be unlocked through better use of internal and external data.
Pharmaceutical companies are now saddled with legacy systems containing heterogeneous and disparate data. Increasing the ability to share data requires rationalizing and connecting these systems. There's also a shortage of people equipped to develop the technology and analytics needed to extract maximum value from the existing data.
Many pharmaceutical companies believe that unless they identify an ideal future state, there is little value to investing in improving big-data analytical capabilities. Indeed, they seem to fear being the first mover, since there are few examples of pharmaceutical companies creating a lot of value from the improved use of big data. Compounding their hesitation is concern about increasing interactions with regulators if they pursue a big-data change program. Pharmaceutical companies should learn from smaller, more entrepreneurial enterprises that see value in the incremental improvements that might emerge from small-scale pilots. The experience so obtained might yield long-term benefits and accelerate the path to the future state.
Pharmaceutical companies desperately need to bolster R&D innovation and efficiency. McKinsey analysts say by implementing technology-enabled ways to benefit from big data, they could gradually turn the tide of declining success rates and stagnant pipelines.
In the last few years, we've seen many companies forming the beginnings of a mobile clinical trial platform. In 2011, Pfizer ran its first online clinical trial for an overactive bladder treatment, in conjunction with its traditional process, to test the waters of the online medium.
Lack of consumer participation stopped the effort after a year, however.  While social media sites such as Craigslist, Facebook, and Twitter were successful in leading consumers to the information of the trial, sign-up for the trial was too low. It was surmised that consumer trust in online sources was to blame.
Research Goes Mobile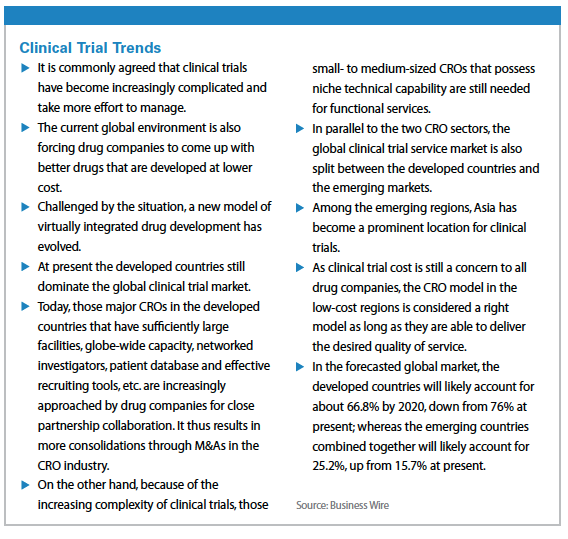 Mobile, aka mHealth, and wearables are poised to disrupt the clinical trial landscape.  Apple's ResearchKit, an open-source framework, allows researchers and developers to create powerful apps for medical research as well as create visual consent flows, real-time dynamic active tasks, and surveys using a variety of customizable modules that users can build upon and share with the community.
Apple's ResearchKit is already addressing one of the major hurdles in clinical research: patient recruitment. For one of its trials, Stanford University was able to recruit 11,000 participants for a heart disease study in just 24 hours using a first-of-its-kind iPhone app as an easy-to-use research tool that enables users to help advance the understanding of the health of the human heart, a feat that would normally take 50 medical centers an entire year to accomplish using traditional approaches. The MyHeart Counts app collects data about physical activity and cardiac risk factors for Stanford scientists studying the prevention and treatment of heart disease.
The free app uses the new ResearchKit framework, which gives users a simple way to participate in the study, complete tasks, and answer surveys from their iPhones. The app delivers a comprehensive assessment of each user's heart health and provides information on how to improve it.
In the future, it will also be used to study various methods — designed to be both easy and fun — for using smartphones and other wearable devices to enhance heart-healthy habits. (See the related article in this issue: Wearables in Clinical Trials.)
According to Gartner, by 2017 mobile apps will be downloaded more than 268 billion times, generating revenue of more than $77 billion and making apps one of the most popular computing tools for users across the globe. As a result, Gartner predicts that mobile users will provide personalized data streams to more than 100 apps and services every day.
In the next three to four years, apps will no longer be simply confined to smartphones and tablets, but will impact a wider set of devices, from home appliances to cars and wearable devices. By 2017, Gartner predicts that wearable devices will drive 50% of total app interactions.
Experts predict that it's only a matter of time before there is a complete digitalization of clinical trials, some say this won't happen until 2030, while others say the advancement of technology is happening so rapidly that the industry will see more immediate results. With the FDA now officially accepting electronic sourcing of trial data, clinical trial digitialization just might be closer than we think.  (PV)