in•no•va•tion
the action or process of innovating.
• a new method, idea, product, etc.
When this special issue was conceived, the idea was to shine a light on the innovators and innovations that are changing the life-sciences industry. We issued a call to action to our readers to identify the companies that are changing the paradigm and the products, tools, technologies, processes, etc. that are making a difference in the lives of patients. We were overwhelmed by the responses; at the same time we are very much aware that the companies and products featured in this issue only scratch the surface of the innovations that are taking place everyday in every sector of healthcare.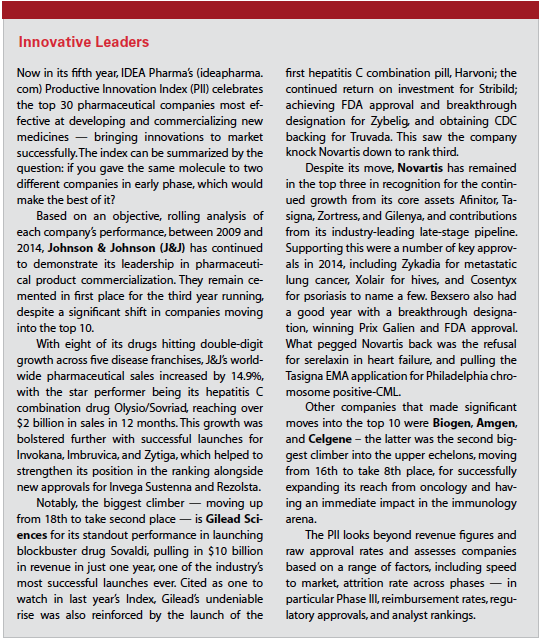 For example, just last month Johnson & Johnson Innovation LLC announced the opening of JLABS @South San Francisco, a 30,000-square foot incubator that can accommodate up to 50 startups from across the healthcare spectrum including biotech, pharmaceutical, medical device, consumer, and digital health. The first resident startups have been selected, including the winners of the Johnson & Johnson Innovation, JLABS Quick Fire Challenge, which was designed to recognize the most promising new, early-stage innovation companies and award them with the use of a bench and access to the JLABS @SSF community.
J&J is not the only major pharma company that is fielding incubator type facilities to encourage open collaboration. Bayer has also invested in an incubator, the CoLaborator in San Francisco, to offer biotechs the lab space, shared facilities, and resources necessary for discovery. Merck established the California Institute for Biomedical Research (Calibr) and Pfizer initiated The Pfizer Incubator and The Centers for Therapeutic Innovation (CTI).
Additionally, open collaboration is happening at major nonprofit institutions, such as the Multiple Myeloma Research Foundation's  CoMMpass Study, launched in 2011 as the first of its kind in myeloma. The collaboration includes world-class researchers in more than 90 institutions. A "dream team" of cancer specialists is helping researchers gain access to each patient's genetic analysis to help them learn how patients respond to therapies.
Another example of cross collaboration is the National Institutes of Health's Brain Research through Advancing Innovative Neurotechnologies (BRAIN) Initiative, which is part of a Presidential focus aimed at revolutionizing our understanding of the human brain. By accelerating the development and application of innovative technologies, researchers will be able to produce a revolutionary new dynamic picture of the brain that, for the first time, shows how individual cells and complex neural circuits interact in both time and space. Long desired by researchers seeking new ways to treat, cure, and even prevent brain disorders, this picture will fill major gaps in our current knowledge and provide unprecedented opportunities for exploring exactly how the brain enables the human body to record, process, utilize, store, and retrieve vast quantities of information, all at the speed of thought.
We know that innovation is happening in big pharma companies, at startup biotechs, at med/device companies, in hospital systems, and in every type of company that supports the vast life-sciences industry.
Nontraditional healthcare companies such as Google and Microsoft are collaborating with brand-name pharma companies. Universities are partnering with emerging startups. Healthcare advertising agencies are teaming up with software developers. Clinical service providers of all types are taking to the cloud. There seems to be no limit to the lengths forward-thinking leaders are willing to take their companies.
According to a recent PwC report, business executives are banking on bold innovation to meet aggressive growth targets, so they are taking innovation more seriously than ever before.
In the spirit of Peter Drucker who said, "innovation is work," business executives are focusing less on informal processes that produce incremental improvements to internal operations and more on formal innovation approaches that generate "breakthrough" and "radical" innovation.
In PWC's latest innovation study, 69% of 1,757 senior executives contend having a well-defined innovation process is important to establishing a culture of innovation. This rigor is necessary to improve the chances of innovation success.  To make headline-worthy innovations happen, a significant percentage of companies are looking to new innovation models such as open innovation (collaboration with outside partners), design thinking (looking at the need from an anthropologist's perspective), corporate venturing (investing in startups), and incubators (small groups of intrapreneurs that use rapid prototyping).
The consulting company Insigniam contends that innovations can be small or large, from incremental step-changes to outright breakthroughs. We agree, as evidenced by the innovations featured in this issue. Some are outright audacious in their vision, while others provide incremental, yet vital, changes to the system.
Executives at Insigniam add that successful organizations have the dependable ability to inspire creativity and harness small and large innovations across the enterprise and, then, move them to market with speed. In a recent Insigniam survey of several hundred executives, 87% of respondents say innovation is of the utmost importance for success. Yet only 15% feel their organization is prepared to deliver the needed level of innovation. It seems as though new thinking to elevate value and launch dramatic growth opportunities is in the DNA of the enterprise, with every single employee committed to innovation.
Insigniam executives offer several best practices to create an innovative culture, including: inoculate against the corporate immune system; less corporate gravity; corrected corporate myopia; greater innovation thrust; creativity, capability, and capacity; and effective execution.
There is no doubt that big data in all its petrabytes is significantly driving innovations across every sector. Companies such as GE and Siemens are breaking barriers and moving the needle in significant ways. And we can't forget to note IBM and Watson, the supercomputer that is using big data analytics to address healthcare's hierarchy.
Over the past 15 years, PharmaVOICE has been excited to share the insights of innovators and provide visibility to the innovations that are changing the industry. And, in the past two years we have dedicated a special department each month — Innovator's Corner — to spotlight companies that are changing the status quo. (See Letter from Editor). So, we are particularly proud to celebrate more than 100 companies and products in this special issue.
We look forward to hearing from you about new areas of research and development and innovations that we can celebrate throughout the year and in next April's special issue. (Please visit PharmaVOICE.com in May for more details.) (PV)
—————————————————
Innovative Leaders
Now in its fifth year, IDEA Pharma's (ideapharma.com) Productive Innovation Index (PII) celebrates the top 30 pharmaceutical companies most effective at developing and commercializing new medicines — bringing innovations to market successfully. The index can be summarized by the question: if you gave the same molecule to two different companies in early phase, which would make the best of it?
Based on an objective, rolling analysis of each company's performance, between 2009 and 2014, Johnson & Johnson (J&J) has continued to demonstrate its leadership in pharmaceutical product commercialization. They remain cemented in first place for the third year running, despite a significant shift in companies moving into the top 10.
With eight of its drugs hitting double-digit growth across five disease franchises, J&J's worldwide pharmaceutical sales increased by 14.9%, with the star performer being its hepatitis C combination drug Olysio/Sovriad, reaching over $2 billion in sales in 12 months. This growth was bolstered further with successful launches for Invokana, Imbruvica, and Zytiga, which helped to strengthen its position in the ranking alongside new approvals for Invega Sustenna and Rezolsta.
Notably, the biggest climber — moving up from 18th to take second place — is Gilead Sciences for its standout performance in launching blockbuster drug Sovaldi, pulling in $10 billion in revenue in just one year, one of the industry's most successful launches ever. Cited as one to watch in last year's Index, Gilead's undeniable rise was also reinforced by the launch of the first hepatitis C combination pill, Harvoni; the continued return on investment for Stribild; achieving FDA approval and breakthrough designation for Zybelig, and obtaining CDC backing for Truvada. This saw the company knock Novartis down to rank third.
Despite its move, Novartis has remained in the top three in recognition for the continued growth from its core assets Afinitor, Tasigna, Zortress, and Gilenya, and contributions from its industry-leading late-stage pipeline.
Supporting this were a number of key approvals in 2014, including Zykadia for metastatic lung cancer, Xolair for hives, and Cosentyx for psoriasis to name a few. Bexsero also had a good year with a breakthrough designation, winning Prix Galien and FDA approval. What pegged Novartis back was the refusal for serelaxin in heart failure, and pulling the Tasigna EMA application for Philadelphia chromosome positive-CML.
Other companies that made significant moves into the top 10 were Biogen, Amgen, and Celgene – the latter was the second biggest climber into the upper echelons, moving from 16th to take 8th place, for successfully expanding its reach from oncology and having an immediate impact in the immunology arena.
The PII looks beyond revenue figures and raw approval rates and assesses companies based on a range of factors, including speed to market, attrition rate across phases — in particular Phase III, reimbursement rates, regulatory approvals, and analyst rankings.
——————————————-
Companies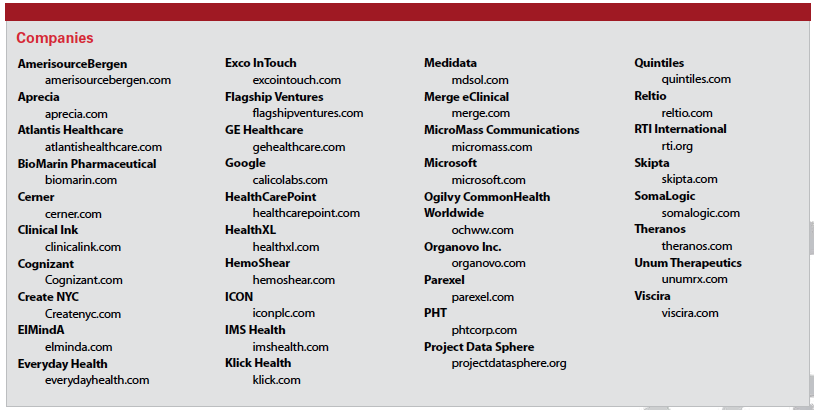 AmerisourceBergen
amerisourcebergen.com
Aprecia
aprecia.com
Atlantis Healthcare
atlantishealthcare.com
BioMarin Pharmaceutical
biomarin.com
Cerner
cerner.com
Clinical Ink
clinicalink.com
Cognizant
Cognizant.com
Create NYC
Createnyc.com
ElMindA
elminda.com
Everyday Health
everydayhealth.com
Exco InTouch
excointouch.com
Flagship Ventures
flagshipventures.com
GE Healthcare
gehealthcare.com
Google
calicolabs.com
HealthCarePoint
healthcarepoint.com
HealthXL
healthxl.com
HemoShear
hemoshear.com
ICON
iconplc.com
IMS Health
imshealth.com
Klick Health
klick.com
Medidata
mdsol.com
Merge eClinical
merge.com
MicroMass Communications
micromass.com
Microsoft
microsoft.com
Ogilvy CommonHealth Worldwide
ochww.com
Organovo Inc.
organovo.com
Parexel
parexel.com
PHT
phtcorp.com
Project Data Sphere
projectdatasphere.org
Quintiles
quintiles.com
Reltio
reltio.com
RTI International
rti.org
Skipta
skipta.com
SomaLogic
somalogic.com
Theranos
theranos.com
Unum Therapeutics
unumrx.com
Viscira
viscira.com
Download the article PDF to  read the individual articles on each company
The complete list of innovative companies is also available in the April 2015 edition of PharmaVOICE Magazine.