Industry at Large
AbbVie To Award 40 CF Scholarships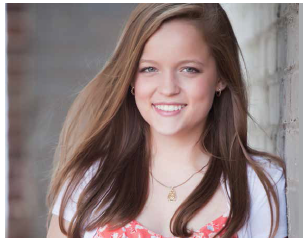 AbbVie has announced the 2015 AbbVie CF Scholarship, which honors and supports young adults with cystic fibrosis (CF) as they pursue higher education, is now open to undergraduate and graduate students. For the 23rd year, the AbbVie CF Scholarship will recognize exceptional students with CF who demonstrate academic excellence, community involvement, creativity and the ability to serve as a positive role model for the CF community. Forty scholars will be selected to receive $2,500 each for use during the 2015-2016 school year.  Recipients will also have the opportunity to compete for public votes to win two Thriving Student Scholarships (based on level of study) for a total award of $23,000.
Spending on Medicines Rises
Medicine spending increased at the highest rate since 2001, driven by innovative new medicines, lower patent expiry impact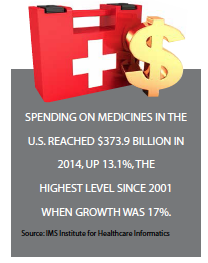 and higher list prices. Demand for healthcare services declined in 2014 despite this being the first year of insurance coverage for millions of people under the Affordable Care Act (ACA), according to the IMS Institute for Healthcare Informatics. Some newly insured individuals, particularly in Medicaid, drove a substantial increase in dispensed prescriptions.
Other findings: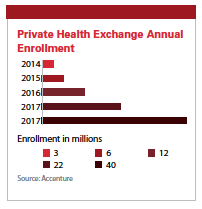 Losses of patent exclusivity led to $11.9 billion lower spending on branded medicines, almost one-third the level in 2012 when expiry impact peaked
Price increases for protected brands increased spending by $26.3 billion, contributing 8.2% to total market growth on an invoice price basis; estimated net price growth was substantially lower as rising off-invoice discounts and rebates offset incremental price growth and reduced net price contribution to growth to 3.1%.
Specialty medicines now account for one-third of spending.
UCB Leads Epilepsy Hackathon
UCB sponsored in April a two-city epilepsy hackathon — Hack Epilepsy — with a single purpose to improve the lives of people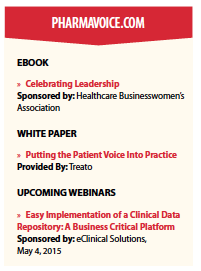 living with epilepsy. The hackathon will be held simultaneously in Brussels, Belgium, and Atlanta.
At the Hackathon, digital experts joined forces with epilepsy specialists and patients to build prototype digital tools aimed at supporting people living with epilepsy. Participants will face four broad challenges including accessing effective support and reliable information, empowering people to talk about their epilepsy, and knowingwhat questions to ask following diagnosis.
As well as developing digital solutions, teams at Hack Epilepsy will compete for prize money for the most innovative prototype.
New Competition for Creative Industry

Lions Health together with UNICEF and Unilever, has launched the Young Lions Health Award, a new competition for young creatives and marketers that aims to improve challenges facing global health systems in developing countries.
For UNICEF, one of the key challenges for children to survive and thrive is creating the awareness that health is not just about supplies or specific initiatives, but about creating a more sustainable system that reaches every child with basic, lifesaving health services.  To date, communications around child health have been fragmented and divided into silos, such as sanitation,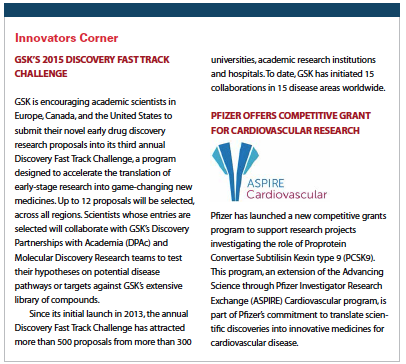 HIV and vaccination, preventing an integrated approach in generating awareness and support. The Young Lions Award calls on the young creative industry to develop a compelling campaign that would help address this challenge. UNICEF will use the winning campaign as the basis for engaging the general public to advocate and mobilize support for better, child-focused health systems.(PV)
Awards…
CenterWatch Identifies Top CROs
Investigative sites rated CROs on more than three dozen individual relationship attributes in a survey conducted by CenterWatch. The top five highest-rated CROs were PSI CRO, INC Research, Chiltern, PPD, and Covance. Analysis suggests sponsors increasingly are adopting integrated and strategic outsourcing partnerships that give CROs greater responsibility for selecting and managing sites and the average CRO has made great strides in improving its working relationships with sites.
Rho CEO Honored with Women in Business Award
Contract research organization Rho's Laura Helms Reece, co-chief executive officer, was recognized as a top businesswoman by the Triangle Business Journal. The Women in Business Awards recognize leading businesswomen in the Research Triangle Park area of the state. This year's winners were selected for their dynamic and outstanding leadership, as well as significant business or community accomplishments.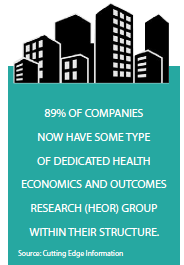 Quintiles Among Forbes Top Employers
Quintiles has been named to Forbes magazine's first-ever America's Best Employers list as rated by more than 20,000 independent survey responses. Quintiles is ranked as the 30th best employer in the United States and comes in third in the Drugs and Biotechnology category. In all, 500 companies are included in the 2015 Forbes list.
eBook
Celebrating Leadership
Sponsored by: Healthcare Businesswomen's Association
White Paper
Putting the Patient Voice Into Practice
Provided By: Treato
Upcoming Webinars
Easy Implementation of a Clinical Data Repository: A Business Critical Platform
Sponsored by: eClinical Solutions,
May 4, 2015
Pardon us…
In the April issue, we inadvertently misquoted the URL for BBK's innovative mobile app and cloud-based content management and engagement platform for My Protocol Pal.
The correct URL is: MyProtocolPal.com.
We apologize for any inconvenience.