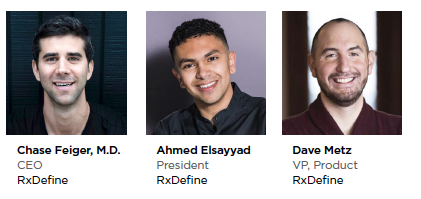 There are three elements to a successful and sustainable patient engagement strategy: personalized, convenient, and data-driven.
Pharma spends $20 billion a year in advertisements driving patients to the noninteractive CTA, "talk to a doctor." By incorporating these three elements, we can transform a static call to action into a dynamic, frictionless way for patients to engage with the healthcare ecosystem.
Personalized: Firstly, it is imperative for pharma to transform broad-based advertisements into tailored and bespoke journeys for patients. Not everyone is ready to talk to a doctor, so why should every call to action be the same? Patients with different intents may instead want product, side effect or cost information, scheduling help, or even recommendations for who to speak with.
Convenient: Secondly, even if the advertisements are personalized, it is of the utmost importance to make it as easy as possible for actionable next steps. Some examples we have seen be impactful are equipping patients with the information they need and connecting these informed patients to their clinician of choice — all of which happens in near real-time, with the fluidity of e-commerce technology.
At RxDefine, we built a team of the best and brightest who have developed consumer experiences at companies such as Google, Facebook, Snapchat, and YouTube. These platforms thrive on great user experiences (UX) across all audience segments. Why should healthcare be different?
Data-Driven: Lastly, in an age where consumerization has leaked across almost every industry vertical, it is clear the patient experience of the future should be far more "human" and maximize the use of predictive analytics and machine learning. At RxDefine, we use a scoring metric called Human Experience (HX). This is a measurement of how successful we are at providing convenience, simplicity, personalization, and empathy to every user that interacts with our platform through a pharma brand's site. This enables continuous improvement during every step of the process.
We recognize what we do as an organization reflects on the pharma company, and as patients, doctors, product designers, engineers, and data-scientists every decision we make must consider the patient, provider, and pharma company. By lowering the barrier for access to care, RxDefine enables a more open and frictionless doctor-patient dialogue. The net result is better care and lower costs to the system since patients seek care sooner rather than waiting as their disease manifests over a longer period of time.
Tapping Into Patient Insights
In Silicon Valley, a common proverb is that user problems can be solved by doing one thing: talk to your users! At RxDefine, we found some of the most challenging issues can be resolved by talking to patients at all stages of the patient journey. To date, most patient engagement solutions focus on the patient journey after a prescription has been written. While these programs have shown to be effective, the limitations of these "hub" models are they only result in interactions post-script, i.e. post-doctor-patient relationship and post-prescription. Yet, patients often have many questions even before determining they need to see a doctor. As a result, RxDefine developed the first pre-prescription personalized patient engagement solution known as the RxDefine Connected Consumer Platform. Through RxDefine, pharma manufacturers across specialties such as gastroenterology, rheumatology, psychiatry, neurology, OB/GYN, nephrology, cardiology, pulmonology, primary care, and dermatology recognize a heightened need for a pre-prescription engagement model that helps consumers navigate all the disease information, choices and decisions that need to be made before seeking care.
With RxDefine, pharma brands and agencies of record seamlessly enable re-optimization of pharma marketing through a regulatory compliant and data-centric approach, while humanizing the interaction between the pharma brand and the consumer.(PV)
---
RxDefine ethically empowers people to navigate their health by encouraging action and customizing medical assistance via DTC promotions. RxDefine works with pharma companies across all indications and life cycles to digitize and automate the commercialization process from consumer awareness to point of care. RxDefine brings together Silicon Valley design, product and technology expertise and decades of healthcare, regulatory and pharmaceutical competence. Our team consists of technologists, product designers, and doctors who spent years transforming consumer technology into a regulatory compliant, data-driven experience.
For more information, visit rxdefine.com.