COVID-19 and the Black Lives Matter movement have prompted many companies to step up diversity and inclusion initiatives.
The past 18 months, with the global pandemic and social unrest following the deaths of George Floyd and Breonna Taylor, have shone an even brighter light on diversity and inclusion — both in the workplace and in society in general.
"Companies within our industry have released statements, made philanthropic pledges, donated a variety of resources, and even come out publicly for the first time to stand against inequality, intolerance, and discrimination and in support of the diverse communities of patients and employees," says Synim Rivers, senior director of research and development communications, Horizon Therapeutics.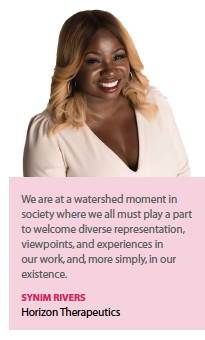 For many in the life-sciences industry, these life-changing situations presented a call to action to step up DE&I initiatives. It turns out that DE&I isn't just the right thing to do, but also the smart thing to do.
According to BoardReady, a nonprofit organization, companies where women held more than 30% of board seats outperformed their peers in 11 of 15 sectors, and companies with at least 30% of director seats held by people of color saw year-over-year revenue grow by 4%. Those with less racially diverse boards had a revenue decline.
Increasingly, companies and the industry at large are recognizing the importance of D&I.
"There is a clear stakeholder expectation among our investors, customers, and our associates for organizations to show ethical leadership on issues affecting society both globally and in the United States," says Marion Brooks, VP and US country head of diversity and inclusion at Novartis.
Organizations are starting to make their demographic data and D&I goals publicly available to encourage accountability and measure progress, experts say.
"There is a committee on the BIO board of directors solely focused on workplace development, diversity, and inclusion, so change is happening," says Eric Dube, Ph.D., president and CEO at Travere Therapeutics. "More CEOs are now speaking out about their commitment to achieving equity both in their companies as well as in healthcare."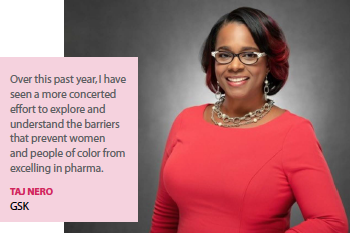 Chazeman Jackson, Ph.D., health science researcher and equity advocate, W. Montague Cobb/NMA Health Institute, says too often D&I initiatives have been on the margins and disconnected from organizations' missions and bottom lines.
"Now, we're seeing a greater call for these initiatives to take center stage — permeating throughout research development, hiring practices, as well as marketing and communications," she says.
While the rise of DE&I departments has been key to setting the blueprint for an inclusive culture, Paula Garcia Todd, global strategic manager of pharma solutions at International Flavors & Fragrances, says the corporate culture must come directly from leadership.
A Changing Paradigm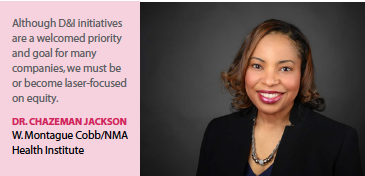 While the global pandemic has brought many challenges, there have also been silver linings, says Taj Nero, a medicinal science and technology project manager and workstream leader in the global demographics and trial diversity team at GSK. "I believe that the flexibility of working remotely allows for a more inclusive culture," she says. "Being virtual and being invited into our colleagues' homes has changed the professional paradigm — driving momentum forward to reach a more inclusive, equitable society."
However, she adds that there are many blind spots when it comes to the experience of underrepresented groups and the role they play within pharma. Change, experts say, begins with education.
"My personal mission is to normalize the vantage point of seeing a Black woman who is a chemical engineer and a scientist," Ms. Nero says. "This is why I remain visible at schools and collaborate with organizations such as the Girl Scouts. I also serve as the director of professional development on the board of Women of Color in Pharma, which promotes the development and advancement of women of color in the pharmaceutical life-sciences industry."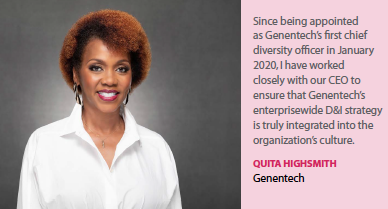 In April 2021, Ms. Nero was certified in the first cohort of the speakers bureau for the WOCIP "We are Pharma" initiative, which focuses on community education and increasing COVID-19 vaccine confidence by bridging the gap between pharma and patients.
Ms. Garcia Todd has spent the last decade on the board at Penn State's College of Engineering helping ensure the recruitment and retention of diverse students in engineering, as well as looking to expand the talent pipeline earlier through engaging in K-12 STEM outreach, specifically targeting underrepresented students and encouraging them to consider STEM careers. This resulted in her appointment as an IF/THEN ambassador by the American Association for the Advancement of Science (IF she can see it, THEN she can be it).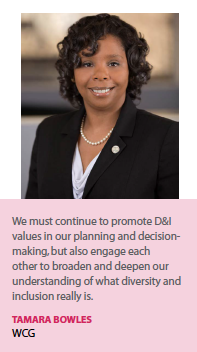 "In this role, I have the privilege of speaking with students, which allows me to encourage STEM career pathways, especially among females and underrepresented candidates," Ms. Garcia Todd says.
D&I in Health Delivery
A person's healthcare experience shouldn't be determined by their gender, race, sexual orientation, or socioeconomic background. But data show these factors significantly influence access to care and health outcomes, says Quita Highsmith, VP and chief diversity officer at Genentech. "The industry needs to address inherent bias," she says.
"For example, while artificial intelligence can help to provide better healthcare, its training data must be representative of the communities that it may impact to make it more inclusive and equitable."
Dr. Jackson adds clinical trials, and more broadly biomedical research, have often neglected the meaningful engagement of patients.
"I've spent a significant portion of my career ensuring that there are policies and systems in place that remove barriers to research participation and promote equity and inclusion in each phase of scientific discovery," she says.
Since the pandemic, Dr. Jackson has seen increased transparency of clinical trial data to help build consumer, patient, and public trust in scientific and medical systems.
Among industry groups, BIO launched its BIOEquality Agenda with the aim of improving health equity and increasing clinical trial diversity, investing in current and future scientists, and expanding opportunities for women and other underrepresented

populations. And PhRMA launched the first-ever industrywide principles on clinical trial diversity in November 2020.
Further, according to Tegan Mead, senior director, healthcare operations, Javara, the FDA released its nonbinding guidance addressing diversity and eligibility in clinical trials last year, indicating the agency may establish requirements surrounding minority participation going forward.
Tamara Bowles, VP, human capital management and co-chair for WCG's Diversity & Inclusion Council, says the company has seen a marked increase in the number and types of clients seeking expertise in how to diversify clinical trials. "We've also seen the intersection between external clients and clinical trials and internal WCG culture and employees getting stronger and more cognizant of the imperative to diversify both clinical trials and the biopharma workforce," she says.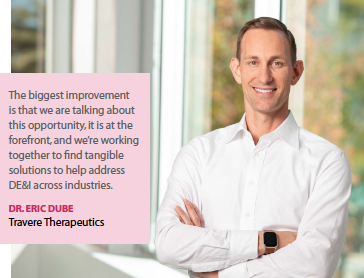 Ms. Mead says COVID-19 increased patients' understanding of trials and the critical role diversity plays in advancing research, which has created opportunities for further dialogue with patients and potential participants. "We are working to leverage this new awareness to engage with an increasing number of underrepresented minority groups," she says.
Ms. Garcia Todd believes the industry still has a lot of work to do to gain the trust of the general population. "It starts with internal practices," she says. "Are we ensuring fair gender and racial representation in our clinical trial testing of new drug products? Are we hiring diverse individuals who not only improve our research and innovation pipeline, but also advocate for the important work we do within their communities? Are we adequately supporting diverse talent to progress in their careers?"
"We need strong advocates and leadership across the entire healthcare industry to lead strategies that result in increased research into racial differences in disease manifestation," Ms. Rivers says. "We also need to place an emphasis on understanding how socioeconomics, behaviors, genetic ancestry, and other factors come into play in determining one's ability to lead a healthy life as we develop new therapies to treat the unique needs of various patient populations."
D&I Now and in the Future
Experts say while progress with D&I initiatives are welcome, much more must be done to address health equity.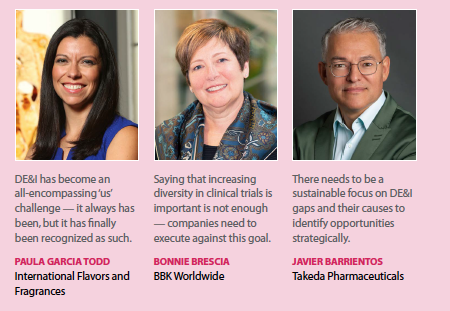 "We need to improve our investments and incorporate equity metrics to recognize when we are succeeding and when we have more work to do," Dr. Jackson says. "I believe transformation from the inside out will be necessary to disrupt harmful policies and practices and to build a more inclusive and just environment."
Bonnie Brescia, founding principal, corporate development officer, BBK Worldwide, says achieving diversity in employment or study execution is not something that happens within a year — or even 10 years. "The commitment may take years to gain consensus, then significant efforts to make progress," she says. "An organization must work hard to achieve diversity within itself. It rarely comes naturally — and you may not exist now as an entity that would be attractive to people who are Black, Hispanic, Latinx, or nonbinary, for example. To attract Black employees, you need to have Black employees on staff. Embracing the life experiences and perspectives of our employees and customers is the only way to change an organization."
Ms. Garcia Todd says in the wake of the murder of George Floyd she noticed more employees at her previous company begin to share their stories, and more colleagues become willing to actively listen. "Creating equitable spaces in an industry that is predominantly white and male is challenging — but it starts with tough and personal discussions," she says. "It became less about events happening to 'groups of people' in the news, and more about protecting and advancing our beloved colleagues."
Mr. Brooks says with the implementation of Juneteenth as a federal holiday, positive changes are happening and it is hoped that DE&I will be recognized as a movement, not a moment, to focus on equity beyond observances and milestones.
DE&I across the industry and in clinical research begins with who gets to be a scientist and a physician, Ms. Highsmith says. "This needs to start early in secondary education,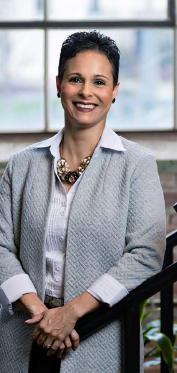 continue through academia and then in the workplace," she says. "We must develop a pipeline of talent, then encourage and financially support this talent because this will drive innovation, improve scientific and clinical outcomes, and help contribute to more equitable healthcare."
Ms. Nero says to move the needle forward on DE&I, equity and anti-racism will need to be formalized as business imperatives that are both acknowledged and measured. "The act of listening is the first step," she says. "The next step is consultation with DE&I experts to create baselines, uncover hidden biases, and implement proven strategies — not only with respect to hiring, but facilitating a clear pathway into the C-suite. The final step is to act and create meaningful spaces for all employees to grow."
Javier Barrientos, head of diversity, equity, and inclusion, U.S., Takeda Pharmaceuticals, says there needs to be a sustainable focus on DE&I gaps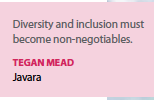 and their causes to identify opportunities strategically. This diagnostic thinking is necessary to inform any long-term vision that aspires to effectively tackle ongoing problems such as healthcare disparities, talent underrepresentation, and even how medical information is communicated to communities of color. "Cooperation across industries, public and private partnerships, and proactively seeking ways to work together will be key to achieving our individual and collective goals," he says.(PV)
~~~~~~~~~~~~~~~~~~~~~~~~~
HBA's Gender Collaborative
The Healthcare Businesswomen's Association's Collaborative cohort has nearly achieved equal gender representation at senior VP and manager levels (48% and 49%, respectively).
From 2018 to 2020, the Collaborative cohort doubled the representation of women senior VPs — jumping from 24% to 48% — nearly achieving equal gender representation at that level. In comparison, from 2018 to 2020, the broader pharmaceutical and medical product sector only increased representation of women senior VPs from 25% to 32%.
From 2018 to 2020 at the VP level and higher, the HBA Collaborative cohort saw a 27% average increase in women's representation, whereas the broader industry saw a 9% average decline.
Source: Healthcare Businesswomen's Association