A leader of leaders
Blazing new trails by…
advancing gender parity and equity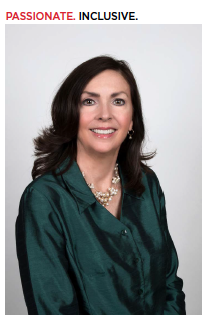 Laurie Cooke, RPh
Title: President and CEO
Company: Healthcare Businesswomen's Association
Education: PG Dip, Software Engineering Management, University of Luton; Advanced Degree, Pharmacy, University of Washington; Pharmacy, University of Maryland Baltimore; B.S., Microbiology, University of Maryland
Awards: ASAE Mentor of the Year, 2011; PharmaVOICE 100 — 2009 and 2017, Red Jacket, 2021; NAFE Healthcare Champion, 2019
Associations: Founding member of TIMES UP Healthcare, Founding member of Philadelphia CEO Trust, American Society of Association Executives; Women Against Alzheimer's Leadership Council; Pharmaceutical Women's Health Advocacy Advisory Board; LifeScience Leader Editorial Board
Twitter: @LCooke9
Laurie Cooke has been leading the charge as a committed steward of the Healthcare Businesswomen's Association's (HBA) mission and brand for the last 15 years. Over the course of her tenure at the helm of the volunteer-led organization, Laurie has guided the HBA to extraordinary heights. A few of the milestones achieved under her leadership include the tripling of its membership, now close to 12,000 members, representing 1,200-plus companies from more than 60 countries; more than tripling its roster of corporate partners; and overseeing a global brand that stands for "a united force for change." A servant leader, Laurie has served as a mentor to hundreds of women and has provided valued counsel to dozens of CEOs and other corporate leaders. One of the most notable accomplishments against the HBA's mission has been the launch and sustained success of the HBA's Gender Parity Collaborative, which has launched with 16 member companies.
In 2020, as every organization came to grips with the global pandemic, the HBA under Laurie's guidance successfully pivoted and met and responded to its community's needs as its professional staff and chapter and regional volunteer leaders reimagined in-person events into virtual opportunities offering more than 650 events — the most ever; evolved its signature Woman of the Year (WOTY) event into Illuminate, drawing more than 6,500 registrants from 27 countries representing 439 industry organizations; rallied support of BIPOC colleagues and peers, by hosting more than 23 events with nearly 800 participants addressing racial inequities to collectively take action to advocate and progress change for all women; and grew its social media community growing to nearly 70,000 followers. In 2021, the association continued to reimagine and with Laurie's deft hand brought WOTY to a global virtual stage with more than 7,000 registrants. After 15 years, Laurie is now transitioning to the next phase of her personal and professional journey, handing over the reins to the newly named CEO Susan O'Connor.
PV: As a leader of leaders, what do you believe are your greatest leadership skills?
Cooke: The thing that keeps coming to my mind is a quote from Lao Tzu: "A leader is best when people barely know he exists. When his work is done, his aim fulfilled, they will say we did it ourselves."
What I love about this quote is that it brings to bear the concept of servant leadership, and that whatever I have accomplished I've done in collaboration with other people, and I helped them to achieve their goals, so they feel confident about the outcome and their abilities. This is so satisfying. In terms of my leadership skill competency, it's about working through others so even more can be accomplished
PV: The HBA has achieved some significant milestones over your 15-year tenure, how do you inspire team to reach beyond their goals?
Cooke: In a nonprofit organization, there are never enough resources. So, you always have to be creative, resourceful, nimble, and opportunistic. These are competencies that are definitely useful anywhere you go. Whenever there are resource limitations, people can have doubts about whether or not they can accomplish a goal. To counter any potential uncertainties, I start by doing three things. The first thing I do is to get them to think about what success looks like, so they envision it and that creates a hunger. It's so enticing when they see what's possible. They want to do it.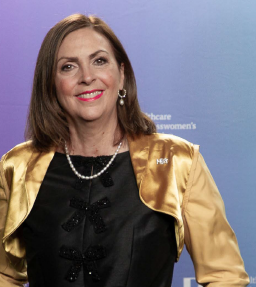 Then I map our worst-case scenarios, and ask what's the worst thing that can happen? When you start going through this exercise, you can quickly get to "so what then" and "what then?" The team is able to eliminate the fear and doubt that can creep in, and understand that the worst is simply not likely to happen and if it does, they're ready for it. They see what can be, and that there aren't so many alligators in the water.
And then the third technique, and this is what seals the deal, is I point to all the past times they have blown through their goals and tell them they've got this. Then they know we can do this and they're off. It works beautifully. Sometimes your worst enemy is yourself and what that voice is saying to you. As leaders, we need to find techniques to help our team get around these barriers.
PV: What do you count as some of your biggest accomplishments?
Cooke: The Gender Parity Collaborative is at the top of the list. We've proven that we need to stop trying to "fix" women and focus our energies on fixing companies. It's the systemic, institutionalized gender bias that is blocking women from progressing. We've proven that when women start flowing through into all levels of leadership change can happen. This was an idea that I championed from the start and have seen come to full fruition.
The second milestone in terms of importance is HBA's global growth. The HBA now has community representation from 60 countries. I always knew we could be global, and while we still have work to do to be fully global, to have representation and reach into this wider community is huge.
When I think about my matriculation, I am gratified knowing that the HBA can seamlessly continue on without me and go from great to greater. The HBA, under new leadership, won't miss a beat. This is an accomplishment that I am just incredibly proud of.
PV: What advice do you have for companies to address gender equity?
Cooke: The first thing we need to address is that this is not as big a challenge as many think it is. Companies spend a lot of money and resources to try to reach gender parity, and when they don't see the expected outcomes from that investment, they can question the spend in search of that elusive silver bullet. But, if they just stepped back and took stock of what was happening in their organization by gathering the data, analyzing it, and understanding that intersectionality of their talent pipeline, they'd likely be surprised by where the real gaps and blockages are.
Companies need to move beyond just measuring headcount — it's not just about the number of women or the number of women of color. These intersections add up and it's not one plus one, it becomes geometric.
Leadership shouldn't just look around and say, oh, there are a lot of women here, there are a lot of people of color — and think they're good. They need to know who they have at all levels and functions in their organization to ensure equity and parity is achieved.
Once the companies know where they are, then leaders can set their targets. And ideally, they are transparent about what those targets are. This allows them to enroll advocates to help reach their goals.
Third, they need to tie the targets and progress to incentives, such as financial rewards and advancement. Once these steps are taken, companies will see progress, and can focus on specific initiatives. My suggestion is to look at three specific areas: women of color, men as allies, and the broken rung.
Companies don't have to boil the ocean to realize results, by implementing these three basic steps they can realize a remarkable turnaround. And companies need to remember; it's not a problem with the women. There are plenty of leader-ready, talented women, we just have to get out of their way.
PV: One of the other areas of focus for the HBA is maintaining a network. What advice do you have for women regarding the importance of having a network?
Cooke: Build your well before you're thirsty. Don't wait until you have a need and then put together a network. A network is something you have to incorporate into who you are and how you work.
When I say network, I don't mean networking in the sense of a transactional exchange of business cards. A network is your group of people who you know and who know you. There are so many benefits to be gained. These people can become mentors or sponsors. They will give you truthful feedback about yourself and your performance, probably more so than even your boss or colleagues. They can be a source for talent or a potential partnership or provide a connection to your next role. For example, a wonderful woman recently told me that it was her HBA network that led to securing her dream job.
Women need to send the elevator back down for others. As women leaders, we can't just create or blaze a path, we also need to widen the path, which is something that Dr. Julie Gerberding said in during her Woman of the Year speech that I'll never forget. You may be the first woman, but you don't want to be the last woman. We need to try to widen that trail and bring others along with you. This is what networking is about — linking arms with other women to help all of us to rise higher and rise faster.
PV: As you are in the process of matriculating out of your current role, what would you like your legacy to be?
Cooke: I feel like I do have a legacy, and I'm so lucky to know that I am, and have been, a key contributor to progressing gender equity and parity. The reason why I feel lucky is because I am matriculating out, and I have had outreach from our members, our corporate partners, our volunteer leaders and they've shared stories. They've shared reflections about how I have impacted them. I have up-close, firsthand knowledge that I have had an impact on people's lives, which is amazing as some people never get to experience this.
I am so gratified to know that I have been able to impact individuals as well as companies. My legacy is knowing that I have been a contributor to progressing gender equity and parity. I'm thrilled.(PV)