Effective marketing in today's highly complex healthcare arena needs to address myriad stakeholders, and these creative masters understand not only the channels but the patient populations to be successful.
You have to be willing to try, to ever succeed
Igniting change by…
embracing it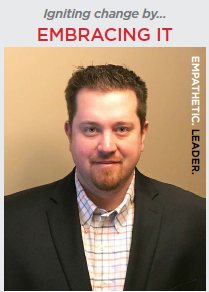 Paul C. Lanzetta
Title: Associate Director, Patient Strategy & Digital Innovation
Company: Merck
Education: MBA, Holy Family University
Twitter handle: @paullanzee
In 20 years at Merck, Paul Lanzetta has built a reputation for producing game-changing creative and innovative campaigns that not only win awards, but score well with patients and physicians as well. For example, the Keytruda TRU campaign was the first to use real patients in TV ads discussing their cancer journey, which set a new bar for creative success.
Paul's career is a list of other firsts, innovations, and powerhouse teams. On Keytruda, Merck's oncology franchise, Paul pioneered the first multi-indication DTC campaign. The Keytruda Moment campaign sparked confidence in patients by connecting the moment of diagnosis with the possibility of Keytruda for more than 16 types of advanced cancers.
"I like to innovate within the consumer space and develop culturally diverse market-moving campaigns," Paul says.
Colleagues from agency partners who work with Paul say his experience, patience, grit, and tenacity have been instrumental in shaping his work across Keytruda's bladder, kidney, and MSI-high indications. They call him an empowering leader who inspires teams to deliver game-changing creative in uniquely challenging circumstances and they'd happily do it all over with him.
Paul is especially proud of two recent projects he worked on: one focusing on the treatment of cancer and the other on the prevention of cancer. "I participated in the 'It's Tru' Keytruda' campaign, and led a multi-agency team to produce a fully remote TV production for the new 'The Keytruda Moment' campaign, a first-of-its-kind DTC campaign for multiple types of advanced cancer," he says. "When launching Gardasil-9's pediatric indication, I championed the nontraditional 'What Will You Say' campaign, relentlessly educating all levels of Merck leadership to gain buy-in."
In September 2020, Merck launched two black-and-white TV ads that talk about "the moment" people first find out they have cancer. The ads announce that Keytruda has been approved to treat 16 types of advanced cancer and is being studied in hundreds of trials.
"I am extremely proud of our TV production for the new 'The Keytruda Moment' campaign," Paul says. "This production was produced during COVID and required a fully remote production with teams in the United States and Canada."
As often is the case, Paul's most rewarding assignment was also the most challenging. "We successfully produced The Keytruda Moment commercial, including casting, shooting, and directing in Canada with a small group of client and agency partners in the United States, all working with the benefit of technology keeping us connected," he says.
Able to juggle many projects, Paul simultaneously led separate teams on back-to-back launches for kidney and bladder cancer indications, and he created solutions for faster production for Keytruda's signature Tru patient stories and launched the Test for MSI unbranded social campaign to help drive increased testing for a new biomarker that spans multiple tumor types.
The second project he is most proud of was for a cancer prevention program. "We developed a HPV-awareness campaign targeting young adults that required an innovative approach to break through and communicate with millennials when and where they were interacting with media," he says. "For example, we tapped into innovative media channels such as iHeart Radio and city murals, two non-traditional media channels for pharma.
"Within each of these opportunities I have been able to gain core insights to help drive patient awareness resulting in more people talking with their physicians about possible preventative measures and better treatment options," he continues.
Paul also believes that empathy and collaboration build the best teams, leaders, and marketing campaigns. "Being empathetic is extremely important because you need to be able to put yourself in other people's shoes and be able to see different sides of the story," he says. "Once you've gained your insights, you need to be a strong leader, and take action to make sure you deliver on the insights that you gained from being empathetic."
An important lesson he has learned along his career is that he does not have to be responsible for everything, and delegating is not a sign of weakness. "When I first started, I felt like it was my responsibility to solve every problem that was shared with me and that it was somehow a weakness of mine if I alone could not make things happen perfectly," he says. "Thankfully, throughout my career, I have worked with people who have shown me how much better things work and how much more can be accomplished through collaboration, delegation, and shared responsibility."
Paul's commitment to improving patient lives includes a focus on diversity and inclusivity. He is an advocate for ensuring all patients are reached with the appropriate messages to help overcome barriers to treatment and is partnering with experts to ensure the messaging is successful. Paul's expertise and professionalism make him excellent at his job, and his personality and generosity make everyone else even better at theirs. (PV)
---
Open. Direct. Transparent.
Blazing new trails to…
push creative boundaries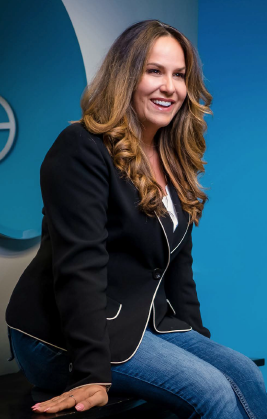 Tara Powers
Title: VP, Creative Director
Company: Elevate Healthcare
Education: BFA, Kutztown University
Personal Awards: PM360 Gold Award; Professional Campaign of the Year from MM+M; Professional Print Campaign of the Year; PM360 Trailblazer and PM360 Pharma Choice Gold for Best Sales Aid; multiple CLIOs, MedAd News Manny Awards, The Rx Club Gold, PharmaChoice Awards, and the Doctors' Choice Awards.
Company Awards: Small Agency of the Year in 2020; Best Place to Work
Tara Powers is a creative powerhouse who is as adept at managing teams as she is in developing award-winning campaigns. After serving in various roles of increasing responsibility at several top-notch advertising agencies, including Dudnyk, HealthAnswers, and Interlink, she answered the call to join Elevate in 2018.
Elevate's leadership was looking for Tara's talent, drive, and skills to launch and build a different type of agency. Since joining the team as creative director, she has become a driving force of Elevate's rise to become an award-winning agency and a perennial best place to work. She brings an unparalleled mix of managerial skills, strategic thinking, and creative power to bear for one of the fastest-growing independents in the business.
Tara has always preferred to be hands on, helping to generate the big ideas and manage day-to-day operations of the creative product.
She often relies on words of wisdom from her father to guide her. "Since I was a kid, my dad would tell me: 'Get up and get something accomplished,' and I do, everyday" she says. Tara also lives by the fun advice her mom has shared with her over the years: "Always buy the shoes."
Since joining Elevate, Tara continues to prove her elite-level talent. One of her career highlights was developing an award-winning incredibly bold, unusually powerful visual campaign for Synera. The Galen U.S. brand team believed in the disruptive idea, as it caused behavioral change in the marketplace. The campaign ended up changing the conversation about the needle-stick pain completely.
Tara has created other award-winning brand campaigns for Fortune 500 pharma clients such as AstraZeneca, Merck, Novartis, and Medtronic, as well as specialty healthcare companies such as Grifols, Recordati Rare Diseases, and Shield Therapeutics. Tara has a range of disease-state experience that encompasses more than two decades of pharma, biotech, and medical device marketing.
Tara also has mentored countless female designers, art directors, senior art directors, art group supervisors, ACDs, and creative directors, who are thriving in the business. From the early part of her career, when women in leadership positions were more rare than they are today, Tara has been both a shining example and a mentor to all levels and genders of creatives, but particularly for women. She knows what it takes to overcome significant challenges as a woman creative executive in a predominantly white male dominated world of pharma marketing. Despite the major strides made by women leaders in the pharmaceutical industry, the challenge of being considered to be a different level of executive than your contemporaries because of your gender or appearance is still a paradox.
For women ascending the ranks of the pharma advertising or marketing business, Tara says it requires incredible perseverance and patience, a willingness to outwork and out-think male counterparts, while often being compensated less, the courage to project your strengths while risking being stigmatized for them, and the fortitude to remain true to your ideals and foundational beliefs in the face of subtle entrenched stereotyping and underlying gender bias.
"Helping young staff to grow and succeed is probably the best part of my job," Tara says. "We are like family, and to help guide and mentor junior staff to be rock stars is food for the soul."(PV)
---
Know what your strengths are
Sparking innovation by…
inviting everybody to contribute new ideas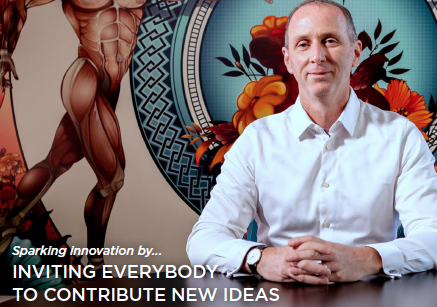 Noah Lowenthal
Title: Senior VP, Group Creative Director
Company: AbelsonTaylor
Company Awards: DTC Vanguard Award (2018); PM360 Elite 100 (2021); Medical Advertising Hall of Fame (Heritage Award); Medical Advertising Hall of Fame (Digital Pioneer Award); Recognized with over 130 gold, silver, and bronze awards at major competitions
Twitter handle: @nlowen1
Over his 21-year career, Noah Lowenthal has won multiple awards, while garnering the respect of everyone he works with and continuing to pioneer marketing in the healthcare industry. As the backbone of AbelsonTaylor's (AT) creative execution, Noah has spearheaded 20 new product launches, nine global launches, and 50 product relaunches. And along the way, he has led teams to win numerous national and global advertising awards. Colleagues count on him for original, progressive thinking and an understanding of how to successfully venture into new creative territory, as well as for his logic, pragmatism, and steady attention to both client service and agency growth.
Noah's training as a medical illustrator, complemented by his deep understanding of science and medicine, allows him to translate complex scientific concepts visually and pinpoint what is most significant. Whether it's pathology, physiology, or the mechanism of action of a new drug, he helps colleagues see how the science works and where the opportunities are for developing effective new promotional strategies for client products.
Noah also has long been a digital pioneer, playing a lead role in AbelsonTaylor's early adoption of new technology, exploring applications to all areas of healthcare communications, and overseeing and developing the agency's high-tech animation, online videos, and film/video production.
Choosing to start his career at AbelsonTaylor 21 years ago was fortuitous — identified as a star creative talent — Noah and AT were a great match. He had other job offers, but his father advised him to go with AbelsonTaylor.
"They want to hire you for who you are and what you're good at," Noah recalls his father saying. "That mindset of working at a place where I can be authentic is very important to me. An advertising agency is such an interesting place to work, with an eclectic cast of employees. As a manager, learning to meet people on their own unique terms and understand all the very different ways that folks approach their careers is an ongoing process. If I could wave a magic wand, I'd grant my younger self the insights and perspective I have gained over the years."
Today, Noah is a shareholder in the company, and his personal and professional goals have moved beyond creative innovation to nurturing a growing company. While he still always seeks the next good idea, he has added ensuring that the agency's quality and work are at the highest caliber, and he spends a lot of time focused on the development of talent, both of which precipitate the financial health of the agency.
"At this stage in my career I want to go beyond a tactic or campaign for a single brand," he says. "I am looking to shape our company, a category, and, ultimately, the lives of patients in ways that are unexpected and innovative."
Noah also feels it is important to mentor and he looks to help the next generation of talent at AT, the Chicago healthcare marketing community, and the industry in general, to be better prepared to take on leadership and the future challenges of healthcare communications.
His advice: You need to know what your strengths are. "Early in my career, working in the digital space, I had the opportunity to wear a lot of hats," he says. "As my career progressed this multifaceted mindset stuck with me. Eventually a senior leader pointed out that while I was extremely talented at some things, I didn't need to try and be great at all things. It was liberating for my short-term career growth. And in the longer term, as I moved into management, it informed and shaped how I evaluate creative talent and build multi-disciplinary teams. In other words, it's important to recognize that certain individuals might be better for certain assignments or roles than others with the same title. And that's OK. There are lots of unique ways to be individually successful and contribute to the health of the agency."
Noah's superpower is building trust with others and developing relationships. His ability to create trust helped him lead successfully through the complexities of the pandemic. It also allows him to deliver strategic and emotionally resonant creative that also successfully achieves business goals. (PV)
---
Embrace conflict — it's healthy
Igniting change by…
staying resilient through adversity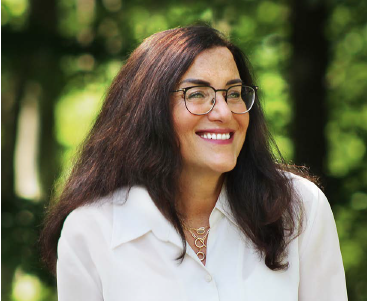 Karen Shoshan
Title: Executive VP, Managing Director
Company: McCann Health Managed Markets
Education: MBA, Pharmaceutical Marketing; Fairleigh Dickinson University
Personal Awards: Healthcare Businesswomen's Association (HBA) Luminary Award, 2015
Company Awards: McCann Health Chairman's Award, 2016
Associations: HBA, Mental Health First Aid
Giving Back: Addressing food insecurity and equal rights
Hobbies: Reducing impact on the environment through gardening and composting, hiking, kayaking, cooking (most recently sourdough bread baking)
Twitter handle: @karenshoshan
Karen Shoshan, executive VP, managing director, of McCann Health Managed Markets (MHMM), has had many high points in her career. But she considers her most recent achievement to be one of the biggest: being a part of the MHMM leadership team that led the agency to be recognized as MM&M's Category III Agency of the Year in 2021. "I was a key member of the leadership team that focused on strong client partnerships and successes, significant revenue growth, and a culture of authenticity it took to achieve this recognition," she says. "My professional goal is simple, and consistent — to be the best that I can be — so my team and clients benefit from my experience, my questions, and my quest to strategically connect the dots, while always thinking forward."
While Karen considers every client assignment challenging in its own way, she believes nothing is more challenging and important than the daily responsibility for the professional development of the team she leads. "I care about each and every one of them, both personally and professionally, and I am committed to their success," she says.
To that end, Karen serves as a role model and mentor of transformational leadership, with a track record of helping advance other's careers, particularly women. She thrives on seeing others grow and flourish, both in their careers and personal lives.
"I have been a mentor for as long as I can remember, either as part of a company program or more informally," Karen says. She adds she has been active in the McCann Health mentorship program since its inception and remains in contact with many previous mentees.
Colleagues say Karen's intuitive empathy and compassion are equally weighted with her quest for excellence. This unique balance helps her mentees push beyond the boundaries of their comfort zone, while creating a safe space within which to be vulnerable and work through the growth process.
"I am consistently amazed how much I learn and grow as a manager — and personally — while mentoring others," Karen says. "With two daughters in college, I am so happy to be a mentor to them and their friends."
Karen works to inspire others by listening and being present, aware, and real — and not taking herself too seriously.
"I start by working to identify what motivates an individual — and it is not always as easy as it sounds," she says. "Knowing that, along with their skills and strengths, we can create an achievable career path. As a manager, it is important to be open to charting a new course for an individual than what might be expected."
When building teams at MHMM, Karen looks for strength in the combination of skills across all members. "This allows individual strengths to really be utilized, and people are able to recognize their individual value and contribution more easily," she says. "I learned from a boss — and a true mentor — early in my career to introduce yourself by your name, not your title. It is more important to show your value than to state it."
Colleagues note that Karen has been a driving force behind getting MHMM to think differently, and even more importantly, act differently. An example of this is MHMM's collaboration with one of its key clients to identify diversity and inclusion initiatives linked to the brand to ensure that the company is making a meaningful and positive impact on the world together with its partners. This action moves diversity and inclusion past being a tick-the-box initiative and links MHMM's work to the world around it.
Karen appreciates the combination of being both resilient and curious.
"Being resilient ensures I can effectively handle the daily conflicts that present themselves and that I get stronger by overcoming challenges," she says. "Being curious, and asking thoughtful questions, ensures that I am growing and learning, as well as leading by example." (PV)