AstraZeneca Sponsors USA Science & Engineering Festival's X-STEM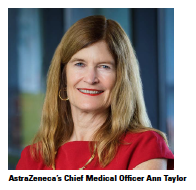 AstraZeneca is committed to developing the next generation of scientists, engineers, and clinicians through national and global STEM education programs. Empowering students to investigate careers in STEM is crucial for future scientific advances in the treatment and prevention of diseases and to shape the world in ways that have yet to be currently imagined.
Because of this commitment, AstraZeneca has sponsored the USA Science & Engineering Festival's X-STEM All Access event that took place last month. The three-day virtual experience brought STEM to more than 60,000 registrants worldwide and provided students, parents, and educators with an at-home science adventure.
AstraZeneca's Chief Medical Officer Ann Taylor launched the "Exploring Our Minds" portion of the program focused on health, alongside Dr. Francis Collins, director of the National Institutes of Health. Throughout the event, students heard from thought leaders with diverse backgrounds, participated in interactive educational activities, and engaged in brain breaks that inspired them to make a difference in the world through STEM. AstraZeneca believes that engaging young people in STEM fields through these inclusive, real-world educational opportunities will result in a more diverse and adaptable biopharmaceutical industry — one that will positively impact the future of healthcare.
Abbott, Eliud Kipchoge, and NN Running Team Collaborate to Track Glucose Levels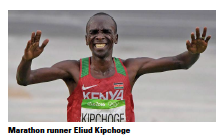 Abbott has teamed up with Eliud Kipchoge, who is considered the world's fastest marathon runner, and the NN Running Team to support their athletic performance training program. Eliud and three NN Running Team members are training with Abbott's Libre Sense Glucose Sport Biosensor to monitor glucose levels to help them achieve optimal athletic performance. The NN Mission Marathon, a qualifying race for the Olympic Games, in Enschede, the Netherlands, on April 18, was the first time Eliud and the NN Running Team used Abbott's biosensor in a competitive marathon.
As the first product of its kind, Abbott's biosensor empowers the runners to tap into real-time molecular data to monitor their glucose levels and help them design personalized nutrition plans.
Abbott's Libre Sense is an over-the-counter product available in Europe that is designed to provide continuous glucose monitoring via a mobile app and wrist readers to athletes. Athletes wear the small round biosensor (approximately the size of a two Euro coin) on the back of their upper arm. Worn for up to 14 days, the biosensor provides real-time glucose values to help athletes understand the efficacy of their nutrition choices in training and competition.
"After training with Abbott's biosensor, we've been able to quickly develop new insights into high-performance, endurance training nutrition and hydration," says Valentijn Trouw, performance director of NN Running Team and Global Sports Communications. "For example, we are exploring a shift in timing of pre-race and race-time carbohydrate fueling to net maximum benefits. Abbott's biosensor enables us to build personalized nutrition plans based on glucose data in order to deliver peak athletic performance and a competitive advantage."
Parexel and Veeva Partner to Accelerate Clinical Trials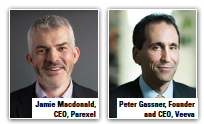 Parexel and Veeva Systems are joining up to accelerate clinical trials through technology and process innovation. The collaboration combines the best of each company's experience across thousands of studies worldwide — Parexel as a clinical research organization (CRO) and Veeva as a technology innovator powering trials — to improve study efficiency and get new therapies to patients faster.
With insights from sponsors, sites, and patients, the companies will collaborate to improve Veeva's cloud technology and Parexel's processes for delivery of clinical trials. Parexel will have early access and provide input into Veeva's clinical products, including innovations to support sites and patients in decentralized clinical trials, risk-based quality management, and community-based sites.
"By adopting Veeva's clinical solutions we will streamline trial processes, drive greater efficiency, and make trial execution and participation easier for sponsors, sites, and patients," says Jamie Macdonald, CEO of Parexel. "Through this expanded partnership with Veeva, we expect to deliver greater value for customers and make an even bigger impact on patients' lives."
"We're proud to partner with Parexel to drive customer success and speed innovations in clinical research," says Peter Gassner, founder and CEO of Veeva. "Together, we can accelerate how our customers bring new vaccines, diagnostics, devices, and therapies to patients in need."
PRA'S Center For Rare Diseases Launches Toolkit For Rare Disease Clinical Programs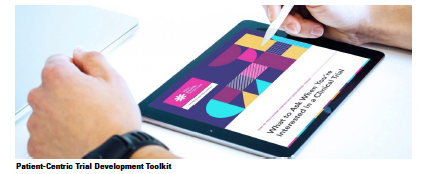 PRA Health Sciences has launched its Patient-Centric Trial Development Toolkit, available to clinical development sponsors focusing on rare diseases.
Developed by PRA's Center for Rare Diseases in collaboration with PRA's Rare Disease Advisory Committee (RDAC) and other patient stakeholders, the toolkit includes four digital resources designed to mitigate risks that frequently occur in rare disease clinical trials. The toolkit also introduces and affirms new patient-centric practices that promote trial participation.
"The main purpose of the toolkit is to guide sponsors in taking a more patient-centric approach in developing clinical trials," says Scott Schliebner, senior VP, Center for Rare Diseases at PRA Health Sciences. "As an example, the toolkit includes a risk assessment tool that clinical development teams can use to identify risk to the efficiency of a clinical program. The risks that are identified are usually real-world burdens for participants, and the tool provides risk mitigation strategies and solutions for sponsors to consider."
The Patient-Centric Trial Development Toolkit is available at no cost and can be downloaded at https://prahs.com/insights/patient-centric-trial-development-toolkit.
Mission Bio Appoints Dr. Yan Zhang as New CEO

Mission Bio, the pioneer in high-throughput single-cell DNA and multi-omics analysis, has recently appointed Yan Zhang, Ph.D., to CEO. Dr. Zhang joins Mission Bio after 10 years at Thermo Fisher Scientific, where she drove above-market growth for multiple business lines, including leading the commercial organization in China for Genetic Sciences and Clinical Next-Generation Sequencing divisions and leading the Reproductive Health and Microarray businesses as General Manager. Dr. Zhang succeeds current Mission Bio CEO and co-founder Charlie Silver, who will be moving into an advisor role with the company.
Before joining Thermo Fisher Scientific, Dr. Zhang led product management and commercialization efforts for genetic analysis solutions at Affymetrix, NuGEN Technologies, and Molecular Devices. Dr. Zhang holds a Ph.D. in Biochemistry from the Medical College of Wisconsin and has dedicated her career to accelerating broad market access of emerging genomic technologies to advance translational research and clinical applications in precision medicine.
~~~~~~~~~~~~~~~~~~~~~~~~~
Woman of the Week – Podcast Series
April
Jeannette Bankes, President & General Manager, Global Surgical Franchise, Alcon
Allison London Brown, CEO, UVision360
Julie Foster, VP, Global Customer Experience, Medtronics Diabetes
Melissa Easy, Head, IQVIA Clinical Technologies; VP Offerings Development, IQVIA
Sponsored by IQVIA
~~~~~~~~~~~~~~~~~~~~~~~~~
Contributed Article
Six Questions with Investor Braeden Lichti
Provided by: Sheeva Azma, Fancy Comma LLC
Therapeutic Digest
Vaccines
Provided by: ThinkGen and PharmaVOICE
Webinars/Virtual Panels
Improving Health Equity Through Diversified Clinical Trials
Sponsored by: Advanced Clinical
Digitization of Clinical Trials
Sponsored by: Microsoft
Scaling Genomics Workflows to the Cloud — Mapping a Path to Success
Sponsored by: Seven Bridges
White Papers
Facilitating Patient-Led Research
Provided by: Elligo Health Research
Pharmaceutical Sales Strategies Post-COVID-19: The Benefits of Virtual Engagement
Provided by: TrialCard
The IRB's Perspective: Determining Optimal Compensation for Clinical Trial Participants
Provided by: WCG IRB
Video
Exploring Advancements in Oncology
Thought Leader: Susan Galbraith, M.D., Senior VP of Early Oncology, AstraZeneca