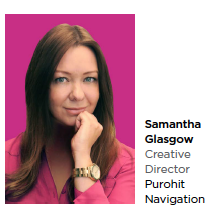 Like the design and construction of a skyscraper, the fundamentals of successful brand building start with a rock-solid foundation — an infrastructure demanding strength, rigidity, and careful planning to ensure unwavering support from which to raise the brand. This groundwork is the most crucial part to brand establishment and evolution. Any cracks in the base can lead to instability throughout the formation, potentially weakening the outcome of brand growth.
At Purohit Navigation, we combine strategic acumen with visionary creative ideation to build brands — navigating our clients to success in the healthcare sector. We apply a nimble, efficient, and customized approach to every project that we undertake, with an emphasis on producing results to creatively elevate and emotionally connect with the audience.
Creating Dream Brands from the Ground Up
There are no cookie-cutter, prefabricated frames for assembly. We personalize the strategic and creative experience to shape unforgettable, monumental brands.
Blueprinting the Discovery Phase/Preclinical Phase
At this level, our clients' position in the marketplace is carefully analyzed through the excavation or sourcing of new insights and opportunities. Once these areas have been researched — and market viability has been discerned — we conduct a thorough indication analysis to deliver developmental recommendations. Following this, we can help formulate the right story to prompt investment.
Laying the Bricks at Phase 2
We then proceed to the secondary phase, which encompasses key clinical inputs and support with narrative development and decision-making. We conduct research into journey mapping and delve into behavioral factors that may require change, thoughtfully considering what factors will inspire the path forward. The combination of these insight outcomes, along with the creation of a market development strategy, lead to providing strategic direction and tactical planning for commercial support.
The creative team collaborates to conceptualize the campaign, tactically executing it in a way that brings our client's USP to unsurpassed heights. We constantly consider ways to maximize visual communications to ultimately change behaviors throughout the process.
Adding Structural Support at Phase 3
To prepare for prelaunch activity, we further strategize the behavioral changes required to galvanize upward movement. Planning for eventual campaign tactical pull-through is established at this stage for best outcomes in commercial support. Brainstorming and creative application of thought to campaign concepts commences.
Unveiling the Launch
Now onto the exciting launch phase. At this juncture, the strategically driven concepts evolve further to tell a full brand story, executed through a variety of tactics across omni-channeled media.
A cohesive brand core message and tone of voice are imperative to solidify an elevated and memorable brand identity in a crowded marketplace. This identity needs to stand up and rise from the rest — so, "out-of-the-box" thinking is embedded into the creative process.
Maintaining Solidity in Phase 4
This is where we implement an ongoing brand plan of action support, tracking metrics and proactively calibrating campaignability across tactics. It is imperative to avoid complacency; hence, we must continue to assist in maintaining reach and effectiveness via informed market monitoring and trendspotting for opportunities. At this point, the definition of relevant metrics and measurable results to monitor success is critically applied.
Enhancing Throughout Portfolio Management
The final phase is typically referred to as the "Sunset Phase," which incorporates envisioning and planning ahead for new opportunities and possibilities. Recommending alternate indications and/or dynamic strategies can help extend brand value. Other considerations include consulting with corporate communications and strengthening portfolio equity.
Reaching Greater Heights of Brand Success
Applying the perspectives of architectural design and structural engineering can help the brand-building process — with all of the progressive phases — escalate to a completely unique, elevated and customized creative outcome that has been built from the ground up from industry knowledge and passion.(PV)
---
Purohit Navigation is a unique healthcare firm providing strategic guidance and creative solutions to help healthcare brands, franchises, and companies realize their fullest potential — and beyond.
For more information, visit purohitnavigation.com.