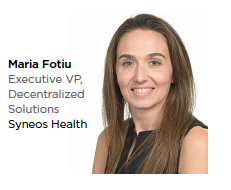 Our industry has come a long way since the early days of clinical research.
However, as time goes on clinical trials are becoming more complex, and if these complexities aren't well managed patients bear the burden. When patients sign up to participate in a clinical study, they're placing tremendous trust in healthcare workers, investigator sites, pharmaceutical sponsors, and other ancillary services involved in the research process. Patient trust is powerful, and as the saying goes, with great power there must also come great responsibility. Evolving how we conduct clinical research — and frankly, how drug development is executed overall — needs patients' trust to be successful. Decentralized clinical trials permit the industry to shape protocols around patients in hopes of decreasing burden, but will decentralization also finally transform clinical trial execution, and drug development as a whole?
Great strides have been made in delivering well-planned protocols intended to assess safety and efficacy while accounting for the patients' perspective. But more and more, the industry is not just thinking about the trials themselves, but focusing on the end goal: commercial viability in the real-world setting. We are listening to patient advocacy groups and providers at sites to discover how the patient behaves and how their care is managed in real life. By weaving real-world data into drug development plans, the industry has already started to transform how we design clinical trials and manage commercialized products in the marketplace. This protocol optimization has resulted in smart clinical trials designs and a focus on thoughtful, more clinically meaningful endpoints. However, enabling the patient's participation and treating trials as a healthcare option as opposed to an experiment remains a challenge.
Fit-for-Purpose Decentralized Capabilities
Fit-for-purpose decentralized capabilities have created opportunities to increase access for patients who wouldn't otherwise have an opportunity to participate in research; engage more diverse patient populations and patients who more accurately represent the population with the disease to be treated.
For these reasons, even before COVID-19, the biopharma industry was taking steps to enhance drug development with technology, home healthcare, and other patient-centric services. COVID-19 forced an accelerated use of telemedicine, home health options, and digital apps to keep studies running, but clinical teams often had to retrofit capabilities to trials as opposed to deliberately designing decentralized protocols. Emerging from COVID-19, the use of these capabilities will continue, but in a more purposeful manner. Clinical trial designs will reflect the patient's journey in both the real-world and clinical research settings, guiding the selection of the appropriate capabilities to increase patient participation while achieving the study endpoints.
Future of Drug Development
As time goes on, the way patients access healthcare and the economics behind healthcare services will play an ever-increasing role in the use of these services and in drug development planning. Current trends are pushing us toward more flexibility with greater acceptance of technology that helps enable additional streams of real-time data collection, meaningful insights and valuable endpoints.
And while the dialogue today is about decentralized trials and innovative technology, it should really be about enabling safe, effective, accurate and efficient drug development in the future. Technology is a tool that can help us reach this next level of transformation.
Record-breaking basketball coach John Wooden instructed his team to, "be quick, but don't hurry." This quote feels applicable to the biopharmaceutical industry as we are at a tipping point with an opportunity to drive significant innovation in drug development. But we have to be smart, transparent and deliberate. We cannot forget that patient trust in people and the process is paramount. Patient experiences in clinical trials can have significant influence on the healthcare options they use later and the trust they have in their health care providers. So, let's use the momentum we have gained this past year to drive protocols that include the right decentralized capabilities for the patient population we are treating. It is not a one-sized fits all approach. Let's engage patients and their HCPs providers to incorporate their voices in the design of drug development plans. Let this be the time we transform drug development from clinical research to a true healthcare option for patients.(PV)
---
Syneos Health's Decentralized Solutions strategy seeks to bring flexibility to each customer's study, fueled by data, people, process and technology. Syneos Health taps its Dynamic Assembly network — an open ecosystem of best-of-breed data and technology collaborators — to deliver fit-for-purpose solutions designed to strategically address the nuances of unique customer engagements. By bringing together the right elements for each study, the company is able to provide a site- and patient-focused approach, with the goal of allowing sponsors to realize efficiencies in patient recruitment, engagement, improved access and patient diversity.
For more information, visit syneoshealth.com.