Takeda's Innovators in Science Award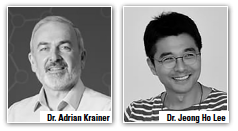 Takeda Pharmaceuticals and the New York Academy of Sciences are drawing attention to the urgent needs of patients worldwide affected by an estimated 7,000 rare diseases. The 2020 Innovators in Science Award recognizes scientists from around the globe for their exceptional research in rare diseases.
Established in 2016, the Innovators in Science Award is administered by the New York Academy of Sciences and sponsored by Takeda Pharmaceuticals. This global award recognizes a promising early-career scientist's and an outstanding senior scientist's contributions to biomedical science and is intended to support their commitment to innovative research.
Two prizes of $200,000 are awarded each award cycle to winning scientists who have distinguished themselves for the creativity and impact of their research in a designated therapeutic area.
Prof. Adrian Krainer, Ph.D., St. Giles Foundation Professor, at Cold Spring Harbor Laboratory, was named the senior scientist winner. He is recognized for his outstanding research on the mechanisms and control of RNA splicing, a step in the normal process by which the information in DNA is converted into proteins. Prof. Krainer studied a splicing defect in patients with spinal muscular atrophy (SMA), a devastating, inherited pediatric neuromuscular disorder caused by loss of motor neurons, resulting in progressive muscle atrophy and eventually death. His lab elucidated regulatory mechanisms controlling SMN2, a gene that is incorrectly spliced in SMA. Then, in collaboration with scientists at Ionis Pharmaceuticals, they developed a novel antisense oligonucleotide that is effective in correcting SMN2 splicing, thus increasing the levels of SMN, a protein required for motor-neuron survival. This antisense oligonucleotide — nusinersen (Spinraza) — was approved by the FDA in December 2016, and subsequently in more than 50 additional countries. Spinraza was the first drug approved for the treatment of SMA, the first approved drug to correct a splicing defect, and the first drug for an inherited neurodegenerative disorder that can delay and even prevent disease onset.
Jeong Ho Lee, M.D., Ph.D., associate professor/KAIST Endowed chair professor, Korea Advanced Institute of Science and Technology, director at the National Creative Research Initiative Center for Brain Somatic Mutations, and co-founder and chief technology officer at SoVarGen, is recognized as this year's early-career scientist. Prof. Ho Lee is recognized for his research investigating genetic mutations occurring in a subset of cells in the body, a phenomenon referred to as somatic mosaicism. Particularly, Prof. Lee studies the genetic mutations in stem cells in the brain that result in rare developmental brain disorders. These rare mutations can cause dysfunction of the entire brain, resulting in epilepsy and tumor formation. Prof. Lee has identified the genes responsible for several developmental brain disorders including focal cortical dysplasia, Joubert syndrome — a disorder characterized by an underdevelopment of the brainstem — and hemimegalencephaly, which is the abnormal enlargement of one side of the brain.
Fundamental knowledge of the genetic basis for these disorders in humans is a necessary first step toward the development of potential new treatments and diagnostic tools. His work has also influenced scientific thinking about tumorigenesis and has helped lay the foundation for studying somatic mosaicism in neuropsychiatric and neurodegenerative diseases such as Alzheimer's disease.
2020 Survey Results: Patient Services and Patient Engagement
The No. 1 job of patient services is to improve the patient experience and use of treatment (initiation, adherence, experience).
Acknowledging the difficulty of consistent high quality from single vendors who do everything, patient services seeks best-of-breed vendors and to establish tighter coordination between these vendors.
The top two priorities for patient services in the coming year are to get patients started post-Rx and to maximize patient satisfaction with treatment.
COVID is accelerating growth in patient services with the greatest investment going to nurses, video, and SMS channels.
Net Promoter Score varied widely across Patient Services vendors. McKesson and Human Care Systems were highest with scores of 7.1 and 7.5, respectively.
Source: Human Care Systems
PharmaVOICE 100 News
Dr Roz joins theravance


Roslyn Schneider, M.D., has been named VP, Scientific, Medical and Patient Affairs at Theravance Biopharma. Most recently, Dr. Schneider started her own consultancy RozMD Patient Affairs Consulting LLC after a 13-year tenure at Pfizer, where she held positions of increasing responsibility, culminating in the role of global patient affairs lead. Dr. Schneider spent 20 years at Beth Israel Medical Center practicing internal medicine, pulmonary, and critical care in academic and clinical settings.
Dr. Schneider is a 2018 PharmaVOICE 100.
PharmaVOICE 100 24-Hour Celebration Marathon
PharmaVOICE, like the rest of industry, had to find a way to pivot our business and strategy around our annual in-person PharmaVOICE 100 event, when the world was struck by the COVID-19 pandemic. We felt it was our mission to find a way to celebrate the individuals who are striving tirelessly to find answers for patients, care givers, in essence humanity, to solve the biggest healthcare issues around the world. In true PharmaVOICE fashion, we wanted to pave the way and make a bold — some might say crazy — statement in response to our call for the industry to raise the bar — the theme that resonated throughout the event.
Many asked why 24 hours? Why not 8 hours? For us the answer was easy. We wanted to engage our global community of PharmaVOICE 100 honorees, thought leaders, readers, and sponsor companies in a way we never could with a live event — after all, we are living in a new virtual reality.
We hear everyone talking about the next normal, but for months now we have been asking why go back to normal when we have been presented with the unprecedented opportunity to be extraordinary and make some leaps to improve the patient journey for millions of people around the globe? During the 24 hours of live and pre-recorded content we pressure tested some of the biggest trends facing the industry as companies of all sizes, in all sectors, grapple with the new reality and strive for the extraordinary.
As part of 13 amazing panels, which are available on-demand at pharmavoice100.com, we explored themes ranging from collaboration to diversity and inclusion to leading global teams to clinical trials to marketing practices to funding to the industry's reputation to the patient voice to the trusted relationship between sponsors and providers, which is essential as part of the drug development process. Over the course of the 24 hours, more than 60 of the industry's most inspiring leaders who are innovating, collaborating, and imagining what's next provided their expertise and insights. We can't thank them enough for their generous contributions and insights to make this event a great success. In addition to the panels, there is also engaging content that explores lifestyle journeys and polls to register your feedback on current issues facing the industry.
If we inspire you to raise the bar — in ways big or small — we would consider this a job well done.
Developing Clinical Trial Outsourcing Strategies that Scale As Biotechs Do
Panelists:
Amir Malka, President & Co-Founder, Bioforum the Data Masters
Guy Goldberg, Chief Business Officer, RedHill Biopharma
Kanchan Relwani, VP and Head of Medical Affairs, Alkermes, PharmaVOICE 100 — 2020
Sponsored by: Bioforum the Data Masters
Leading Global Teams
Panelists:
Adlai Goldberg, Global Digital, Social and Commercial Innovation Life Sciences Leader, EY, PharmaVOICE 100 — 2020
Guadalupe Hayes-Mota, Director, Global Supply Chain and Manufacturing, Ultragenyx Pharmaceuticals, PharmaVOICE 100 — 2020
Susanne Munksted, Chief Precision Officer, Diaceutics
Rebecca Vermeulen, VP Strategy Lead Patients and Society, Roche, PharmaVOICE 100 — 2020
Brand Stewards: Creating an Omnichannel Experience for HCPs and Patients
Panelists:
Dave Ormesher, Founder, closerlook, Red Jacket, PharmaVOICE 100 — 2013, 2011, 2010
Ryan Billings, Head, US Oncology Digital Marketing & Customer Experience, GSK, PharmaVOICE 100 — 2020
Mario Nacinovich, VP, Marketing, Eyevance Pharmaceuticals, PharmaVOICE 100 — 2011, 2005
Sponsored by: closerlook
Remote Clinical Trials: Advantages and Challenges
Panelists:
Bill Byrom, Ph.D., VP, Product Strategy and Innovation, Signant Health, PharmaVOICE 100 — 2017, 2008
Joe Dustin, Head of Clinical Innovation, Bristol Myers Squibb
Craig Lipset, Founder, Clinical Innovation Partners, Red Jacket, PharmaVOICE 100 — 2016, 2010
Sponsored by: Signant Health
Collaboration Across the Industry
Panelists:
Steve Matas, Senior VP, Strategic Resourcing, Advanced Clinical, PharmaVOICE 100 — 2020
Peter Anastasiou, Executive VP and Head of North America, Lundbeck, PharmaVOICE 100 — 2020
Craig Serra, Global Head, Innovation Data Operations, Novartis, PharmaVOICE 100 — 2020 and 2017
Sponsored by: Advanced Clinical
Driving Commercial Relevance
Panelists:
Anshal Purohit, President, Purohit Navigation
Shannon Dahl, Ph.D., Chief Scientific Officer, Cell Care Therapeutics, PharmaVOICE 100 — 2018
Mary Frances Harmon, Senior VP, Corporate and Patient Relations, PTC Therapeutics, PharmaVOICE 100 — 2020
Kinnari Patel, Pharm.D., Chief Operating Officer & Head of Development, Executive VP, Rocket Pharmaceuticals, PharmaVOICE 100 — 2018
Sponsored by: Purohit Navigation
Unprecedented Public Support for Pharma: An Opportunity to Lead Like Never Before
Panelists:
Wendy Lund, CEO, GCI Health, PharmaVOICE 100 — 2020
Rob Jekielek, Managing Director, Harris Poll
Laura Randa, VP Market Access, HEOR and Public Policy, Mycovia Pharmaceuticals, PharmaVOICE 100 — 2018, 2013
Sponsored by: GCI Health
Diversity in Clinical Trials
Panelists:
Tami Klerr, Executive VP and Chief Business Development & Marketing Officer, PRA Health Sciences, PharmaVOICE 100 — 2012
Kent Thoelke, Executive VP and Chief Scientific Officer, PRA Health Sciences, PharmaVOICE 100 — 2013
Elizabeth Garner, M.D., Chief Medical Officer, ObsEva, PharmaVOICE 100 — 2019
Jessica Scott, M.D., J.D., Head of R&D Patient Engagement Office, Takeda Pharmaceutical Company, PharmaVOICE 100 — 2020
Sponsored by: PRA Health Sciences
Aligning Equity, Diversity, and Inclusion (EDI) with a Corporate Mission/Purpose
Panelists:
Eric Dube, Ph.D., President and CEO, Retrophin, PharmaVOICE 100 — 2020
Laurie Cooke, President and CEO, Healthcare Businesswomen's Association, PharmaVOICE 100 — 2017, 2009
Robin Shapiro, CEO, TBWA\WorldHealth, PharmaVOICE 100 — 2020
Sponsored by: Retrophin
Will Science Ever Marry Technology?
Panelists:
Suresh Kaata, Founder and CEO, Saama Technologies, PharmaVOICE 100 — 2018
Sagar Anisingaraju, Chief Strategy Officer, Saama Technologies, PharmaVOICE 100 — 2020
Elliot Barnathan, M.D., FACC, FAHA, Senior Director, Cardiovascular Clinical Development, Janssen Research & Development, PharmaVOICE 100 — 2020
Jay Kaminski, Advisor, Health2047 Inc.
Clive Meanwell, M.D., Ph.D., Founder, The Medicines Company, PharmaVOICE 100 — 2016
Sponsored by: Saama Technologies
Managing a Remote Workforce:Case Studies in Maintaining Business Continuity
Panelists:
Deb Tatton, Senior VP, Global Clinical Operations, Parexel, PharmaVOICE 100 — 2020
Erin Horvath, President, Distribution Services, AmerisourceBergen Corp., PharmaVOICE 100 — 2020
Nandini Ramani, Chief Operating Officer, Outcome Health, PharmaVOICE 100 — 2020
Jeffrey W. Sherman, M.D., FACP, Executive VP and Chief Medical Officer, Horizon Therapeutics, PharmaVOICE 100 — 2020
Sponsored by: Parexel
The Patient Voice
Panelists:
Barry Greene, President, Alnylam Pharmaceuticals, Red Jacket, PharmaVOICE 100 — 2019, 2018
Jack Barrette, CEO, WEGO Health, PharmaVOICE 100 — 2019, 2006, 2005
Barby Ingle, President, International Pain Foundation, PharmaVOICE 100 — 2020
Roslyn Schneider, M.D., Founder, RozMD Patient Affairs Consulting LLC, PharmaVOICE 100 — 2018
Sponsored by: Alnylam Pharmaceuticals
What's Next … Red Jacket Super Panel
Panelists*:
Al Altomari, CEO, Agile Therapeutics
Jeffrey Berkowitz, CEO and Director, Real Endpoints
Sharon Callahan, CEO, CDM & Chief Client Officer, Omnicom
Dr. Donald Deieso, Executive Chairman & CEO, WCG
Dr. Nancy Dreyer, Chief Scientific Officer & Senior VP, Real World Solutions, IQVIA
Dr. Cameron Durrant, Chairman & CEO, Humanigen
Barry Greene, President, Alnylam Pharmaceuticals
Dr. Amir Kalali, Chief Curator and Chairman, CNS Summit
Michele Keefe, President, Commercial Solutions, Syneos Health
Craig Lipset, Founder, Clinical Innovation Partners
Andrea McGonigle, Managing Director, Health & Life Science Business Development, Microsoft
Dave Ormesher, CEO and Founder, closerlook Inc.
Dr. Ahnal Purohit, Founder and CEO, Purohit Navigation
Mike Rea, CEO and Co-Founder, IDEA PHARMA
Julie Ross, President, Advanced Clinical
Leerom Segal, Co-Founder and Chairman, Klick Health
Wendy White, Co-Founder, RareiTi
*All panelists are PharmaVOICE 100 Red Jacket Honorees
Sponsored by: Sunovion Pharmaceuticals
Lifestyle Journeys
Vipassana Meditation
Sponsored by: Cognizant
The Magical Mila Foundation
Sponsored by: Levlane
Polls
COVID-19 Experience
Sponsored by: Alkermes
Patient Behavior
Sponsored by: Health Union
Patient Recruitment
Sponsored by: KnowRare
Pharma's Reputation
Sponsored by: Ivy Cohen Corporate Communications
Real World Evidence
Sponsored by: RareiTi