Influencers have the power to positively change the status quo because of their authority, knowledge, position, or relationship with their audience.
According to the global consultancy Evaluate, the impact of COVID-19 has so far wiped $7.85 billion off forecasts for biopharma sales in 2020, with the top 15 companies bearing 60% of that loss.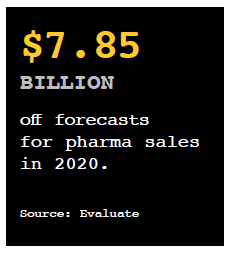 However, despite dampening sales in the near-term, demand for innovative and effective therapies continues to drive long-term growth. Prescription drug sales are forecast to grow 3.7% in 2020 to $904 billion, and reach almost $1.4 trillion in 2026, with orphan drugs and oncology products continuing to be high-performing segments.
A couple of dynamics are at play. First, according to a McKinsey report, about 80% of HCPs (surveyed from 10 countries, including the U.S.) report a significant drop (62%) in patient volumes. Furthermore, the reduction in patient interactions varies by specialty. Axtria analysts explain the decline in the number of oncology-related visits is much less than that of cardiology (possibly reflecting patient or physician perceptions of urgency).
Additionally, medical claims data indicate considerable geographic variations in the timing and severity of the patient-volume decline in the United States. While the number of remote patient/HCP engagements has spiked, it has not offset the loss of in-person interactions.
Second, there will be a decline in total sales rep/HCP engagements. Compared with pre-crisis interactions, HCPs in the U.S. expect a 15% reduction in overall interactions with sales reps, according to the McKinsey report.(PV)
~~~~~~~~~~~~~~~~~~~~~~~~~
Pharmaceutical Commercial Trends
Roche will be the leading prescription drug company in 2026 with forecast sales of $61 billion, retaining its top spot from 2019.
Keytruda is set to be the top-selling drug worldwide in 2026 with $24.9 billion sales, almost double its closest rival.
Oncology remains the leading area for R&D investment with a forecast spend of $82 billion, more than triple that of any other area. This spend is forecast to result in 152 novel FDA approvals and $311 billion in drug sales in 2026.
The orphan drug market is expected to double from $127 billion in sales in 2019 to $255 billion in 2026, with a projected CAGR of 10.8% from 2020-2026.
$252 billion in sales are at risk due to patent expiries between 2020 and 2026, most notably including Humira – currently the top-selling product in the world – in 2023.