What's Next …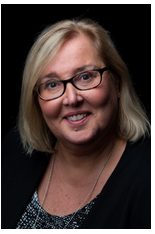 Over the past several months, I, like everyone else, have wondered what's next? What's next if there's not a vaccine approved soon? And, even if a vaccine is approved, how does that play out? What happens if there's a next wave of COVID-19 that coincides with flu season? The what ifs are endless.
All we know for now is that life will not return to normal. Major organizations have instituted work from anywhere policies.Those that haven't are grappling with how to reopen given their employees' state of mind. Schools in much of the country are not reopening or opening with hybrid schedules, or in some cases reopened and closed again, which puts additional pressure on working parents to balance it all, not to mention the stress of uncertainty.
This month's cover story, as well as other stories throughout the issue, touches on the impact that COVID-19 has had on drug discovery through to commercialization.
As the industry looks toward what next steps need to be taken in order to effectively discover, develop, and commercialize products during and post-COVID-19, one thing becomes clear, digital health, which has been inching its way toward broader adoption, is about to boom. From pharma R&D to marketing and sales strategies to physician telehealth visits, technology is evolving and being adopted at unprecedented rates.
According to a recent report from Reuters Events & EY, it is a very safe bet to predict increasing use of digital for a post-COVID pharma. The report, Beyond COVID-19: Pharma Reimagined, states that an overwhelming majority — 85.2% — of respondents anticipate higher levels of investment into digital over the next six to 12 months, with many — 82.8% — anticipating sustained investment over 24 months.
As Craig Lipset, founder, Clinical Innovation Partners, says: "We have a chance to institutionalize change because people are seeing that the perceived barriers — technical, operational, user acceptance — from the site to the patient perspective, and most importantly to the regulators, have all been shattered."
Mr. Lipset, who is a PharmaVOICE 100 Red Jacket honoree, will join 19 fellow honorees on Sept. 10, during the PharmaVOICE 100 24-Hour Celebration Marathon, which literally kicks off at midnight on Thursday and is jampacked for the next 24 hours with Executive Panels, Think Tanks, videos, games, prizes, and surprises. During the Red Jacket Super Panel, our experts will explore "What's Next" across a wide range of topics. We hope you will join us for this panel as well as for the other great content throughout the day — you just might run into someone you know while zooming in and out, engaging in real-time networking with other attendees as well as the panelists. Watch for the PV Guide coming your way!
Taren Grom, Editor
~~~~~~~~~~~~~~~~~~~~~~~~~

Their Word…
Robin Robinson
Senior Editor
The pandemic has worked as a catalyst for accelerating lagging trends; the new normal will include more digital marketing tools and virtual sales calls.
Kim Ribbink
Features Editor
With just 12% of U.S. adults having proficient health literacy, pharmaceutical companies are dedicating more resources to communicate clearly with patients.
Carolyn Gretton
Features Editor
Pharma R&D is in the midst of a juggling act. Companies are working to develop vaccines, tests, and treatments for COVID-19 while simultaneously seeking to advance their non-COVID-related pipelines.
~~~~~~~~~~~~~~~~~~~~~~~~~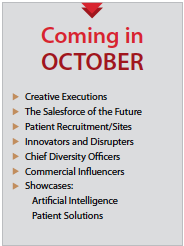 Coming in October
Creative Executions
The Salesforce of the Future
Patient Recruitment/Sites
Innovators and Disrupters
Chief Diversity Officers
Commercial Influencers
Showcases: Artificial Intelligence
Patient Solutions
~~~~~~~~~~~~~~~~~~~~~~~~~
Masthead
The forum for the industry executive
Volume 20 • Number 8
Publisher Lisa Banket
Editor Taren Grom
Creative Director Marah Walsh
Senior Editor
Robin Robinson
Features Editor
Carolyn Gretton
Kim Ribbink
Design Associate
Ariel Medel
Director of Sales
Cathy Tracy
National Account Manager
Suzanne Besse
Webcast Network Producer
Daniel Limbach
Circulation Assistant
Kathy Deiuliis
Copyright 2020
by PharmaLinx LLC, Titusville, NJ
Printed in the U.S.A.
Volume Twenty, Number Eight
PharmaVoice (ISSN: 1932961X) is published monthly except joint issues in July/Aug. and Nov./Dec., by ­Pharma­­Linx LLC, P.O. Box 327, Titusville, NJ 08560. ­Periodicals postage paid at Titusville, NJ 08560 and additional mailing offices.
Postmaster: Send address changes to PharmaVOICE, P.O. Box 292345, Kettering, OH 45429-0345.
PharmaVoice Coverage and Distribution:
Domestic subscriptions are available at $190 for one year (10 issues). Foreign subscriptions: 10 issues US$360. Contact PharmaVoice at P.O. Box 327, Titusville, NJ 08560. Call us at 609.730.0196 or FAX your order to 609.730.0197.
Contributions: PharmaVoice is not responsible for unsolicited contributions of any type. Unless otherwise agreed in writing, PharmaVoice retains all rights on material published in PharmaVoice for a period of six months after publication and reprint rights after that period expires. E-mail: [email protected].
Change of address: Please allow six weeks for a change of address. Send your new address along with your subscription label to PharmaVoice, P.O. Box 292345, Kettering, OH 45429-0345. Call us at 800.607.4410 or FAX your change to 937.890.0221. E-mail: [email protected].
Important notice: The post office will not forward copies of this magazine. PharmaVoice is not responsible for replacing undelivered copies due to lack of or late notification of address change.
Advertising in PharmaVoice: To advertise in Pharma­­Voice please contact our Advertising ­Department at P.O. Box 327, Titusville, NJ 08560, or ­telephone us at 609.730.0196. E-mail: [email protected].
Letters …
Send your letters to [email protected]­voice.com. Please include your name, title, company, and business phone number. Letters chosen for publication may be edited for length and clarity. All submissions become the property of PharmaLinx LLC.