Fish Skin for Wounds
Fertram Sigurjonsson, Founder and CEO of Kerecis, talks about his company's skin-substitution technology, which comes from Icelandic cod.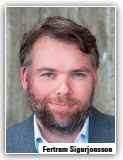 Fertram Sigurjonsson started Kerecis because he wanted to help people avoid life-altering amputations, which often result from hard-to-heal wounds.
His inspiration for the technology came about from the work he had been doing at a company that makes artificial limbs. He noticed that some patients often required amputations when their chronic wounds from diabetes or vascular diseases didn't heal.
Based on his experience, Mr. Sigurjonsson saw the need for better skin-regeneration technology, and established Kerecis in 2009 as a research project in Isafjordur, Iceland.
One out of 11 Americans has diabetes today, and by 2050, it is estimated that one out of three Americans will have diabetes. About 25% of all people with diabetes develop wounds, and 6% of these patients end up having a limb amputated. In the United States alone, there are more than 100,000 amputations every year, and there are 1.2 million U.S. amputees alive today.
Mammalian-based skin grafts require significant processing to eliminate the risk of disease transmission that reduces their efficacy. Autografts — when tissue is taken from another part of the body — require treatment of two wounds. Mr. Sigurjonsson had another idea: fish skin.
"Fish skin is very similar to human skin," he says. "It's the same thickness. It has the same elasticity. And it looks very similar to human skin. Fish skin is rich in omega-3 fatty acids, which promote wound healing, and there is no disease-transfer risk from cold-water fish to humans."
Kerecis is pioneering the use of fish skin and fatty acids in the globally expanding cellular-therapy and regenerative-medicine market. The fatty-acid-rich products from the company's patented technologies enable the body to regenerate tissues, rather than simply repair them.
The company's flagship product, Kerecis Omega3 Wound, is intact fish skin which, when grafted onto damaged human tissue, recruits the body's own cells and ultimately is converted into living tissue.
The product, which was approved in 2015 by the Food and Drug Administration, is the first skin-replacement material from fish for healing diabetic and burn wounds.
As part of the FDA approval process, Kerecis conducted a clinical trial on 162 wounds and demonstrated there was no risk of disease transfer or of elicitation of autoimmune diseases. The company has conducted several other studies. One controlled study compared Kerecis Omega3 Wound with pig tissue and another trial compared the product with amniotic membrane from donated fetal sacs from women.
"In both of these trials, we demonstrated that there was accelerated wound closure; probably because of the skin's structure and its omega-3 oils," Mr. Sigurjonsson says.
He notes that the company uses fish skin graft derived from Icelandic codfish. "We use cod because it's available in all ports in Iceland," Mr. Sigurjonsson says. "It's certified as being sustainably caught. And cod is a cold-water fish. It's very important to use cold-water fish. Warm-water fish might introduce a viral disease-transfer risk. Additionally, cold-water fish don't need to be intensively processed to get rid of any viruses."
The fish skin's protein composition closely resembles that of human skin and the porous microstructure provides a structure for efficient ingrowth of dermal cells and capillaries. The fish skin is processed using a proprietary method that preserves its structure and lipid composition.
"We have a patented process where we remove the fish cells from the fish skin without damaging the material," Mr. Sigurjonsson explains. "The fish skin still looks like a fish skin but we have removed the fish cells."
All of this is part of the company's mission, which is to extend human life by supporting the body's own ability to regenerate. Kerecis' vision is to become the world leader in tissue regeneration by sustainably harnessing nature's own remedies.
The company has a pipeline of products that it plans to submit for FDA approval, one for use in oral surgery that Kerecis will be launching soon through a partner. Another product in development is for breast reconstruction. Additionally, the company is investigating a variation of the Kerecis Omega3 fish-skin for the reconstruction of dura matter, a leather-like membrane covering and protecting the brain and spinal cord.
Kerecis Omega3 Wound is reimbursed in all 50 states through Medicare, is widely covered by private insurers, and is available in Veterans Administration hospitals.
"Medicare and the Centers for Medicare Services, which have identified diabetes as a problem, created a special payment structure for the treatment of chronic wounds, and are encouraging the formation of wound centers," Mr. Sigurjonsson says. "Research has shown that multidisciplinary care of wounds leads to wound closure."
The company has its own salesforce for the wound-care business, and will partner with other companies for the oral surgery and breast reconstruction indications. (PV)