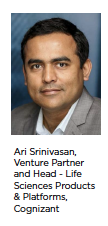 In November 2018, Cognizant was proud to introduce two new products into the Life Sciences market. Both came out of our Accelerator LaunchPad program, which solicits ideas, creates internal startups, and launches only those products that can survive and thrive throughout its rigorous process.
But what makes a company known for its systems integration and outsourcing services believe it can develop innovative new products?
Cognizant has long been at the forefront of fostering innovation. Beginning more than a decade ago, we structured contracts with commitments to optimize our clients' operations and enhance their return on investment. This motivated all associates to focus on our "Innovation Index," which measured how Cognizant not only solved immediate challenges but also transformed the overall operational model over time.
From Innovation Index to Funded Ventures
Delivering complex digital solutions at scale gives our associates unique insights on how today's systems need to morph to handle future needs. They develop extensive domain expertise and are able to synthesize multiple disparate problems into logical solution areas to bring compelling value to the clients they serve. Thanks to our LaunchPad innovation contest, these subject matter experts can now take their contributions even further and help shape solutions for an entire industry.
Painting the White Space in Life Sciences
Pharma companies have embraced many popular solutions across the R&D value chain and have gained individual efficiencies, but the siloed approach to data and systems have restricted the flow of information that drives business insights. It's not surprising, then, that the very first products to advance from LaunchPad to become marketed products are in Life Sciences:
• Cognizant Lab Insights™ paints the white space between legacy investment protection and the latest in IoT enablement and advanced analytics to optimize lab processes and power data-driven decisions across the enterprise. Companies are finding they can now measure the time to run experiments in hours rather than days.
• Cognizant Protocol Creator™ is giving the all-important clinical trial protocol document – and the entire authoring process – the attention it deserves, with collaborative creation, template-driven content, and downstream automation. The metrics available from every step of the process are identifying the bottlenecks for companies, leading to faster document completion and trial start-up.
By backing the ideas that come from our associates who analyze and solve problems every day for our clients, Cognizant will continue to paint the white space in Life Sciences with the colors of innovation. l
www.cognizant.com/accelerator/portfolio