Genpact Research: AI Adoption Accelerating
Trend Watch: AI Applications Grow Across the Healthcare Spectrum
The adoption of AI is rapidly growing, however, to take full advantage of AI's opportunities, businesses must understand and overcome lingering doubts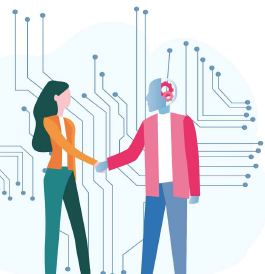 from their customers and employees, according to Genpact, a global professional services firm focused on delivering digital transformation.
This second edition of Genpact's research series, AI 360: Insights From the Next Frontier of Business, analyzes perceptions of three distinct audiences — senior executives, the employee base, and consumers — that are critical to AI's widespread adoption in business.
The latest results show remarkable progress since the inaugural 2017 study.
For example, 53% of consumers say AI is making their lives better, up from just one-third in 2017, and 36% of workers are more likely to say AI brings career opportunities than believe it threatens their jobs.
The research finds several clear perception gaps among audiences that reveal potential adoption barriers, but also provide significant opportunities for those businesses that can read the signals and act accordingly.
Among respondents' top concerns are AI bias (78% of consumers say it is important that companies take active measures to prevent it), and potential discrimination when robots make decisions (cited by 67%). While most businesses are addressing AI bias in some way, only one-third of senior executives say their companies have comprehensive governance and internal control frameworks.
Although privacy remains a key concern, consumers are much less worried if they see benefits. More than half (54%) are comfortable with letting companies use AI to access personal data if it improves their customer experience, jumping from only 30% in 2017.
The good news is that an overwhelming majority of workers (80%) are willing to learn new skills to take advantage of AI. Yet, while more senior executives say their companies provide reskilling opportunities (53%, up from 38% in 2017), a disconnect remains with workers' experiences. Just over a third of workers (35%) say their companies offer reskilling options, and less than a quarter say they have participated in such training.
Doc.ai Brings Blockchain and AI to Health Data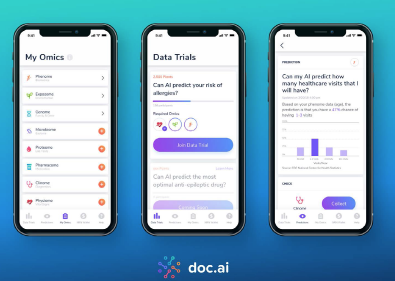 Doc.ai is an AI company with the goal to decentralize precision medicine onto the blockchain. Its mission is to accelerate the transformation of healthcare with the power of machine intelligence to enable anyone to live a better and uncluttered life while helping the human race take one step forward.
The doc.ai app applies AI to health records to help people enroll in clinical trials, determine the healthiest places they have lived and eventually see what their genetic data can tell them about health and longevity. The company has attracted millions of dollars from strategic investors and uses novel techniques to engage customers.
The startup has a major deal with Anthem, operating Blue Cross and Blue Shield plans in 14 states. Together they are working with Harvard to enable consumer participation in studies best suited to their personal profiles. Doc.ai built a mobile app that connects healthcare companies and medical researchers with smartphone users.
App users elect to become research participants in data trials, sharing their anonymized information in exchange for health insights and compensation through blockchain tokens.
The first Doc.ai data trial involved more than 1,700 participants and healthcare companies such as Anthem to predict seasonal allergies, while upcoming trials span a range of medical research areas and diseases.
GE Healthcare, Vanderbilt University Use AI for Immunotherapy Cancer Treatment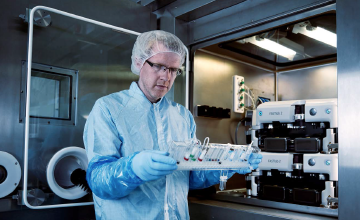 GE Healthcare and Vanderbilt University Medical Center (VUMC) have entered into a five-year partnership to develop multiple diagnostic tools to help predict both the efficacy of an immunotherapy treatment and its adverse effects for a specific patient before the therapy is administered. The idea is to give physicians the ability to better target immunotherapies to the right patients and avoid potentially damaging, ineffective, and costly courses of treatments.
GE Healthcare and VUMC will retrospectively analyze and correlate the immunotherapy treatment response of thousands of VUMC cancer patients, with their anonymized demographic, genomic, tumor, cellular, proteomic, and imaging data. They will then develop AI-powered apps that draw on these data to help physicians identify the most suitable treatment for each individual patient.
Simultaneously, GE Healthcare and VUMC will develop new positron-emission tomography (PET) imaging tracers, which together with the apps, will help physicians to stratify cancer patients for clinical trials.
"GE Healthcare and Vanderbilt will combine their data science, genomic, imaging, and cellular analysis capabilities to help improve clinical decision making," says Kieran Murphy, president and CEO, GE Healthcare. "This partnership is a great example of the increasing convergence of the tools, technologies and data used by therapy innovators and healthcare providers."
GE Healthcare and the Vanderbilt-Ingram Cancer Center, a world-renowned stem cell transplant facility, will also collaborate on methods to improve productivity, efficiency, and cost of stem cell transplant processing operations by automating processes, digitizing workflows, improving throughput, and industrializing operations.
The first analytics application prototype will be available by the end of 2019 and the PET tracer proof-of-concept by the end of 2020.
Novartis Is Using AI to Understand Diseases and Improve Drug Development
Novartis has signed a five-year deal with Oxford University's Big Data Institute to use AI to predict how patients will respond to new and existing treatments for inflammatory diseases, such as multiple sclerosis (MS) and psoriasis.
The alliance plans to analyze huge data sets using artificial intelligence and machine learning to spot disease insights that have been undetectable to scientists thus far, expecting to transform how ultra large and multiple datasets are analyzed, combined, and interpreted to identify early predictors of patient responses to treatments for inflammatory diseases.
The alliance will draw on data from around 5 million patients from the United Kingdom and international partner organizations, together with anonymized data captured from relevant Novartis clinical trials.
Merck Granted U.S. Patent for Novel Combination of AI and Blockchain Technology
Merck has been a granted a patent related to the formation of crypto-objects, a novel security procedure linking AI and blockchain technology.
"Merck is now spearheading the development of blockchain technologies that focus on a combination of physical objects and digital security," says Isabel De Paoli, chief strategy officer at Merck. "This will have implications for all industries that depend on reliable product authenticity, such as safety-critical supply chains in the pharma and food sector."
The new technology uses machine learning to link physical objects to a blockchain through their own unique identifiers or fingerprints. Any unique feature can be used as a fingerprint, such as a chemical signature, DNA, or image patterns. The patented technology paves the way for established identification processes, for example barcode scanners or mass spectrometry, to be combined with blockchain and machine-learning technologies to provide a novel, integrated security approach and thus certainty and defense to businesses.
To date, machine-to-machine readability has been the standard approach to connecting objects to digital supply chain workflows. Now, the new concept covered by the patent makes machine-to-object readability possible by linking AI and blockchain technology.
The need for enhanced supply chain integrity through new technologies has become increasingly important, as highlighted by a recent report issued by PwC.
The World Health Organization estimates that more than 50% of medicines purchased on illegal websites are fake.
"This novel technology of combining physical products with blockchain will support the security interests of businesses and their products by offering them new methods of tracking their supply chain through blockchain, Internet of Things, and connected workflow environments," Ms. De Paoli says. (PV)