Better Monitoring of Opioids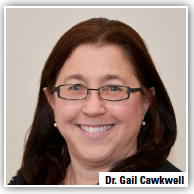 Purdue Pharma's VP and Chief Medical Officer, Gail Cawkwell, M.D., Ph.D., talks about the need to integrate state prescription monitoring programs — state-run electronic databases to track prescribing and dispensing of controlled prescription drugs — with electronic health records.
PV: How do state prescription monitoring programs work?
Cawkwell: With the caveat that every state is different, and all states except for Missouri have a prescription drug monitoring program (PDMP), the process allows doctors to see information that pharmacies are required to enter about controlled substances before prescribing an opioid. The programs were designed to help identify patients who might be using drugs inappropriately or perhaps diverting or selling the drugs.
Additional benefits of the program include alerting doctors about inappropriate use by a patient. For example, if a pain specialist writes a prescription for an opioid and a primary care doctor writes one for a benzodiazepine, then the doctor can counsel the patient about the significant risks of these medications.
PV: Are there any gaps in these programs?
Cawkwell: One major gap is the lack of state-to-state dialogue on prescription monitoring. Up until a few years ago, I was seeing patients at Columbia University in New York City and patients came from New Jersey and Connecticut and sometimes from Pennsylvania and Massachusetts. But I could only see New York's prescription monitoring program.
The second problem is that the systems are by and large not integrated into the workflow of the doctor. Doctors have very little time and the PDMPs are a different system. In many states, what doctors get is an Excel spreadsheet that includes a listing of what the patient has been doing at different pharmacies but it may be a little hard to interpret. The lack of integration and lack of analytics are real barriers to appropriate and effective use of prescription drug monitoring programs.
PV: How does Purdue's program with the state of Virginia address these gaps?
Cawkwell: Our partnership is with the state of Virginia, as well as with a company called Appriss, which has developed a solution that puts the prescription monitoring data right in the doctor's electronic health record workflow, making it very simple for the doctor to use.
The system gives an at-risk score that allows the doctor to assess patients who may have a high risk of overdose or a high risk of inappropriately using medicines, which helps doctors to decide if they want to take a different action with at-risk patients. There are also ways to use the system to find referrals for addiction treatments in their area.
This is a three-year pilot program to evaluate how it works in an integrated healthcare system and what the results are. We hope that the output will show the impact, as well as provide an understanding of the usefulness and the barriers for use.
PV: Beyond this program, what are Purdue's plans for helping to educate physicians on appropriate opioid use?
Cawkwell: We've focused on the steps we should take to set a standard for a pharmaceutical company around appropriate education of healthcare professionals to help them prescribe or not prescribe.
We are looking at a wide battery of initiatives. For example, we are funding research to help doctors with patients on long-term opioids to discontinue opioid use.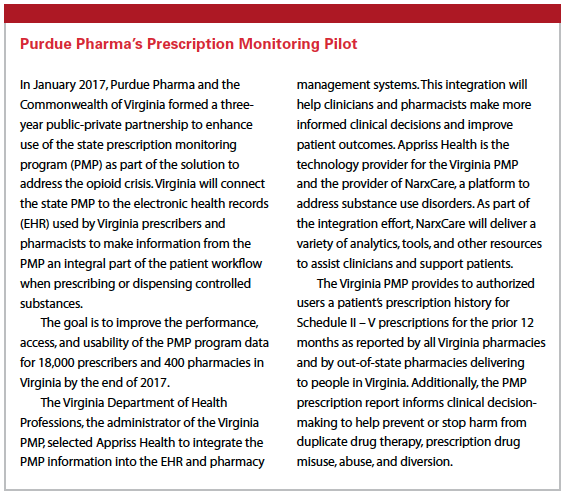 We want doctors to focus on being thoughtful from the moment of that first prescription. One of the ways we are helping with that is through distributing the CDC guidelines on appropriate prescribing for chronic pain to 140,000 healthcare professions. In addition to the guidelines, the CDC subsequently produced simple tools, one-page information sheets, and other informational fact sheets.
We are making sure these are together in one place so a doctor can easily find all the information. Our sales representatives are bringing these information packets to doctors and walking them through some of the important facts. We're all for ensuring that the duration of opiod use is limited starting with that first opioid script. (PV)
~~~~~~~~~~~~~~~~~~~~~~~~~
Purdue Pharma's Prescription Monitoring Pilot
In January 2017, Purdue Pharma and the Commonwealth of Virginia formed a three-year public-private partnership to enhance use of the state prescription monitoring program (PMP) as part of the solution to address the opioid crisis. Virginia will connect the state PMP to the electronic health records (EHR) used by Virginia prescribers and pharmacists to make information from the PMP an integral part of the patient workflow when prescribing or dispensing controlled substances.
The goal is to improve the performance, access, and usability of the PMP program data for 18,000 prescribers and 400 pharmacies in Virginia by the end of 2017.
The Virginia Department of Health Professions, the administrator of the Virginia PMP, selected Appriss Health to integrate the PMP information into the EHR and pharmacy management systems. This integration will help clinicians and pharmacists make more informed clinical decisions and improve patient outcomes. Appriss Health is the technology provider for the Virginia PMP and the provider of NarxCare, a platform to address substance use disorders. As part of the integration effort, NarxCare will deliver a variety of analytics, tools, and other resources to assist clinicians and support patients.
The Virginia PMP provides to authorized users a patient's prescription history for Schedule II – V prescriptions for the prior 12 months as reported by all Virginia pharmacies and by out-of-state pharmacies delivering to people in Virginia. Additionally, the PMP prescription report informs clinical decision-making to help prevent or stop harm from duplicate drug therapy, prescription drug misuse, abuse, and diversion.