In just a few short years, hepatitis infections could go from a serious disease to one that will be rare. Pharmaceutical companies have done much to address hepatitis in recent years. Today, hepatitis B is preventable with vaccination, and recent advances in treatment have made hepatitis C curable.
The National Academies Of Sciences, Engineering, and Medicine predicts the number of deaths from hepatitis B could be cut in half by 2030 by diagnosing 90% of the nation's chronic hepatitis B patients thereby reducing liver cancer and cirrhosis from hepatitis B infection by about 45%. Similarly, treating everyone with chronic hepatitis C would reduce new infections by 90% by 2030 and reduce hepatitis C deaths by 65%.
Hepatitis results in inflammation of the liver, a vital organ that processes nutrients, filters the blood, and fights infections. Viruses are the most common cause of hepatitis, but the disease can also be caused by heavy alcohol use, toxins, some medications, and certain medical conditions.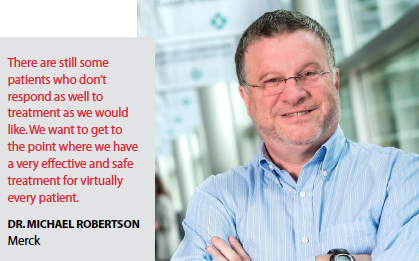 Hepatitis B and C kill more than 20,000 people every year in the United States, according to the National Academies Of Sciences, Engineering, and Medicine. About 1.3 million people in the United States have chronic hepatitis B, and about 2.7 million have chronic hepatitis C. Together, hepatitis B and C cause about 80% of the cases worldwide of liver cancer, which has been steadily increasing in both new cases and deaths in the United States since the early 2000s.
The Hepatitis Market
The hepatitis market is different from other pharmaceutical markets, says David Fitzhenry, managing partner at Trinity Partners.
"The efficacy level as well as the safety and tolerability dynamics of current products and those that will be coming along are so high that it's going to be almost impossible to trump them as a regimen," he says.
James Nolan, CEO of InClinica, explains that the hepatitis market is a cannibalistic one, in the sense that it is akin to the smallpox market in that the more efficacious, the more cost-effective, and the more widespread they are, they will eliminate the need for therapies in the market.
"Hepatitis is an area where there are extremely effective treatments and there are more improvements coming," he says. "Companies know they're working on a diminishing return because every time someone is cured he or she will no longer be able to spread the disease, and eventually the world will benefit because the disease will become neutralized."
Over the last few years, approvals of new hepatitis C drugs have made for a crowded market. In less than three years, Gilead delivered three breakthrough medicines: Sovaldi, Harvoni, and Epclusa. These medicines offer a potential cure for the majority of patients living with the chronic hepatitis C virus (HCV).
Gilead took the first treatment Sovaldi (sofosbuvir) from an early-stage compound to a breakthrough HCV treatment in 2013. Gilead's second treatment, Harvoni (ledipasvir/sofosbuvir), is the first one pill, once-daily cure without interferon for patients with genotype 1, 4, 5 or 6, patients co-infected with HCV, and HIV- and post-liver transplant patients with genotype 1 or 4. Epclusa (sofosbuvir /velpatasvir) offers HCV genotype 2 and 3 patients a cure with simple single-tablet, once-daily dosing in a 12-week regimen, for the majority of patients.
Nearly 1.3 million people worldwide have been treated with Gilead's hepatitis C virus therapies to date, according to a Gilead spokesperson.
Merck's Zepatier is a combination of two different antiviral drugs — elbasvir and grazoprevir. Each one of these targets a different protein in the hepatitis virus that is responsible for how the virus reproduces itself and grows.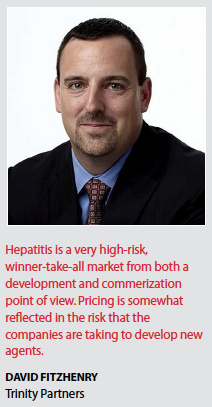 "We are inhibiting two critical proteins in the hepatitis virus, which suppress viral replication to undetectable levels; this allows the body's immune system then to clear out the infection," says Michael Robertson, M.D., executive director of clinical research, Merck. "In the vast majority of patients who are treated with a combination of two drugs for 12 weeks studies show that the virus is completely cleared from the body."
Additionally, AbbVie has two products available on the market for hepatitis C: Viekirax and Exviera. Viekirax tablets consist of the fixed-dose combination of paritaprevir and ritonavir with ombitasvir. Exviera tablets consist of dasabuvir.
Because of the efficacy of these products, industry experts predict the hepatitis C market will experience a steady decline. GlobalData predicts the market will fall from $21.7 billion in 2015 to $17.5 billion by 2025, representing a negative compound annual growth rate of 2.1%. The main market for direct-acting antivirals curing patients of hepatitis C in 2015 was the United States, which contributed more than 60% to the total market size. But declining patient populations and unusually high treatment rates in 2015 will reduce the disease prevalence in the U.S. market to a more sustainable level, with the United States contributing only 48% of sales by 2025.
The Issue of Pricing
This market is also highly competitive, which means pricing is a hot-button issue, Mr. Fitzhenry says.
"Price erosion will probably stabilize some, and patient volumes are going to continue to slide a little bit year-on-year, which will lead to a negative overall dollar growth in the hepatitis C market," he says.
Pharmaceutical companies are preparing for a slowdown of the market as demand for hepatitis therapies shrinks because of how well current therapies work. Gilead's 2016 sales for its hepatitis therapies —  Sovaldi, Harvoni, and Epclusa — were $14.8 billion, compared with $19.1 billion in 2015. The declines were due to lower sales of Harvoni and Sovaldi, partially offset by sales of Epclusa, which was launched in 2016 across various locations. In February, Gilead predicted 2017 revenue for its hepatitis therapies would be $7.5 billion to $9 billion in 2017, below the $11.6 billion analysts had projected.
Additionally, in February Merck indicated it would write down most of what it paid for a hepatitis C drug in 2014, partly because of the success of other new therapies. The company announced it would take a $2.9 billion charge, or $1.9 billion after taxes, on uprifosbuvir, which it bought in 2014 in its $3.9 billion acquisition of Idenix Pharmaceuticals. Uprifosbuvir is still in clinical trials. Merck said it now values the drug at $240 million.
Mr. Nolan says the shrinking pool of patients for hepatitis treatments has led companies to price these products on the high end.
"Every time someone is cured, the patient pool shrinks in the near term and the far term," he says. "Companies have to make a positive return on their investment in the short run, which drives prices up. Right now, the market is sizable, but that may not be the case 15 years from now."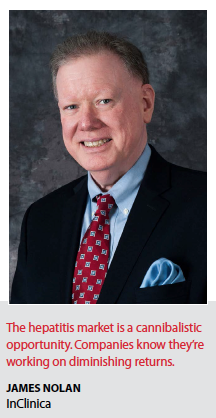 This is a very high-risk, winner-takes-all market from a development and a commercialization point of view, Mr. Fitzhenry says.
"The pricing is somewhat reflected in the risk companies are taking to develop new agents," he says.
But he points out that from a traditional cost-effectiveness or health economic analysis, hepatitis therapies on the market offer an incredible value.
"It's rare in pharma that drugs cure a disease," Mr. Fitzhenry says. "The long-term outcomes of untreated hepatitis C are cirrhosis, liver transplant, and hepatocellular carcinoma. These diseases are incredibly costly to the system, and the value that drugs such as Harvoni and Sovaldi bring have been validated by all the European payers, which reported they are very cost-effective agents."
Still, the high cost of these therapies has led some payers to control use.
"On the payers' side, it isn't necessarily a cost-per-patient issue; it's the pure volume of patients," Mr. Fitzhenry says. "Normally, drugs that are that expensive don't have a treatment base of 50,000 patients one year, which might spike to 250,000 patients the next year. This caused a massive shift in payers' per member, per month overall drug budget. This huge influx in spend was the issue, and payers had a difficult time planning for the increases."
Payers in the United States have begun to exert pressure on manufacturers' pricing. Express Scripts, for example, says its spending for the hepatitis C therapy class is forecast to decline an average 28.8% annually between 2017 and 2019.
In 2016, Express Scripts' spending for hepatitis C medications decreased 34% due to decreased unit costs and use. AbbVie's Viekira Pak (ombitasvir/paritaprevir/ritonavir with dasabuvir) and Gilead's Harvoni (ledipasvir/sofosbuvir) remained the two most-utilized therapies, capturing 43% of the market share.
This year, Express Scripts' Hepatitis Cure Value Program includes both Viekira Pak/XR and Harvoni as preferred products. Since this program began in 2015, executives from Express Scripts say they've helped more than 50,000 patients gain access to curative therapy while continuing to lower the cost of treatment by almost 50% and delivering a cure rate greater than 95%.
A Gilead spokesperson says scrutiny of U.S. drug prices is largely focused on wholesale acquisition cost (WAC), which is considered a "list price." WAC prices do not reflect the level of discounts provided to many payers, including commercial insurers. These discounts are driven by strong marketplace competition in the current healthcare system. Due to increased competition, the actual price paid across all payers has decreased by more than 50%.
Mr. Nolan says companies are trying to develop effective ways to address access without affecting their profitability.
"On one hand, there is the pressure to hit certain profit goals and on the other hand there is a recognition that access is an important issue for anyone with the disease."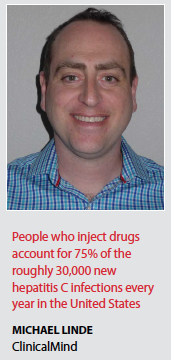 A Gilead spokesperson says the company is committed to helping patients get access to its HCV medications and ensure cost is not a barrier to treatment. Gilead's SUPPORT PATH offers a co-pay coupon program for eligible patients with private insurance who need assistance paying for their out-of-pocket medication costs; most eligible patients will pay no more than $5 per co-pay. For eligible and qualified uninsured patients in the United States, SUPPORT PATH provides HCV medicines at no charge.
Industry leaders say competition in the crowded hepatitis market has already started to impact pricing. In fact, Merck was aggressive in its pricing for Zepatier, its hepatitis C therapy. Zepatier was approved in the United States in January 2016 and the European Union in July 2016.
"When we launched Zepatier we priced our drug for increased access," says John Schwind, executive director, U.S. marketing leader for hepatitis, Merck. "When Zepatier came to market Gilead's list price for Harvoni was $94,500. We launched at $54,600 as a starting position. We then discounted off of that price to try to provide increased access to patients who previously didn't have access to hepatitis C therapies, especially those patients with managed Medicaid and fee-for-service Medicaid coverage. We revolutionized the marketplace."
Mr. Schwind points out many insurance plans stipulate that patients are provided with one opportunity to receive these high-cost medications.
"Patients need additional options and we want to make sure we provide each patient with an opportunity for a cure at the first course of treatment," he says. "If the patient needs to be retreated, efficacy goes down and it is considerably more expensive."
Unmet Needs in Hepatitis
Dr. Robertson says his company is committed to making sure it generates data that help physicians and payers understand how these drugs can be used in different populations.
"For example, there is a very high incidence of hepatitis C infection in people who use IV drugs," he says. "We believe that to address the hepatitis C epidemic these people need to be treated because this is where the new infections are occurring, and many of these people are excluded from treatment."
Michael Linde, Ph.D., group senior medical director, ClinicalMind, says people who inject drugs account for 75% of the roughly 30,000 new hepatitis C infections every year in the United States.
Ending transmission depends on reaching this population, according to the National Academies Of Sciences, Engineering, and Medicine.
Mr. Schwind says Merck's goal is to develop an elimination strategy in the United States so that hepatitis C is no longer an issue.
"No one is upset that polio is no longer with us," he says. "There is a significant unmet need in hepatitis and we need to work with the government to address the issue. If I were out of a job in six to 10 years because hepatitis C was eliminated, I would be fine to walk away and do something else."
Dr. Robertson agrees there are still a few patient segments that are not adequately addressed with currently available therapies.
"The current drugs really are good and so we're blessed with having a wealth of new treatments," he says. "There are still some patients who don't respond to treatment as well as we would like. We want to get to the point where we have a very effective and safe treatment for virtually every patient. We aren't quite there yet, but we think with newer combinations we are very close."
Merck is conducting Phase II trials of two different combinations for hepatitis C to evaluate if the treatment time can be shortened to eight weeks of therapy instead of 12 weeks of therapy.
One of these is a three-drug combination: MK-5172 (grazoprevir)/MK-8408 (ruzasvir)/MK-3682 (uprifosbuvir). Dr. Robertson says this combination looks promising; the company is seeing efficacy in the high 90 percentile.
"We'll have results in the near future for us to make the determination which or perhaps both of those regimens we move forward," he says.
There are unmet needs outside of the United States as well, Mr. Fitzhenry says. There is a need for hepatitis therapy in the developing world, and he points out that there are no approved hepatitis C therapies in China.
"The question for most companies will be if they view this opportunity to be one of commercial value or as a public health issue," he asks. "We see this as more of a global public health issue. Many of our clients are making an effort to make their products available globally at a different cost. For example, with HIV medicines in Africa companies have out-licensed some of their IP to nonprofit organizations that will manufacture and distribute the products at a much lower cost to treat patients.  We think a similar model will happen in hepatitis C."
Additionally, Dr. Linde says there is a need for medications for patients who have failed prior all-oral treatment.
In fact, Gilead's SOF/VEL/VOX (sofosbuvir/velpatasvir/voxilaprevir) is currently under regulatory review in the United States and Europe for the treatment of HCV genotype 1-6, for patients who failed prior treatment with other direct-acting antiviral regimens. (PV)
~~~~~~~~~~~~~~~~~~~~~~~~~
Paying for Hepatitis Therapies
The National Academies Of Sciences, Engineering, and Medicine in March released a report on eliminating the public health crisis of hepatitis infections. The committee gave considerable attention to novel ways to pay for hepatitis C medications and recommended a voluntary licensing agreement between the federal government and a patent-holding pharmaceutical company as a way to make the drug more affordable for Medicaid beneficiaries and other underserved patient populations.
The direct-acting antiviral drugs that cure hepatitis C make elimination feasible in the United States, but their cost is an obstacle to large-scale treatment, creating inequities. While these drugs are very expensive, they are also cost-effective, when compared with other healthcare interventions.
A recent study found that almost half of Medicaid patients were refused hepatitis C treatment, compared with only 5% of Medicare patients and about 10% of patients with commercial insurance. Furthermore, fewer than 1% of prisoners with hepatitis C have been treated. Some payers give first priority to the sickest patients — those at immediate risk of cirrhosis or end-stage liver disease. Unrestricted, mass treatment of hepatitis C is necessary to eliminate the disease as a public health problem by 2030, but no direct-acting agent will come off patent before 2029.
The committee recommended that the government purchase a license or assignment to the patent on a direct-acting antiviral drug, and use it only in those market segments where the government pays for treatment and access is now limited, such as Medicaid and prisons. The committee proposed a voluntary transaction where six innovator pharmaceutical companies bid to sell a license to the government for use in a narrow market that the companies would not otherwise reach. This limitation will also control costs, because the government should not have to pay as much as if it were compromising the lucrative private market.  The voluntary nature of this process guarantees the drug company reasonable compensation, and the patent holder has the option to walk away if the price is too low.
The committee's calculations suggested a patent license should cost about $2 billion, after which states and the federal government would pay about $140 million to produce the medicines needed to treat about 700,000 neglected patients.  For comparison, under the status quo, it would cost about $10 billion over the next 12 years to treat only 240,000 of the same people.