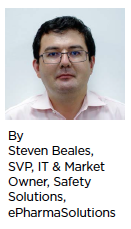 Although it sounds straightforward, global safety reporting of clinical trial adverse events is complicated, time-consuming and extremely expensive. Despite the substantial investment of time and money, research shows that global safety reporting is not protecting patients as well as it could.
Driven by fear of regulatory non-compliance, along with a lack of sophisticated algorithms to ensure appropriate distribution, sponsors tend to over-report adverse events, putting pressure on already overburdened sites to process numerous, non-actionable reports. Unable to keep pace, investigators often miss critical safety information.
According to a recent survey conducted by the Clinical Trials Transformation Initiative (CTTI)1, 20% of investigators refused to process safety reports that did not comply with FDA reporting rules. Others admitted to signing off on reports without thoroughly reading them, because they did not believe that the information would improve their trial or make patients safer.
ePharmaSolutions offers the only reporting solution that has been demonstrated to increase compliance and improve patient safety, while saving clients an average of $500k per study. SafetyPortal prevents over-reporting by addressing the three main challenges sponsors face:
1. Lack of global harmonization of reporting rules
SafetyPortal is the only technology-enabled solution that provides tailored distribution rules for over 110 countries. Because it meets the individual legal requirements for each country, SafetyPortal keeps sponsors compliant and prevents investigative sites from receiving safety documents they are not obligated to review.
2. Difficulty determining causality
SafetyPortal is built upon a causality-driven engine, which filters documents based on the rules and regulations governing the determination of causality for each country. Because it screens out unnecessary reports, SafetyPortal allows investigators to focus on relevant safety content and easily recognize new safety signals.
3. Fear of non-compliance or regulatory repercussion
SafetyPortal automates compliance, ensuring that global distribution – at the compound level – is completed in minutes. In addition to a causality-driven engine and country-specific knowledgebase, SafetyPortal provides real-time tracking of investigator acknowledgements and a single sign-on to guarantee safety and privacy.
maSolutions is helping sponsors to solve the problem of over-reporting, and helping sites to focus on information that truly impacts patient safety. Having eliminated the need for manual and brute force processes, clients using SafetyPortal report increased regulatory compliance, improved relationships with sites, and achieved a dramatic reduction in their overall cost of distribution.
To learn more, read our white paper, "Managing the Unmanageable: Meeting the Challenge of Appropriate Safety Report Distribution" or visit us at http://www.epharmasolutions.com/our-solutions/safety-portal l
1. Perez, R, Archdeacon, P, Roach, N, et al. Sponsors' and investigative staffs' perceptions of the current investigational new drug safety reporting process in oncology trials. Clinical Trials 2017. http://journals.sagepub.com/doi/pdf/10.1177/1740774517700640