Precision medicine holds great promise for improving patient health outcomes. By identifying genetic causes of diseases, doctors can focus on disease prevention, earlier diagnosis when treatments may be more effective, and avoid giving treatments to patients that may cause adverse reactions or that will fail to work.
We are just at the beginning of the pre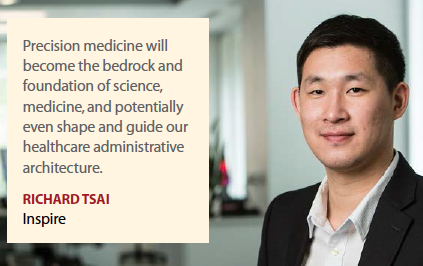 cision medicine era, but industry leaders say precision medicine will have a major impact on how doctors and patients think about disease and how patients are treated.
While the personalization and digitization in the consumer world is already a thing of history and moving toward predictive interactions, the healthcare industry is very much behind.
However, through technological advances like next-generation sequencing, data commoditization, and maturation of our understanding of genomics and other 'omics modalities, the pieces are coming together, says Richard Tsai, VP of marketing, Inspire.
There are numerous consortiums and programs that are focused on collecting the genomic data, and many organizations from pharma to government are building national biobanks to store biospecimens of various diseases in the hope to extract meaningful biological data and translate them into biomarkers.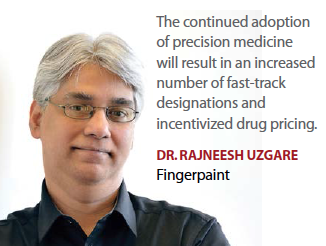 But this, Mr. Tsai says, is just the beginning.
"What's even more exciting is that we are also seeing the rise of citizen scientists, who are also patients and helping other patients to better understand what precision medicine is all about and how it can bring hope to them in the very near future," he says. "Precision medicine will become the bedrock and foundation of science, medicine, and potentially even shape and guide our healthcare administrative architecture."
Precision medicine is the future of all healthcare, says Kathy Giusti, founder, Multiple Myeloma Research Foundation & Consortium.
"As a cancer patient, I can tell you that it is the benefits of precision medicine that have helped push me, and many others, into remission," she says. "In a progressively individualized world, precision medicine sits at the confluence of science, technology, and consumerism and requires both patients and the global research community to collectively share and aggregate data."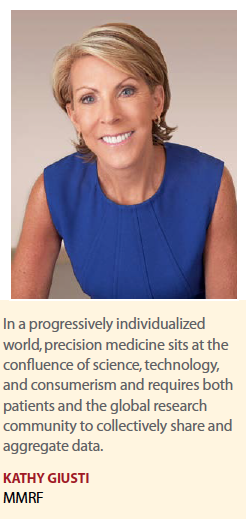 Precision medicine holds the promise to help physicians and patients answer the question "will this work for me," says Michael Pencina, Ph.D., faculty associate director, director of biostatistics, and professor of biostatistics and bioinformatics, the DCRI Center for Predictive Medicine.
"Precision medicine has the potential to transform chronic disease population management by leveraging predictive analytics for forecasting medication adherence," he says. "This can result in more personalized and effective patient adherence programs."
Precision medicine is also expected to drive real improvements in outcomes, especially in the areas where a detailed understanding of each person's phenotype and disease profile is important. For precision medicine to be successful, all stakeholders will have to be more actively engaged in R&D of new cures, says Kate Torchilin, Ph.D., CEO of Novaseek Research.
But, Dr. Torchilin says, for precision medicine to have a strong positive impact on the industry and patients' health, it is important to apply it in a pragmatic way, focusing on areas of biggest impact first, such as oncology.
Oncology applications were, in fact, more than 30% of the precision medicine market share in 2015, according to Global Market Insights.
Increasing demand for personalized medicine specifically in cancer treatments and advancements in new healthcare technologies will drive the precision global medicine market, which by 2023, is expected to reach $87.79 billion.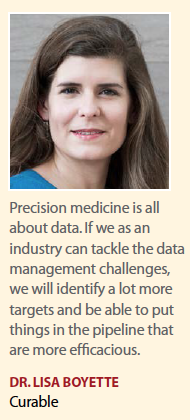 Precision medicine affords an exciting approach to cancer treatment, says Panteli Theocharous, Ph.D., VP, global product development, hematology/oncology at PPD.
"By evaluating a patient's genetic makeup or looking for specific genetic changes within a tumor, the hope is to be able to find prevention and treatment strategies that are individualized and ultimately more effective," he says.
Impact on Industry
In January 2015, President Obama announced the Precision Medicine Initiative (PMI). The initiative was supported by an initial $215 million investment, which included several components with efforts from across the federal government. The precision medicine model calls for the customization of healthcare, with medical decisions, practices, and/or products being tailored to the patient.
The Precision Medicine Initiative, says Olivier Lesueur, managing director, Bionest Partners, is bringing together input and data  from -omics data, to clinical data on patient responses to treatment, and the development of next-generation technology that can find meaning in the mountains of information and translate it to better, more personalized care.
"The impact of precision medicine on drug development currently depends on whether there is a clear biology-driven target — a particular mutation or other biomarker — that can drive R&D from the start," he says. "However, science is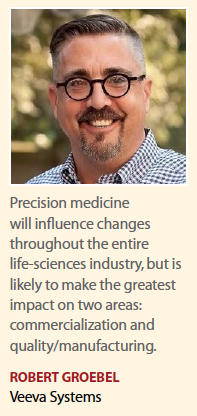 increasingly recognizing that cancer is a complex and changing process that requires placing a new emphasis on understanding the biology of the disease over time."
Precision medicine will mean wholesale change for regulators, industry, and doctors, says Hugo Stephenson, M.D., executive chairman of DrugDev.
"Precision medicine will require a totally different mindset from the traditional blockbuster approach," he says. "This means a change in evaluation and regulatory processes since we will be evaluating a production methodology versus a product. It will mean a change to how developers negotiate reimbursement and market their products, which may become more kit-like for doctors to use. It will also transform the way diseases get treated, since many of these therapies are likely to be curative over short courses instead of chronic treatments."
Precision medicine creates portals for players in medical innovation, from drug development to liquid biopsy and companion diagnostics, says Joy Yucaitis, senior director, oncology strategy, Novella Clinical.
"As we more effectively understand the specific biology of a patient's cancer, we require more options tailored to each mutation," she says. "Almost as quickly as new targets are identified, new treatments enter clinical development. This product development dynamic introduces challenges as well, with securing funding to support development, competition for increasingly rare patients, and the evolution of clinical endpoints to make informed decisions along the clinical development pathway."
Impact on R&D
Precision medicine will change the paradigm for drug development, says Brian Kelly, M.D., president, payer and provider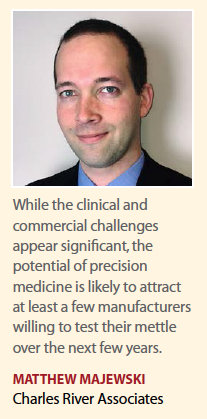 solutions, QuintilesIMS.
"As our knowledge of the biology of diseases advances through our increasing understanding of gene and protein expression, we are able to better identify subpopulations of patients that express specific targets for drug intervention," he says. "It is now very clear that specific types of cancer, for example breast, prostate, and lung, are not single diseases, but a combination of many different pathway abnormalities that although they may share common clinical features, are biologically very different diseases."
This, he says, creates an opportunity for the industry to develop therapies that while only targeted to certain subpopulations, are highly effective in those groups. If done well, this will not only lead to better clinical outcomes, but can inform which therapy will not work in certain subpopulations allowing us to spare the patient unnecessary morbidity and delay in moving to other more effective therapies and overall increase the safety profile of drugs.
"The need for increased R&D productivity, political pressure on pricing, and advances in understanding key targets have transformed precision medicine from a novel concept to essential strategy," says Ryan Million, partner, Trinity Partners. "Many drug discovery companies are wrestling with the challenge of launching a new product and new companion diagnostic in parallel, essentially creating two markets at once. The trend to do broader biomarker panel tests and next generation sequencing is where leading academic institutions are paving the way to broader implementation in the healthcare system. Companies that contribute to both spaces, development of innovative medicines associated with individual biomarkers, and an environment to test patients broadly to identify the best therapy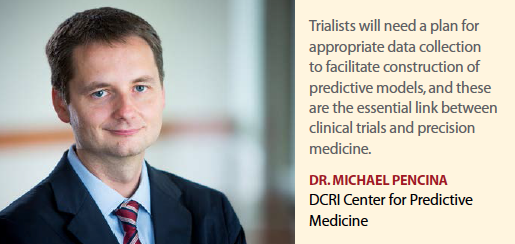 plan, will be the leaders in shaping precision medicine's future."
Binh Nguyen, M.D., Ph.D., VP, global product development, hematology/oncology at PPD, believes precision medicine will impact the industry in all functional areas.
"Discovery will need to focus more on specific targets and molecular pathways, clinical development will need to focus more on subgroups of patients with specific tumor markers, and commercialization will have a smaller market size for a specific drug, but at the same time will need to keep the drug price affordable for patients and the healthcare community as a whole," he says.
Dr. Chitra Lele, chief scientific officer at Sciformix, says precision medicine will solve the problem of generalization of results from clinical trials despite the inherent heterogeneity in the population and will enable development of interventions for individuals based on their specific genes, rather than the symptoms they exhibit.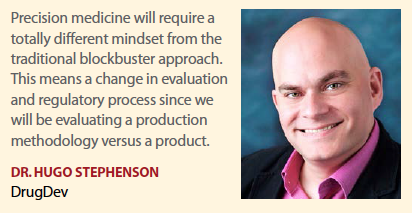 Therefore, she adds, an individual patient is more likely to be prescribed a medicine that will work for him/her, and will not have to unduly bear with adverse effects of treatments that may not work. This is contingent on the effectiveness of the diagnostic tests to differentiate patients who will benefit from a particular drug to those who will not. It also depends on providers proactively identifying patients who will not benefit from, or will be harmed by specific treatments, which requires drug developers to share and mine clinical data.
To be successful, Lisa Boyette, M.D., Ph.D., CEO of Curable, says precision medicine is going to require up-front investment in a new brand of discovery technology and analytic capabilities.
"We do not have a choice," she says. "We have to gear up for the new line of therapies we need to produce in the 21st century, and we know they're going to be — if not personalized — more personalized. Therapies will be aimed at treating patients, not treating diseases.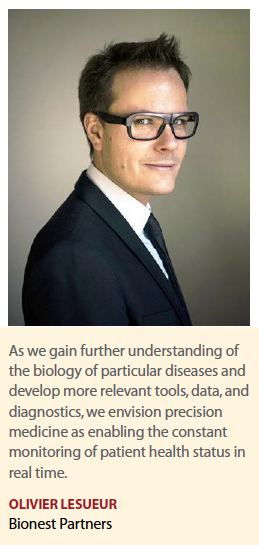 On the one hand, that sounds intimidating; we will have to put a lot of work into tailoring each patient's therapy to their needs, but that's accompanied by the opportunity to treat so many more patients than we're able to treat — and treat effectively — right now. So the work is changing and our approaches to discovery, translation, validation, and regulation  will have to change to accommodate the new problems we have to solve."
The potential of precision medicine to deliver improved outcomes with limited side-effects is unfortunately matched by the hurdles to develop and commercialize these medications in today's healthcare environment, says Matthew Majewski, a consultant at Charles River Associates.
"Almost by definition, the limited patient population any one product can satisfy implies a higher product cost than mass-market alternatives," he says. "The biomarker testing required to identify this limited patient population is an additional healthcare expenditure.
In a managed care environment where payers are looking to treat more patients with fewer dollars, precision medicine fundamentally conflicts with the practicalities of payer, employer, and patient budgets."
Impact on Commercial
On the commercial side, the Precision Medicine Initiative is already having an influence on the industry, or more specifically, patient adherence and support programs, says Kevin Connolly, VP, account management, at C3i Healthcare Connections.
He expects this influence will continue to be placed in the forefront in 2017.
"The growth of individualized patient adherence and support programs has coincided with the trend toward patient-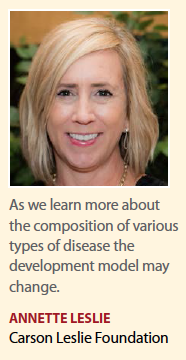 centered care, as well as the sudden and massive growth of the specialty drug market," he says.
The reasons are two-fold: the specialty treatments themselves — and the patients who receive them — require individualized support, and the substantial investment that companies make in these treatments allows for the development of extensive, personalized patient engagement and adherence programs.
Marketers need to micro-target the right therapies to the right patients, using new tools including smart data, predictive analytics, and technology along with the increase in highly targeted addressable forms of media, says Maryann Kuzel, senior VP, head of healthcare strategy, North America, RAPP.
"The personalization must continue throughout the patient journey, as patients will only let you into their lives if you provide information that's relevant in the moments that matter most," she says. "Each patient experiences his or her disease in a unique way, shaped by an evolving clinical profile, health beliefs and behaviors, preferences, and life situations. Engaging with patient communities is very important as they are highly influential and provide a valuable resource for patient insights as well as co-creation of resources."
This expansion of precision medicine further drives the importance of innovative marketing solutions, where the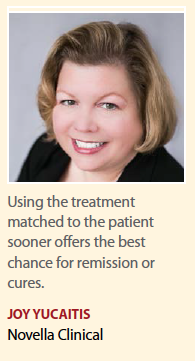 convergence of data and technology allows marketers to create customized experiences, says Keri Hettel, VP, group director of analytics, Razorfish Health.
"Enabling precisely marketed messages will be even more relevant as treatment solutions become more targeted and specific to the individual, continuing to further move us away from the old-school mass marketing communications," she says.
Precision medicine will influence changes throughout the entire life-sciences industry but are likely to make the greatest impact on two areas — commercialization and quality/manufacturing, says Robert Groebel, VP of global medical strategy at Veeva Systems.
"In terms of product launch and commercialization, the role of medical affairs will naturally expand significantly as this group is asked to lead an increasing number of scientific engagements with a growing network of healthcare professionals and influencers," he says.
"As such, medical teams will need to embrace enterprise systems to gain visibility and develop a broader, organizational understanding of their impact on commercial strategy and vice versa. Similarly, medical affairs will need to deepen their grasp of disease landscapes and consider how they can improve impact on healthcare decision makers, shape scientific engagement, and ensure HCPs

appropriately use precision products."
Impact on Patients  
The ultimate goal of precision medicine is to increase treatment effectiveness, says Judith Ng-Cashin, M.D., chief scientific officer at INC Research.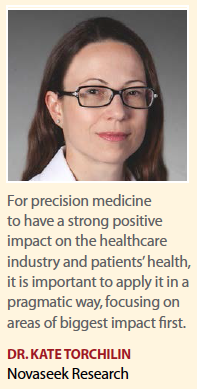 "By more accurately matching the right patient with a specific disease to the right therapy, we will improve the benefit-to-risk ratio of new treatments," she says. "No medicine is without potential adverse effects, but if we're able to treat patients with a higher probability of success, we stack the deck in the patients' favor. This has implications for better physician confidence in prescribing, more favorable likelihood for payer reimbursement, and, therefore, improved patient access to new medicines."
Industry leaders say precision medicine will benefit patients by delivering safer, more effective medications. The obvious benefit for patients is the hope that more precise, individualized treatment will lead to better, more meaningful responses and lasting outcomes.
Precision medicine is "patient-centric" medicine, says Rajneesh Uzgare, Ph.D., medical strategy, Fingerpaint.
"It acknowledges the multifaceted nature and varied manifestation of the disease in each patient and proposes to use robust, validated treatment regimens designed specifically for that patient's disease," he says. "Improving outcomes through more holistic approaches to diagnosis and treatment is a key goal of the Precision Medicine Initiative, and as such the potential benefits to patients are significant."
Lee Fraser Ph.D., senior VP, group director science and medicine, at Digitas Health LifeBrands, says currently the success of any therapy is measured in terms of patient outcomes.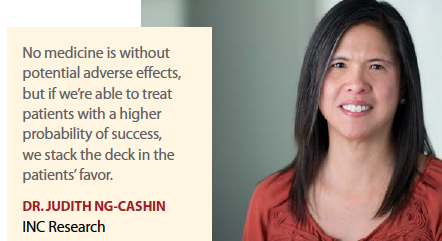 "We should expect precision medicine to be no different," he says. "By identifying the underlying nature of the disease and targeting therapies accordingly, we should expect better activity and efficacy, less off-target toxicity, more predictable performance and shorter cycles of waiting to see if ineffective medicines work before moving on to other options. Moreover, the ability to predict outcomes includes not just patients who will benefit from a given therapy, but also may identify people with genotypes that may predict given toxicities and other adverse events."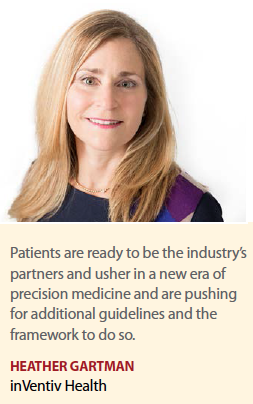 "Precision therapies hold particular promise for children," says Annette Leslie, co-founder, Carson Leslie Foundation. "Through genetic profiling, we are increasingly able to better understand a child's specific cancer tumors and direct therapies in a much more targeted way as opposed to traditional treatments that tried to treat all cases of medulloblastoma, for example, in the same way."
Precision medicine also holds great promise for patients with rare and hard-to-treat diseases but we still have progress to make to truly get there, says Heather Gartman, managing director, inVentiv Health PR Group DC, and global CTR lead, inVentiv Health.
"The issue we face is that to have true precision medicine we must involve the patients from the beginning of the development of compounds into treatments," she says. "We know that many biopharma companies are just at the beginning of figuring out to how to truly partner with patients in the clinical stage as the internal frameworks are not set up yet. In addition, both regulatory bodies and payers must accept and welcome patient-reported outcomes and real-world data when making their decisions and decide that quality of life is important in all diseases. From what we see and hear, patients are ready to be industry's partners and usher in a new era of precision medicine and are pushing for additional guidelines and the framework to do so." (PV)
~~~~~~~~~~~~~~~~~~
Precision Medicine Insights…

Glen de Vries
President, Medidata
Precisely identifying the patients who will maximally benefit from a particular therapy, and then being able to objectively measure the outcome of that intervention, will change the way drugs are developed, priced, and marketed. Simply put: There will be better outcomes, and in some cases, less confusion with regard to the best possible course of treatment.

Lisa Giles
CEO, Giles & Associates Consultancy
The Precision Medicine Initiative has advanced the assignment of patients to clinical trial arms based on therapeutic inhibition of driver genetic alterations. The scope of precision medicine broadens as we understand more about cancer pathobiology. As we gain greater insights into the evolution of driver genetic alterations, and can better predict their impact on patient and therapy selection.

Sharon Karlsberg
Principal, ZS
There will be an improved value proposition for payers and patients alike. Payers will know that only the subset of patients who express predictive biomarkers will receive treatment, raising the likelihood of positive outcomes for patients.

William King
Founder and Executive Chairman, Zephyr Health
A new commercial model is emerging with the advent of precision medicine, changing the way biopharma companies connect with customers and market products. Engagement strategies today must be insights-driven and as personalized as the product being marketed to be effective.

Alexander Morin
Manager, Manatt, Phelps & Phillips
The ability to prevent disease altogether using the principles and approaches of precision medicine could not only save lives and extend the overall quality of life for patients predisposed to certain diseases, but also prevent the need for lengthy, costly treatment regimens that in some cases create additional healthcare challenges through various short-term and long-term side effects.
~~~~~~~~~~~~~~~~~~~~~~~~~~~
A Selection of Biopharma Approaches to Precision Medicine
Blueprint Medicines

Kate Haviland
Chief Business Officer
Blueprint medicines
Precision medicine has the opportunity to greatly enhance how we research, develop, and practice medicine. Although advances have been made in precision medicine, this vision has a long way to go before it becomes a reality for many patients.
At Blueprint Medicines, we are pursuing precision medicine through our efforts to redefine cancer by targeting a primary genetic driver across a variety of tumor types.  We believe this targeted approach may enable a more efficient path to discovering, developing, and commercializing potentially transformative new therapies.
Blueprint Medicines is developing a new generation of highly selective and potent kinase therapies for patients with genomically defined diseases. Since starting operations in 2011, the  company has advanced two lead drug candidates, BLU-285 and BLU-554, into three Phase I clinical trials.

Ali Fattaey, Ph.D.
President and CEO
Curis
Precision medicine, by definition, implies that the use of a particular medicine is based on a known specific feature of the patient or their condition, and therefore the patient should have a higher likelihood of benefiting from treatment with such a medicine.
The value of a given medicine is the sum of two things:  the level of clinical benefit it provides, and the degree of predictability that it may provide that level of benefit upon treatment.  For our industry, based on this equation, the more precise or predictable a medicine is, the greater its value.
Curis is focusing on the development of drug candidates in the fields of immunocology and precision oncology. The company has two candidates in development.
CUDC-907 is a small molecule inhibitor of HDAC and PI3K enzymes being investigated in a Phase II trial in patients with MYC-altered diffuse large B-cell lymphoma and in a Phase I trial in patients with MYC-altered solid tumors. CA-170 is a small molecule antagonist of PD-L1 and VISTA immune checkpoints in a Phase I clinical trial in patients with advanced solid tumors or lymphomas.

Hugh O'Dowd
CEO
Neon Therapeutics
Neon Therapeutics is an immuno-oncology start up, formed in October 2015, which is developing neoantigen-based therapeutic vaccines and T-cell therapies to treat cancer.  The vast majority of neoantigens are patient-specific, thus the approach of our lead program, NEO-PV-01, is to interrogate the tumor for its mutations via DNA and RNA sequencing, process these mutations with highly sophisticated algorithms to determine the best immune targets, then generate fully customized vaccines that are individualized for every patient, essentially the most intimate form of personalized medicine.
Our first clinical trial is under way combining NEO-PV-01 with an anti-PD-1 checkpoint inhibitor.

Alan Shuldiner, M.D.
VP and Co-Head, Regeneron Genetics Center
Regeneron Pharmaceuticals
We know that precision medicine will be a huge part of the future of drug discovery and development, and the establishment of our Regeneron Genetics Center nearly three years ago reflects this belief. It's always been true that effective medicines must be based on a deep understanding of biology, and new technologies enabling access to the genome have allowed us to go even deeper.
Regeneron discovers, invents, develops, manufactures, and commercializes medicines for the treatment of serious medical conditions. The Regeneron Genetics Center has built one of the world's most comprehensive genetics databases, pairing the sequenced exomes and de-identified EHRs of more than 100,000 people so far. The RGC conducts gene sequencing projects, functional biology, disease modeling and the translation of genetics findings into Regeneron's preclinical and clinical pipeline.
The company is using this database to identify new drug targets and therapeutic indications, to validate our existing programs and to build better-informed clinical
trials.

Rami Levin
President, North America
Sobi
While precision medicine is impacting multiple functional areas of the industry, we believe its greatest impact is in the "D" portion of R&D.  Massive clinical trials of all comers will no longer be commonplace. Moving forward, companies will design trials more precisely, selecting patients that are most likely to benefit from treatments, with the ultimate goal of driving greater response rates.
Precision medicine is about transforming how we look at communities. It's about bringing the humanity back and valuing all lives.
Sobi is an integrated biopharmaceutical company whose product portfolio is primarily focused on hemophilia, inflammation, and genetic diseases. Sobi was recently granted orphan designation by the European Commission for SOBI003, a  chemically modified human recombinant sulfamidase for the treatment of mucopolysaccharidosis type IIIA (Sanfilippo A syndrome).