Combination products are products that combine two or more different types of FDA-regulated products, including drugs, biologics, and medical devices. Regulators are working to make this process easier with the establishment of the Combination Product Council, identifying process improvements, and facilitating communication between agency centers.
Combination therapies are a natural outgrowth to the evolution of our industry, says Jeremy Levin, D.Phil, CEO, Ovid Therapeutics.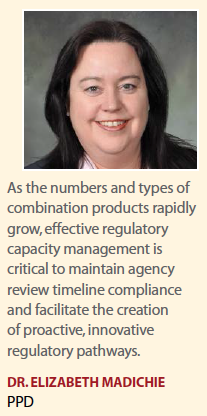 "I believe they are the future of many new medicines," he says. "If you look at the early history of drug development, the first drugs were seen as magic bullets, meaning they did one thing, hit one target, and they were successful. Conceptually, our industry has sought to create these magic bullets. However, we discovered over time that biology is exceptionally complex and combination therapies were or will be necessary to defeat some diseases."
Dairine Dempsey, Ph.D., VP, strategic regulatory affairs, ICON, agrees that combination products involving diagnostic devices and drugs or biologics designed to be used together in the clinical setting are the future and the need for both coordinated research and regulation in this area will be critical to new drugs making it to market.
More and more, researchers are discovering new advantages to combination therapies, which are driving an increase in product research and development.
"The increase we see in combinations is being facilitated by two key factors — science and collaboration," says Paul Biondi, senior VP, head of business development, Bristol-Myers Squibb. "The significant advances in science and therapeutic technologies have given us access to a tremendous amount of information that can unlock our ability to attack disease through a variety of mechanisms that include understanding the disease itself down to the cellular level, as well as how a disease reacts to one or more medicines."
Steve Sibley, VP, global submissions and submission leadership at Synchrogenix, a Certara company, says there are several main factors influencing the increased research into combination products.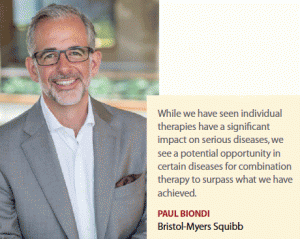 "Combining two products that a patient needs to take concurrently into a single administration improves compliance," he says. "Taking two proven products and combining them to create a new product represents a relatively untapped potential for patent protection and market exclusivity. Furthermore, manufacturers' ability to formulate multiple products into a single capsule or tablet has increased significantly, making combination therapies more feasible."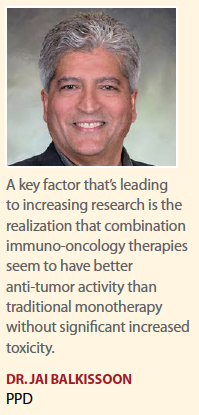 It has been shown that combination products can bolster safety and effectiveness compared with either product used alone, says Greg Dombal, chief operating officer, Halloran Consulting Group.
"Bringing safe and effective products to market is the single charter that life-sciences organizations live by, and this is what makes the development of combination products so attractive," he says. "Additionally, manufacturers are continually looking for new growth opportunities, and combination products are an efficient driver. They can look to expand use of existing product lines and breathe new life into the organization's product development pipeline."
This is especially true in the area of cancer.
"Particularly in oncology, cancers can metastasize and become resistant to therapies over time, therefore we see tremendous potential in combination approaches," says Bill Hinshaw, executive VP and head, U.S., Novartis Oncology. "With the advent of personalized medicine, we are also able to use targeted combination treatments for specific patient subsets."
A key factor that's leading to increasing research is the realization that combination immuno-oncology therapies seem to have better anti-tumor activity than traditional immuno-oncology monotherapy without significant increased toxicity, says Jai Balkissoon, M.D., executive medical director, oncology, global product development at PPD.
"This has resulted in greater collaboration between small and large pharma to develop the next best combination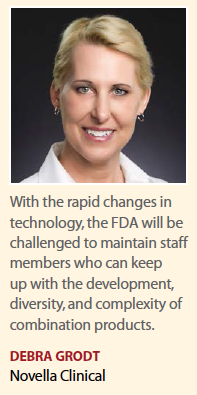 therapies," he says. "Some of these active checkpoint inhibitors are becoming standard-of-care backbone therapies that sponsors combine with their novel agents. With the excitement and clinical activity that has been seen with immunotherapy in solid tumors, sponsors are rapidly moving their immuno-oncology development strategies into hematologic malignancies, creating another level of competition between sponsors."
Dr. Levin says oncology is not the only area where combinations of therapies are important.
"We've also seen important combination therapies in cardiology, most recently with the approval of Entresto from Novartis, one of the first new drug combinations to show a mortality benefit in congestive heart failure," he says.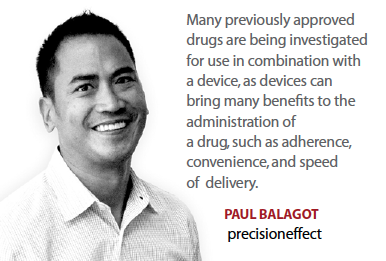 "Neurology is another area where combination therapies are beginning to be explored, and this is an area we are monitoring and beginning to explore at Ovid Therapeutics.
As we gain a greater understanding of biology in all diseases, we will see an increase into research and development of combination therapies."
Today, combinations are almost the norm in oncology, and it is rare that single agents are used for any cancer treatment, except for settings such as maintenance or late lines of therapy, says Liviu Niculescu, M.D., VP, global and U.S. oncology medical affairs, Takeda Oncology.
"Malignant tumors are complex and have multiple clones and multiple mechanisms for drug resistance that usually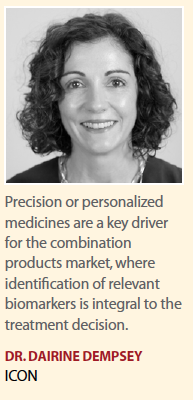 demand concomitant treatment with different mechanism of action," he says. "In multiple myeloma, a highly complex and devastating disease, triplet therapy is emerging as a standard of care, particularly for patients who have received prior treatment. There is no cure for multiple myeloma, and all patients will eventually relapse. With the introduction of novel therapies, triplet regimens allow physicians to treat the disease more aggressively than single agents or doublet therapy, potentially extending progression-free survival with minimal increases in side effects."
Pricing, Payers, and Regulators
"Combination products are designed to boost overall efficacy, to increase the percentage of patients who respond, to target specific issues with the immune response, and to strengthen the patient's underlying immune system," says Jeffrey Aroy, a consultant at Charles River Associates. "However, healthcare payers around the world are struggling with how to evaluate these combinations and how to afford them, when the combination price of two branded therapies can top $250,000 a year. In general, payers outside of the United States are signaling they will be tough on combinations. They suspect that the demonstrated efficacy gai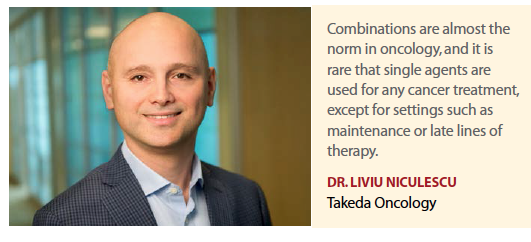 ns do not warrant the total price."
Mr. Aroy says if a product with single agent activity shows a 30% improvement in overall survival, payers can deem this cost effective, even at a slightly higher price.
"However, a combination weighing in at double the price can achieve regulatory approval and clinical use with a 30% improvement in overall survival, but still be turned down for reimbursement in a health technology assessment," he says.  Combinations, Mr. Aroy says, will need to show truly breakthrough improvement when applying to health technology assessment regimes such as the UK, France, and Germany.
"Manufacturers who own both halves of a combination, like BMS with Nivolumab and Yervoy, can provide concessions on overall price to make HTA math work, but if a newly launched agent is being used in combination with a marketed product from another company, the brunt of discounting may fall on the new product," he explains. "For this reason, developers who are jumping in on combinations with both feet might want to reevaluate whether their immune-oncology portfolio really is as valuable as forecast when the ultimate price of a second-to-market combination agent may require heavy discounting. It may make sense for compounds with single agent activity to launch as a stand-alone to establish pricing before pursuing indications in combination."
U.S. combination products are subject to regulat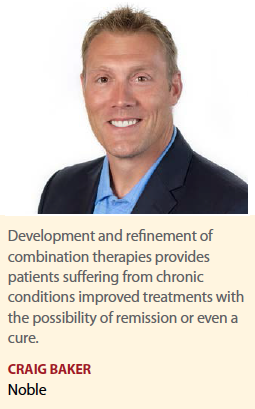 ory review and oversight by one of three U.S. Food and Drug Administration Centers, with the Office of Combination Products providing oversight to the regulatory pathway decision process.
One of the key challenges in developing drug-device combination therapies is addressing the human factor considerations, says Paul Balagot, chief experience officer, precisioneffect.
"This is especially true for patient-administered drug-device combos," he says. "Many previously approved drugs are being investigated for use in combination with a device, as devices can bring many benefits to the administration of a drug, such as adherence, convenience, speed of delivery, etc. However, with any drug-device combination that requires the patient to self-administer, a deep understanding of human factors and usability will play a key role in ensuring a good patient experience."
One of the major regulatory challenges that needs to be addressed by the FDA for combination products is ensuring the appropriate processes are in place for monitoring, receiving, and identifying product quality complaints and adverse events, says Kari Blaho-Owens, Ph.D., VP, pharmacovigilance account management, at C3i Healthcare Connections.
"In drug-device combinations especially, the type or source of the product quality complaint or AE can be a range of issues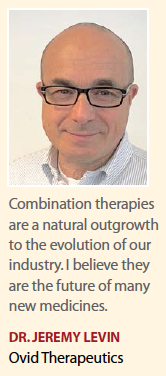 — a malfunction in the device, a mislabeling on the product package, an error in auto-dispensing, lack of patient education, or another issue," she says. "So one therapy can span the category of drug, device, or product, or all of the above, within current FDA regulations. With the expected rapid growth of this market over the next several years, perhaps the FDA might consider making combination therapies its own category to streamline the regulatory process."
As the pharmaceutical sector continuously develops and embraces new technologies to deliver innovative healthcare, the boundary between device and drug/biologic to is becoming progressively blurred, says Elizabeth Madichie, Ph.D., executive director, regulatory affairs at PPD.
"As a direct consequence, guidance and legislative pathways need to evolve to meet these opportunities," she says. "Combination product regulation is complex and at times challenges national health authorities. As the numbers and types of combination products rapidly grow, effective regulatory capacity management also is critical to maintain agency review timeline compliance and facilitate proactive, innovative regulatory pathways."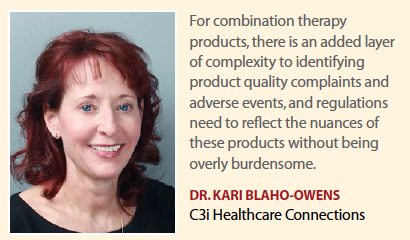 Debra Grodt, director regulatory affairs, medical device and diagnostic division, Novella Clinical, agrees that the dividing lines between drugs, devices, and biologics continues to blur year after year. She adds that now with the emergence of digital health and personalized medicine the need for clear policies and collaboration between FDA and industry will be paramount. With the rapid changes in technology, the FDA will be challenged to maintain staff that can keep up with the development, diversity, and complexity of combination products.
Mr. Dombal says the FDA has recognized the need for visibility, transparency, and clarity in the approval process for combination products by recently establishing the Combination Products Policy Council.
"The industry is optimistic that this council will improve coordination and communication within the inter-center consultation process for combination products and streamline regulatory differences between these centers," he says.
Additional challenges for combination products lie with patients themselves.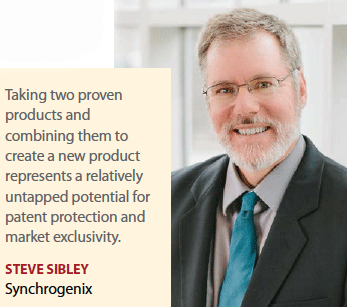 Craig Baker, executive VP of Noble, says factors such as anxiety, health literacy, and forgotten or complex healthcare provider instructions regarding self-administration create challenges for the industry post development and during the launch of combination therapies.
"Studies suggest 45% of patients skip or avoid injections due to fear," he says. "Additionally, 61% of patients do not completely read the instructions for use (IFU) with 12% of patients not understanding the IFU. Other findings show 40% to 80% of information p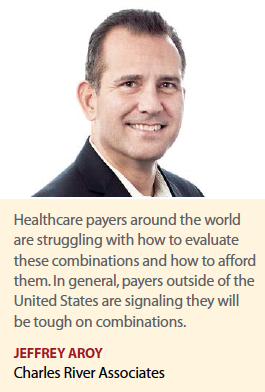 rovided by a healthcare provider is almost immediately forgotten after leaving the doctor's office."
Mr. Baker says to overcome these challenges, device and commercial teams are collaborating earlier in the process and leveraging human factor findings for product refinement.
"Collaborating earlier also allows for building and perfecting patient-centric training and education programs to better prepare for launching in a competitive marketplace," he says. "Development and refinement of combination therapies provides patients suffering from chronic conditions improved treatments with the possibility of remission or even a cure. Evolving the launch strategy to include patient-centric training products and materials such as auto injector and prefilled syringe training devices, smart packaging, and training IFUs prepares patients to correctly self-administer a combination therapy and provides a higher probability of adherence. Ultimately, developing a sound strategy earlier and addressing these challenges from onset of initial development to post launch leads to the increased likelihood of product success, competitive differentiation, and improvements in patient outcomes." (PV)
~~~~~~~~~~~~~~~~~~
Combination Products Insights…

Isaac Israel
Kitov Pharmaceuticals
The costs for developing new chemical entities has increased dramatically over the past 20 years. In contrast, most combination drug products utilize previously approved drug substances. This reduces the number of tests and trials required for development and thus, decreases the costs, time to NDA submission, and chances of failure.

Paul Giusti
Multiple Myeloma Research Foundation
At the MMRF, we are pursuing innovative clinical trial designs that will allow us to test combination therapies with a number of different treatment arms. This model, coupled with using a patient's genomic information to project the best treatment outcome, will allow better combination trials and speed actionable insights.

Eric Resnick
West Pharmaceutical Services
Innovation in biological therapies is requiring innovation in the device constituent part, resulting in unique and novel combination products to address drug product characteristics, while addressing patient usability. As with any technology, combination products are being fine-tuned with every revision.