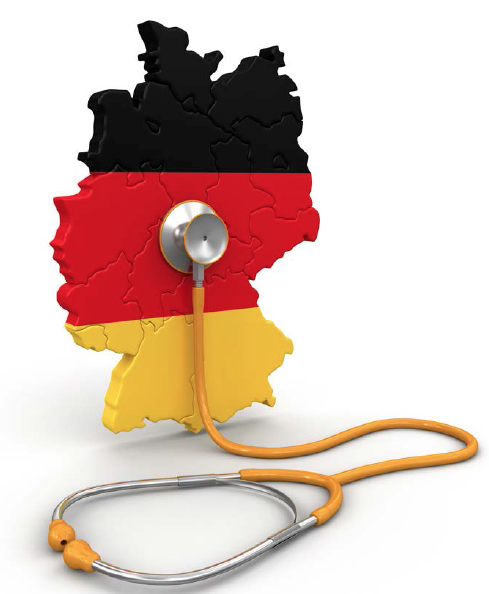 The fourth largest economy in the world and the largest in Europe, Germany remains one of the world's economic powerhouses. Despite some uncertainty brought about by Brexit, Germany is expected to continue to withstand economic turmoil.
The pharmaceutical and chemical industry combined is the country's third-largest industrial sector based on revenue, comprising €190.8 billion ($210.8 billion) in 2014. The German pharmaceutical market is also Europe's largest, with a value of $58.6 billion, according to GlobalData, which also predicts the market will grow to $65 billion by 2020.
Pharma Perspective
The pharmaceutical industry in Germany is both important and extensive, with more than 650 pharmaceutical companies in the country employing more than 112,500 people, according to Kantar Health. In addition, Linda VerPlanck, managing director, marketing insights, Kantar Health GmbH, says there are currently 579 biotech companies in the country, and two German companies, Bayer and Boehringer Ingelheim, are among the top 15 global pharmaceutical companies.
"The German research-based pharmaceutical industry is dominated by several multinational corporations, with smaller biotech players focused on a small number of new products," Ms. VerPlanck says.
Historically, Germany has had a strong pharmaceutical industry and the German government continues to provide a wide variety of supportive programs and funding opportunities that further strengthen R&D and innovation in this area, says Dr. Detlev Haack, director, research & development, Hermes Pharma.
"What's more, we have a large number of highly skilled people in Germany — both German nationals and those from other EU states, including Spain, Portugal, and Italy — who have been attracted by our respected R&D industry," Dr. Haack says.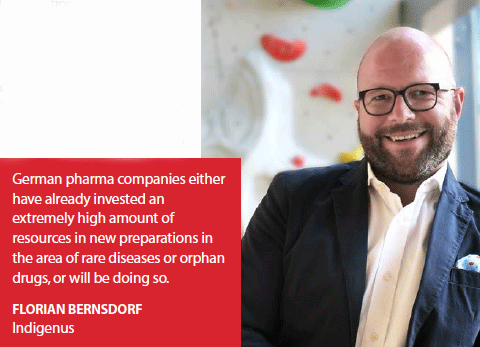 Germany also has become one of the most generic-friendly markets in Europe, and German generics manufacturer Stada is the seventh-largest generics company globally. Additionally, Bayer Healthcare is set to become the global leader in the over-the-counter (OTC) market.
Ms. VerPlanck notes that the presence of large-scale global competitors and smaller generics companies fighting for each drug approval in a lucrative market ensures a strong rivalry. Indeed, the strength of the generics market is such that today only 6% of medical prescriptions in Germany are patented drugs. Biosimilars are also growing in importance in the German market.
The country's pharmaceutical manufacturers are large exporters with two-thirds (65.9%) of pharmaceuticals produced in Germany used for export, particularly to the United States, the Netherlands, and the United Kingdom.
In terms of R&D, Germany is among the top-ranking countries in its number of patent applications for pharmaceutical products.
According to Florian Bernsdorf, partner at Serviceplan Health & Life and co-chairman of Indigenus, German pharma companies either have already invested a large amount in new preparations in the area of rare diseases or orphan drugs, or will be doing so.
"The pipelines are full again, and the market will become more specialized, more segmented, and thereby, even more competitive in the future," he says.
Ms. VerPlanck says in 2014, German companies introduced a record number of new drugs — 49 — with new active ingredients to the market, a milestone not reached since 1997.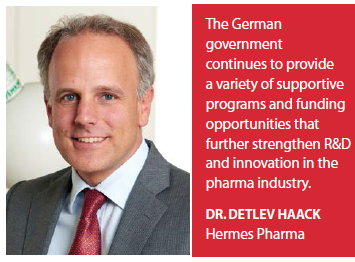 "In addition, Germany ranked second worldwide and first in Europe in the number of clinical trials in 2015," she says. "Berlin has the highest number of medical facilities participating in clinical trials, followed by Hamburg and then Munich. We are only behind the United States as the world's most important location for industry-funded clinical trials."
With so many companies focusing on R&D, there are 328 new drugs in development targeting 120 different diseases, including cancer (34%), inflammatory (18%), infectious (15%) and cardiovascular diseases (8%).
According to Dr. Haack, a scandal in India with the manipulation of clinical data during outsourced bioequivalence studies could well lead to many pharmaceutical companies returning their research back to Germany and the rest of Europe.
"This incident has made it clear just how important quality is — especially in pharma — and justifies the higher labor costs of using European suppliers," he says.
Healthcare Focus
Healthcare expenditures in Germany remain high. For example, in 2014 spending on healthcare amounted to 330 billion euros or 11.2% of GDP, according to TNS Business Intelligence. This is 2% above the OECD (Organisation for Economic Co-operation and Development) average.
Germany has a universal multipayer healthcare system with two types of health insurance: statutory health insurance (Gesetzliche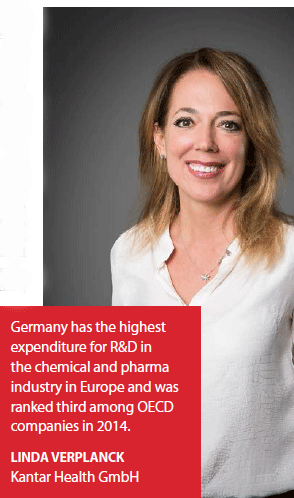 Krankenversicherung, or GKV), which covers about 90% of the population, and private health insurance, which is open to people who have an annual income of more than 50,000 euros. The private insurers (Private Krankenversicherungen Vergleich, or PKV) very often reimburse for the more expensive original drugs, whereas the GKV-insured patients only get the generics for the fixed price or have to pay a surcharge.
Until 2011, Germany had a free-pricing system, which meant drug prices were as much as 26% higher than the average across the EU, according to McKinsey. As part of a reform to deal with spiraling costs, the government introduced a new law known as AMNOG (Gesetz zur Neuordnung des Arzneimittelmarktes).
"This introduced a value-based pricing system in which the price of drugs is based on health outcomes rather than development costs," Ms. VerPlanck says.
Today, health authorities in Germany are demanding improvement in patient health outcomes and reduced cost burden for the healthcare system. As a result, Ms. VerPlanck says pharma and biotech companies need to scientifically differentiate their products and substantiate this differentiation in terms of value to the healthcare system right after launch.
"Patient-reported outcomes are one of the best measures of health outcomes," she says.
Dr. Haack notes that price pressure in Germany, as in other Western European countries, is having a significant impact. In the generics business, for example, health insurance companies negotiate prices directly with pharmaceutical companies, resulting in price decreases.
"However, as these contracts are exclusive and the volumes are high, only the largest companies can compete and, of course, using a single supplier carries risk," he says. "Already, companies have failed to maintain supplies, leading to out-of-stock situations in pharmacies and patients not receiving medications."
In terms of disease trends, cardiovascular disease is the leading cause of death in Germany, followed by cancer and dementia. Based on Kantar Health's National Health and Wellness Survey data, 45% of the adult population in Germany has been diagnosed with cardiovascular disease, compared with 37% of the overall five EU population (France, Germany, Italy, Spain, and the UK) and 43% of the U.S. adult population. Rates for smoking and obesity — two of the risk factors for heart disease — are higher in Germany than the other five EU countries.
"In the next 15 years the number of people older than the age of 80 in Germany will increase by 47.2% to more than 6.3 million," Ms. VerPlanck says. "This means the incidence and complexity of chronic diseases will increase and Alzheimer's will become one of the dominating illnesses here."
However, without reforms, one of the country's biggest challenges will be the lack of qualified healthcare professionals, she notes.
"By 2020, it is anticipated that we will have a shortage of about 56,000 doctors and 140,000 non-medical skilled workers," she says. "As healthcare professionals also age and retire, and with the current shortage trend continuing, some estimate that 42% of doctor positions will be unoccupied."
Market Trends
Among the key trends in the German market is the growing importance of digital health, with more and more partnerships being executed between IT and pharma companies.
Another trend is the increasing role patients play in managing their health.
"Health and wellness are extremely important to people," Ms. VerPlanck says. "With Germany leading the European OTC market, we are now seeing patients take a greater role in prescription decisions."
Personalization of medicines and healthcare products is another key trend, with medical decisions, practices, and/or products being tailored to the patient, Dr. Haack says.
"The pharmaceutical industry now widely recognizes that every person is different and each person has his or her own individual preferences and requirements when it comes to medicines," he says. "In addition, there is now a lot of data available, particularly from the secondary health market, which includes fitness apps. Together, these factors are driving development of personalized medicine in both biotechnology and the OTC/pharma business."
As health authorities in the country seek better value for products on the market, the role of the patient will become more integral, Ms. VerPlanck notes.
"Patients are able to help develop solutions that go beyond the pill," Ms. VerPlanck says. "This should help improve patients' adherence and compliance with treatments, therefore driving improved patient health outcomes."
The role of patient advocacy groups and a high level of access to digital wellness tools or mHealth are making pharmaceutical companies think beyond the pill and develop all in-one-solutions to help patients achieve better health outcomes, she adds. The 2017 sales forecast for mHealth is just a little more than €3 billion ($3.32 billion), and the major share will be hardware, Ms. VerPlanck notes. This is driven by the number of smartphone users, which will rise by 34% to 59.2 million in 2018.
Many of these developments, as well as patient-centric applications, add to the complexity in pharma marketing in the country, experts believe.
"Elements such as multichannel creativity, market access, content marketing, CRM marketing, analytics and ROI, social media, etc., will, in an integrated form, increasingly define pharmaceutical marketing," Mr. Bernsdorf says.
Another key trend is big data, Ms. VerPlanck says. Earlier this year, IBM opened up its Watson IoT global headquarters in Munich, a move that Ms. VerPlanck believes will further enhance the innovation already happening in Germany.
Dr. Haack says the German E-health law from December 2015 provides the legal framework for the provision of integrated IT systems across healthcare, giving doctors and hospitals access to digitized patient records and more extensive pooled data to guide the best treatment option.
"Such digitization has demonstrated the need for partnership in innovation, bringing together specialist skills, including those from outside the pharmaceutical industry," Dr. Haack says.
Hermes Pharma, for example, is participating in open innovation platforms to better understand the needs of patients and is involving experts from other industries, such as the food industry, as well as universities and other research organizations, to help. (PV)