Nearly two-thirds of Americans own a smartphone and 19% of Americans rely on a smartphone for accessing online services and for staying connected. And according to a Pew Research Center report, 46% of smartphone owners say their smartphone is something "they couldn't live without," compared with 54% who say their phone is "not always needed."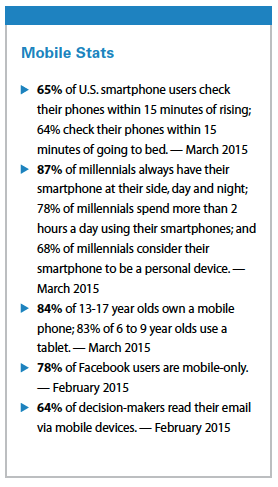 In 2017, the mobile health market is expected to reach $24.2 billion worldwide, according to the statistics portal Statista. And the digital health market is expected to reach $233.3 billion by 2020 up from $60.8 billion in 2013. During this time, the mobile health segment of the industry is expected to generate the second largest revenue share, reaching 55.9 billion U.S. dollars in 2020.
Statista analysts say mobile health is experiencing a growth trend as consumers demand more accessibility to their medical health professionals and transparency in healthcare becomes more important. However, some hesitation still exists among consumers in regard to the privacy of personal information and the security of data systems. About 33% of females reported that they were not at all comfortable sharing self-collected digital information, while about 12% of male consumers claimed to be very comfortable.
More efficient healthcare expenditures are also important to many consumers, where 43% of consumers state that the ability to reduce one's own healthcare costs is driving their adoption of mHealth applications and services as of 2012.
Statistics show mobile is surging, and in fact, according to ABI Research, mobile commerce will account for 24.4% of overall ecommerce revenue by the end of 2017, so it's no wonder that marketers and their pharmaceutical clients are paying attention. (PV)