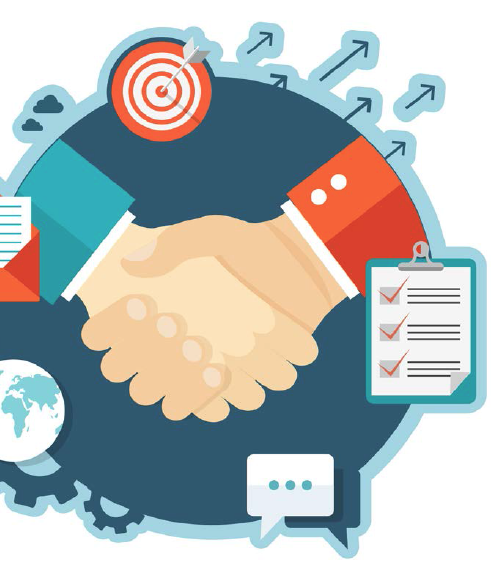 There are few sectors that have experienced more upheaval than pharmaceutical sales, with Food & Drug Administration rules, evolving healthcare policies, and the movement of many healthcare practitioners from private, independent offices to group practices all contributing to an increasingly challenging sales process, so say the experts at Illuminate. Most in the industry can agree that the sales days of yore are no more.
Experts at Accenture say rather than the end of the saleforce era, there is reason to believe that the healthcare industry's focus on delivering improved patient outcomes, along with advances in digital technologies, are creating an environment in which sales reps will be more valuable than ever. With new skills and digital tools, sales reps will address the needs of a broader network of buyers and influencers and deliver innovative solutions that help doctors deliver better service to their patients.
Accenture experts identify three factors that are changing the pharmaceutical and healthcare industries and directly impacting the traditional pharmaceutical sales rep model. The first is the reimbursement model. Healthcare reform in the United States is changing the manner in which doctors are paid. In the area of Medicare, for example, 85% of payments will be tied to patient outcomes by 2016. That rises to 90% by 2018. Second is the changing buyer profiles. Today, integrated delivery networks (IDNs) own more than 60% of physician group practices; they define treatment protocols. Doctors no longer do. Third is the digital explosion. Medical and healthcare professionals now access the medication information that sales reps previously controlled from a variety of sources, including medical conferences and conversations with their peers.
Digital technologies are particularly important. They provide new and better information in a fast and more convenient way. The effect of digital is significant. Recent Accenture research found that nearly one in four direct salesforce interactions targeting doctors have been replaced with digital interactions.
The Personal Touch
The most successful pharmaceutical sales teams in the future will be those willing to define and service customers in new ways, Accenture experts say. They will understand the needs of their increasingly diverse customer base. And they will use digital advances to change the conversation and position themselves as team members committed to helping physicians improve health outcomes.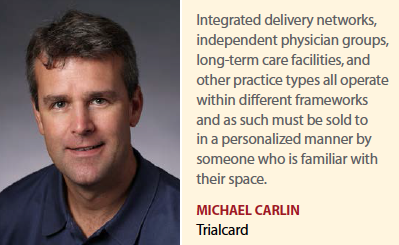 As the industry looks to shift to a more personalized sales approach in light of the shift to a more personalized approach to patients, Shaun McMahon founder and president of Illuminate, says this shift should lead to greater opportunity for the sales rep.
"As treatments become increasingly personalized, doctors need to be aware of many different drugs to be prescribed for a host of conditions," he says. "The rep's role is becoming more valuable, as he or she is able to provide the professional with necessary information, quickly and comprehensively. I see all of these developments together as welcome good news for the pharmaceutical sales and marketing sector."
Increasingly, the industry's players have access to healthcare practitioner data that can drive personalization, but David Ehrlich, CEO, Aktana, says the shift will only come when those data are immediately accessible to the actors who interact with the information, especially the sales rep.
Mr. Ehrlich adds that the data need to be presented sensibly in the context of strategy with only the most important insights rising to the top.
"This intelligent synthesis of data will determine whether the HCP experience is personalized and valued or inconsistent and overwhelming," he says.
Michael Carlin, product director, customer experience center at Trialcard, says by understanding the nuances of different types of provider segments, brands will better learn how to present their value proposition specific to each customer.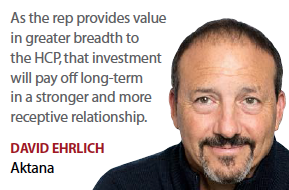 "Integrated delivery networks, independent physician groups, long-term care facilities, and other practice types all operate within different frameworks and as such must be sold to in a personalized manner by someone who is familiar with their space," Mr. Carlin says. "The credibility that this knowledge brings will lead to more personalized dialogue geared toward how the manufacturer can be a partner and an ally for the healthcare professional customer in their pursuit of providing the best possible patient care."
Additionally, Mr. Carlin says providing a robust suite of hub services for specialty and orphan products offers the single best tactic for getting patients on therapy and keeping them engaged long term, which dramatically increases the potential for positive outcomes.
"Concierge patient services, while costly to manufacturers in the short term, provide patients with resources to guide them through their journey and build the support system necessary to remain on course," he says. "Patients often fail in their treatment regimens not simply because of financial barriers but because they lack the accompanying services, such as adherence messaging and ongoing nursing outreach, to effectively navigate the challenge of their therapy. When manufacturers make the investment in providing these additional services they form a complete protocol that better ensures patients are not only introduced to therapy but put in a scenario where they can achieve success at each stage of their experience."
To make the sales approach truly personalized, Mr. McMahon says sales reps must be trained for long-term engagements with the medical professionals they serve.
"Developing a personal relationship with a medical professional requires a rep to demonstrate the value of repeated interactions," he says. "Training programs need to be developed not only around product launches, but for product sustainment well beyond the launch. Consistently armed with worthwhile information, a rep wins access, and with repeated access comes the opportunity to understand that professional's individual wants and needs."
The Tech Component
Across the board technology is improving efficiencies and reducing costs. This is also true when it comes to the sales rep/physician relationship.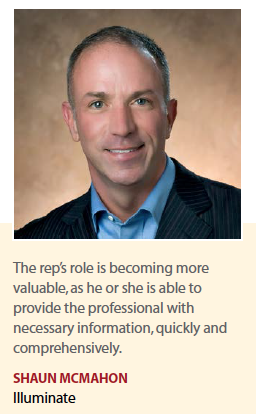 "A sales rep must be able to quickly access information while walking with a decision maker on his or her way to lunch or engaging a doctor in a quick meeting between patients," Mr. McMahon says. "Successful interaction is much more likely when well-produced marketing materials can be reviewed on tablets in addition to traditional print presentations. This shift should lead to greater opportunity for the sales rep. As treatments become increasingly personalized, doctors need to be aware of many different drugs, to be prescribed for a host of conditions. The rep's role is becoming more valuable, as he or she is able to provide the professional with necessary information, quickly and comprehensively. I see all of these developments together as welcome good news for the pharmaceutical sales and marketing sector."
Despite face-to-face physician engagements being on the decline, Mr. Carlin says today's technological capabilities enable sales reps to maximize the value they deliver.
"Technology allows representatives to offer insight, information, and capabilities that all serve to arm physicians with a more informed and efficient means of treating patients," he says. "In an era where big data drives nearly every decision, being able to present up-to-date and relevant information to physicians that helps them make informed treatment recommendations will be one of the key pillars of the new sales representative-physician relationship. Gone are the days when representatives' roles consisted of simply delivering a message and conducting transactional selling; to truly meet physicians' needs in today's environment and beyond, representatives will need to place a premium on information to work hand in hand and deliver value to their physicians that they call on."
Having a means to gather and report on data showing patient feedback about the effectiveness of a drug, for instance, can speak volumes and help physicians better treat future patients with similar conditions knowing how others responded to various courses of therapy. Mr. Carlin says the advantage comes by being able to offer mobile-ready, downloadable co-pay savings offers to integrate offers with a physician's existing health records system so that they are automatically transmitted to a patient's pharmacy of choice enables the sales representative to act as an extension of the physician and their team to help secure cost-saving on patients' medication.
Sales reps are becoming more informed about individual physician preferences, practice demographics, payer challenges, and KOL trends. This knowledge is critical in today's market where the HCP has the conflicting truths of decreasing time availability and an increasing desire to be informed. Mr. Ehrlich says CRM players are figuring out innovative ways to put the right data in the hands of the rep at the right time, in the right way.
"Moreover, reps are starting to play a coordinating role in other channel communication," he says. "For example, we know from data that when a rep sends an email, physician open rates are three-times higher. These other channels can become an extension of the rep."
The Impact in the Doctor's Office
With patients having more influence on their medical decisions, physicians are hungrier for insights into how others have applied treatment methods for best impact across varying patient populations and conditions. Mr. Ehrlich says this is a real opportunity for the rep to gather, synthesize, and communicate, obviously in a label-consistent manner, how other physicians have approached different patient populations.
"As the rep provides value in greater breadth to the HCP, that investment will pay off long-term in a stronger and more receptive relationship," he says. "Given how selective physicians must be with their time today, that's one of the greatest results of all."
Scott Dulitz, VP, market access solutions at Trialcard, says because patients are more educated today than ever before, they expect all members of their healthcare team to be experts on all of the available support services that they inevitably research online.
"Pharmaceutical sales representatives can help physicians to better support this new cohort of patients by ensuring office staff are aware of and educated on the support services offered by their company," he says. "Helping to link patients to financial assistance or adherence services aligns with the physician's goal of driving better outcomes and will ensure the representative is viewed as a valued partner in their patients' care coordination. The result is a more positive patient experience overall in that visits to their physician's office are effective not only from a purely medical standpoint but from a holistic view of care as well."
With the shift toward personalized medicine, it is becoming increasingly more challenging for physicians to identify the right drug — or combination of drugs — for the right patient at the right time.
"Sales representatives who routinely demonstrate the ability to provide physicians with a current and targeted clinical message as they assess the plethora of available treatment options will be more likely to earn trust and respect," Mr. Dulitz says. "This trend toward patient-centricity will require representatives to make the transition from a resource who simply delivers a message to one who is an active problem-solver in the patient's journey. Being able to obtain, review, and synthesize significant amounts of data will be a key trait for this next generation of sales representatives to paint themselves as an authority in the eyes of their physician customers." (PV)