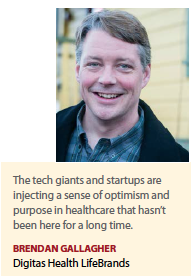 The traditional boundaries between industries and areas of specialization continue to blur. Some of this is being driven by the rise of the Internet of Things and the Internet of Medical Things, as dozens of companies such as Apple, DuPont, General Electric, Google, IBM, and Samsung are shaking up the life-sciences industry.
The healthcare industry is transforming from an inefficient and overwhelmingly costly system into one that prioritizes value above all else, says Paul Darling, a principal at global sales and marketing firm ZS.
"In an era in which value is king, healthcare businesses will thrive only if they contribute to the delivery of high-quality and cost-effective care," he says. "New entrants into the healthcare market are searching for gaps in the value chain and creating innovative solutions to bridge those gaps."
Mr. Darling says the advantage that newer entrants have over industry incumbents is starting with a fresh slate and a new perspective.
"These companies approach problems in unconventional ways, empowered by technological advancements and insights borrowed from other industries," he says. "Unlike many traditional healthcare companies, disruptors will not be encumbered by outmoded business structures and motivations."
The healthcare industry is ripe for transformation, says Kathy McGroddy-Goetz, Ph.D., VP of partnerships and solutions for Watson Health at IBM.
"The question is why it is has taken so long for technology to disrupt healthcare the way it has disrupted other industries," she says.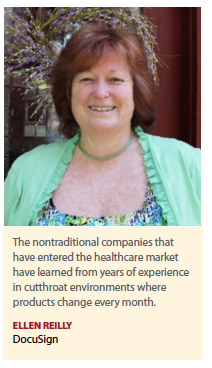 One big driver of this trend, Dr. McGroddy-Goetz says, is the consumerization of IT and more people wanting to take a much more active role in their own health.
"We are going to transform how care is delivered by providing decision support systems in different disease states and enable the delivery of innovative solutions that make the engagement more about the patients," she says. "While we have made great progress in digitizing health information, we haven't succeeded in pulling the patient into the center of the dialogue. We have a way to go for that."
New entrants are introducing different core competencies to healthcare, says Ben Currie, senior VP, digital solutions at GA Communication Group.
"We are already seeing new thinking around how to improve health through technology and how to improve patient satisfaction through a heightened focus on user experience," he says. "Some of these entrants will succeed and establish new norms for the industry as a whole."
New blood is what makes it so exciting to be in this industry right now, says Brendan Gallagher, executive VP, connected health innovations, Digitas Health LifeBrands.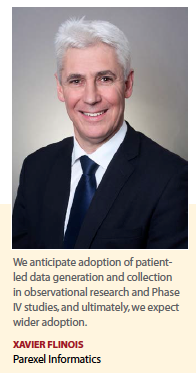 "The tech giants and startups are injecting a sense of optimism and purpose that hasn't been here for a long time," he says. "For years, we'd talk about rising prices and the complexity of the system as if there was nothing we could do about it. But now, this has all changed. Partnerships abound for those pharma companies ready to explore new commercial models and R&D techniques."
For years, the industry has collected a tremendous amount of data with limited success on how to use it at the point of care, says Patrick O'Shea, global strategy at Fingerpaint.
"Today's new platforms, applications, and devices allow for insertion of the right data at key moments when healthcare is being delivered and consumed," he says. "The goal of delivering real-time, highly personalized medical insights to reduce costs is now achievable."
Mr. O'Shea says at the heart of this technology revolution is the ability to create greater physician and patient satisfaction regarding the care delivered and received.
"Manufacturers will benefit immensely through increased accuracy and reliability of data, as well as broader patient audience involvement within their R&D process," he says. "Commercialization teams will now be armed with new analytics measuring treatment quality and the impact of treatment on the healthcare system. They will also see improved efficiencies among providers regarding when and with whom therapy can and should be used. Ultimately, we will see new healthcare practices formed that refine today's patient journey with their disease and within the healthcare system."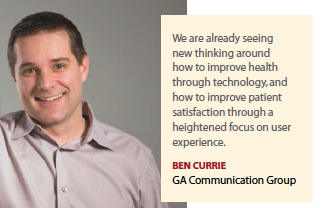 David Moore, group director of Ashfield Healthcare Communications, says the reason we are seeing disrupters emerge today in healthcare is that they have the potential to impact healthcare delivery as a result of their ability to deliver on patient expectations.
"Nothing is more important to people than their health," he says. "Their trust in their healthcare practitioner is absolutely vital. Healthcare disrupters understand this and know how to deliver. If we look at other sectors that deal with the same confidentiality issues faced by the healthcare system, industries such as financial services or legal, in both, consumers have better accessibility to services.
The drive to virtual healthcare and accessibility to healthcare will be huge. This, of course, is not true in all areas of healthcare where one might need to develop a relationship with a specialist, but even with specialists there is some room for virtual connectivity."
Mr. Moore says healthcare organizations have a huge body of knowledge, where disrupters on the other side have accessibility. As a result, there will be more joint ventures.
"It will be really interesting to see an Internet company bring in the scientific and medical experience found in pharma and healthcare," he says. "There is so much financial power with the Internet companies, they may very well move into a vertical."
There will be new and unique approaches from these newer entrants that will challenge, confuse, and excite the industry, says Jeff Sears, executive director of Avant Healthcare.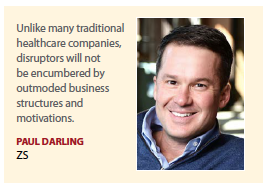 "These companies will be more willing to try out-of-the-box solutions, and may see very clear and easy paths to navigate around the legal and compliance concerns that have limited our industry from making forward progress," he says. "This isn't to say all of the new solutions providers will be perfect; surely many will encounter set-backs and privacy challenges. However, they will enter our marketplace with a fresh perspective and new approaches to address concerns that may have restricted many pharma companies from innovating."
Joe DePinto, president of Cardinal Health Specialty Solutions, says there is starting to be a convergence of science, data, and technology within the industry.
"As advances continue to be made in genomics, researchers are beginning to identify the underlying etiology behind complex diseases, and developing targeted approaches to treating patients with certain biomarkers," he says. "New entrants to the market are accelerating this process by introducing technology that will help the medical industry to better understand the etiology and disease progression, and to identify the predictors of which patients will respond to therapy. This convergence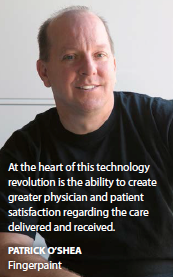 will enhance the care delivered to patients, ensuring that only patients who can benefit from targeted therapies will receive them. New technology will also help manufacturers as they develop more targeted drug products and as they look to optimize the use of products that are already on the market."
One nontraditional player in healthcare is IBM. In January 2014, IBM launched the IBM Watson unit, a business dedicated to developing and commercializing cloud-delivered cognitive computing technologies. The move signified a strategic shift by IBM to deliver a new class of software, services, and apps that improve by learning and discovering insights from massive amounts of big data.
And in April 2015, the company launched IBM Watson Health and the Watson Health Cloud platform. The unit will help doctors, researchers, and insurers gain new insights from the massive amount of personal health data being created daily. The Watson Health Cloud allows this information to be de-identified, shared, and combined with a dynamic and constantly growing aggregated view of clinical, research, and social health data.
"Healthcare is a key focus for us," Dr. McGroddy-Goetz says. "This our moonshot. It's about transforming healthcare and encompassing healthcare, life sciences, and wellness but doing it by building an ecosystem for strategic partnerships. The Watson Health Cloud is an innovation platform where folks can come and take advantage of collaborations and opportunities around technology."
IBM Watson Health offers several services. One is Watson for Oncology. Trained by Memorial Sloan Kettering (MSK), Watson for Oncology analyzes a patient's medical information against a vast array of data, including ongoing expert training from MSK physicians, cancer case histories, and more, to provide evidence-based treatment options.
"This is a decision-support tool for doctors," Dr. McGroddy-Goetz says. "Watson will review evidence and will recommend various treatments for a patient. Then it will go into the potential side effects and dosing options. And it shows the treatments that shouldn't be considered and an explanation as to why and the appropriate evidence. It facilitates a conversation with the doctor and the patient about what is more appropriate and less appropriate and what options there are available for that patient."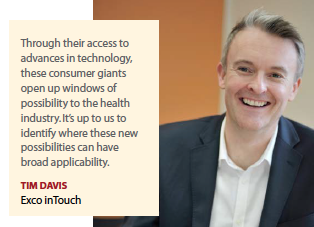 Another tool is Watson for Clinical Trial Matching, which helps doctors narrow down all available cancer trials and quickly identify potential matches, offering promising new approaches and treatment options for patients.
Another nontraditional player in healthcare is Xerox. In September, the company announced its plan to acquire inVentiv Patient Access Solutions. The acquisition expands Xerox's pharmacy solutions portfolio with an offering to help pharmaceutical companies drive product adoption and support patients in minimizing or eliminating financial and reimbursement hurdles.
Patient Access Solutions serves as a patient access and reimbursement services hub for more than 17 major pharmaceutical companies. Patient Access Solutions helps its clients expand sales by identifying uninsured and underinsured patients, and working with them to eliminate financial obstacles to obtaining prescribed medications. Patient Access Solutions' patient advocates investigate and verify benefits on behalf of a patient, and in cases with limited options, arrange for alternative means for the patient to receive the medication.
Patient Access Solutions will operate under TMS Health, a Xerox company, which provides customer care, medical information, and inside sales support services to the pharmaceutical, biotech, and life-sciences industries.
"By combining forces with TMS Health and Xerox, we're able to expand our offering to our clients, especially around reimbursement services," says Valerie Sullivan, executive VP and managing director for patient access solutions at Xerox. "We have access now to so much of what Xerox provides in the healthcare space. They service all the major stakeholders across the healthcare continuum — the payers, the providers, government agencies, employers, pharma — and we'll be folding this into life sciences. Within that, we're going to be able to leverage all of the expertise around innovation and technology through the company's innovation center."
Xerox has also made an investment in HealthSpot Inc., which has developed cloud-based telemedicine software that allows patients to interact with nationally recognized doctors. HealthSpot offers patients access to healthcare via a kiosk.
HealthSpot recently launched its consumer retail pharmacy personal health record (PHR).
HealthSpot's upgraded software facilitates Web-based telehealth visits that feature a remote exam, combining the use of digital medical devices with high-definition videoconferencing. The new software also provides an easy-to-use online scheduling tool for patients to conveniently make an appointment, check benefits, and see coverage for certain procedures.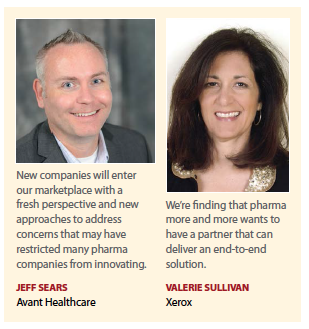 An analysis by Accenture shows that applying virtual health tools to annual patient visits can save each primary care physician (PCP) in the United States an average of five minutes per encounter, with an economic value of more than $7 billion annually across the U.S. health system.
In another collaboration, Xerox is using its prescription clinical authorization tool to help MO HealthNet, Missouri's Medicaid division, to address prescription drug abuse.
As a pharmacist fills a prescription, the tool investigates whether the patient has recently received another opioid. If so, the pharmacist receives a notification that authorization is required to verify the opiod is correctly prescribed and necessary for the treatment plan.
Since September 2013, 300 providers received notification about 1,491 patients who appeared to be over-using opioids without a supporting diagnosis. The letter provides indicators of drug abuse, along with the patient's profile and a recommendation that the doctor reevaluate the patient's treatment plan.
Within six months, there was a 73.9% reduction in the number of target patients flagged for overutilization. MO HealthNet also saw a savings of more than $44,000 in intervention-related drug expenditures during the six-month post-intervention period.
Impact on Healthcare
The nontraditional companies that have entered the healthcare market have learned from years of experience in cutthroat environments where products change every month, says Ellen Reilly, VP of life sciences and healthcare, at DocuSign.
"They bring the data-driven approach, connectivity, and customer-centricity that the life-sciences industry so needs," she says. "To focus on the patient is to connect to the patient. The likes of Google and Apple are bringing information from multiple platforms to better understand their consumer, in the way that pharma needs to leverage multiple data sources to understand and meet the needs of patients. New entrants have a great opportunity to improve healthcare and partner with researchers and manufacturers to more effectively develop and commercialize treatments."
Ms. Reilly says nimble product development cycles are the status quo for many of these entrants, whereas current pharma companies often take 10-plus years to develop and launch products.
"These new entrants have the opportunity to improve the product development cycle, saving time and costs, and improving the way that products are designed to meet the needs of specific patient populations," she says.
Mr. O'Shea says the ability to leverage the right data sets at the point of care will improve patient care and lower costs.
"No longer will treatment decisions be heavily predicated on patient-doctor interaction, which can be misinterpreted and be rife with inaccuracies," he says. "Data derived from apps and devices can now empower physicians to create personal solutions that enable patients to manage their health beyond pharmacologic therapy."
Mr. O'Shea says the single-largest benefit for providers such as hospitals and insurance companies will be the reduction of inefficiencies and inaccuracies within their operations.
"A move beyond relying on operational silos — pharmacy, inpatient, outpatient, ICU — to evaluate treatment decisions to a more holistic, big-data, patient-centric approach, which uses data beyond what is currently captured by the provider, will deliver better health and fiscal outcomes," he says.
Experts say the entrance of technology companies and engineers into healthcare and medical research is good news for patients. More interest will lead to competition, which hastens the speed of discovery and testing. These nontraditional companies are offering tools that may offer new insights and measures toward improved therapeutic options.
Mr. DePinto says healthcare providers who recognize and embrace the power of technology and data will be in the strongest position to benefit from the changes that will inevitably come in patient care optimization and reimbursement as the industry moves toward a value-based care model.
"In addition, as millennials become parents — and thus, become healthcare decision makers for their families — they will seek out physicians who know how to leverage technology to optimize patient care," he says.
Ms. Reilly says providers will be more connected to and involved in product development, and the paradigm of care will change. Technology will increasingly be a tool that allows providers to spend more time with patients and less time on arcane processes like keying in patient notes or faxing prescriptions because the industry will need to rethink its approach to care and eliminate operational inefficiencies.
"As a result, physicians will become more connected to their patients, research, and the broader care community," she says.
Industry experts says in the long term, this will only improve the opportunity for physicians and healthcare providers to better support patients, although in the short term, as the industry is still in the learning phase for digital health solutions, there will likely be some confusion.
"Faster and more accurate analytical technology, point-of-care testing, and enhanced analytical information will have a significant impact on patient/physician interaction and patient involvement in the treatment process," says Wayne Maddever, Ph.D., director, president and CEO, ChroMedx. "Companies that have these capabilities will revolutionize diagnostics as well."
Partnering with the Nontraditional Companies
Because healthcare is such a complex industry, it requires partnerships, says Dr. McGroddy-Goetz at IBM.
"We don't believe that one company by itself can transform the industry," she says. "We strongly believe it's important to work with leading companies in the industry to develop these natural solutions and show what is possible, show how the technologies can be used to advance solutions, and take advantage of the innovation that we developed more on the analytics and cloud services, the cognitive capabilities of Watson. When we work together with these companies, they have great ideas about how these technologies can be used to really advance the state of the art."
In 2015, IBM announced several partnerships in healthcare. In September, Teva became the first Foundational Life Sciences Partner for the Watson Health Cloud. Teva has chosen the IBM Watson Health Cloud as a preferred global technology platform and aims to build solutions designed to help millions of individuals worldwide with complex and chronic conditions such as asthma, pain, migraine, and neurodegenerative diseases. In addition, a joint Teva-IBM Research team will deploy big data and machine learning technology to create disease models and advanced therapeutic solutions.
Also in September IBM announced a partnership with ICON that will apply Watson Clinical Trial Matching to oncology trials. The companies aim to reduce the time and costs of drug development, while also offering patients enhanced quality of care by connecting them to relevant clinical trials. ICON will tap Watson's cognitive computing power to help automate the cumbersome process of identifying patients who meet the criteria for a clinical trial, and to analyze protocols to assess trial feasibility and identify optimal trial sites.
Additionally, IBM announced in August it is acquiring Merge Healthcare, a provider of medical image handling and processing, interoperability, and clinical systems designed to advance healthcare quality and efficiency, in an effort to unlock the value of medical images to help physicians make better patient care decisions. Through this merger, Watson will gain the ability to "see" by bringing together Watson's advanced image analytics and cognitive capabilities with data and images obtained from Merge Healthcare's medical imaging management platform.
Experts say as these technologies evolve, manufacturers, providers, and payers will have increased access to patients in addition to incremental analytics, measuring everything from time spent on apps to outcomes data.
Xavier Flinois, president of Parexel Informatics, says technologies and advancements are critical to clinical trials and to successfully developing medicines for patients.
"We see many examples of technological devices used in academic and clinical trial settings as part of an exciting trend toward mHealth," he says. "Wearables hold great promise for enhancing clinical trial outcomes. Initially, we anticipate adoption of patient-led data generation and collection in observational research and Phase IV studies, but, ultimately, we expect wider adoption.
"To make this transition faster and valid, the industry must establish common guidelines to identify all possible external variables at play and to assess their potential impact on the data collected," Mr. Flinois continues.
The new entrants will spur innovation and R&D in the industry, says Tim Davis, CEO of Exco inTouch.
"Typically these consumer giants target niche populations that are both able, and prepared, to pay for health and well-being products," he says. "Through their access to advances in technology they open up windows of possibility to the health industry. It's up to us to identify where these new possibilities can have broad applicability and sustainable impact for patient populations, and then innovate to bring them into the more traditional healthcare arena."
Mr. Davis says it remains to be seen whether true partnership with these new entrants will be possible. The maintenance and stability required for pharmaceutical and healthcare products is directly opposed to the constant evolution required to maintain leadership in consumer markets.
"Our industry will benefit most through those organizations that find ways to leverage these technologies reliably into their healthcare platforms within the necessary regulatory compliant environment," he says.
Many technology and consumer companies are chasing the life-sciences industry, hoping to participate in the forecasted revenues, says Susan Dallabrida, Ph.D., VP of clinical science and consulting, ERT.
"eCOA providers have been solicited by these new entrants which look to partner with enterprises already well-established in the clinical trials industry," she says. "However, clinical trials are a heavily globally regulated industry and many such devices do not have the requisite specifications. The partnership will need to evolve across several phases. First, there needs to be a determination that the patient outcomes data is acceptable by regulatory authorities, satisfying the relevant clinical endpoint.
Second, eCOA and similar providers will need to ascertain the feasibility for integration within existing infrastructures, and establish whether the sensitivity/accuracy of the data is sufficient to meet the expectations of data quality for clinical trials. Lastly, it will be essential to evaluate what is readily usable and acceptable by the relevant patient populations."
Ms. Reilly says the first step in a partnership is opening the door to sharing ideas and best practices that leverage the strengths of each company.
"Partner companies need to view each other with something to gain," she says. "Starting with small test projects in focused markets and producing early wins will provide momentum to accelerate partnership activity." (PV)