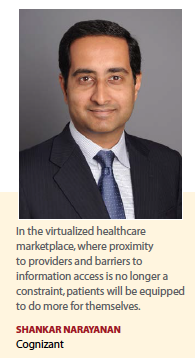 A couple of years ago, analysts at PwC noted that the healthcare industry has been slow to deliver customer-centered value. But the ground is shifting rapidly. The New Health Economy represents the most significant re-engineering of the U.S. health system since employers began covering workers in the 1930s.
The frustrations and costly contradictions of today's fragmented $2.8 trillion healthcare system are well documented. But the ground is shifting rapidly, giving way to what PwC analysts have termed the New Health Economy.
Many of the trends addressed in this special issue feed directly into the making of what the healthcare ecosystem will look like in the future, everything from the 21st Century Act to the new entrants that are disrupting the industry, and based on what we have learned the future will be based on value.
In their analysis, PwC researchers say despite breathtaking scientific achievements, the United States has a mixed record of health outcomes. Insurance coverage is expanding but millions still lack basic care. Unnecessary procedures and administrative waste account for more than one-third of spending.
Productivity gains have been modest as misaligned financial incentives have rewarded inefficiency. And the purchasers of care have no easy way to compare prices or measure the value of services they buy.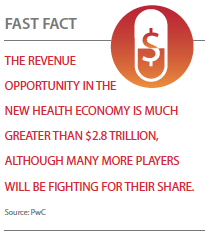 But the ground is shifting rapidly, and technological advances, empowered consumers, disruptive new entrants, and rising demand by an aging population are ushering in a new era in healthcare. PwC says while many of these trends have been emerging for some time, never before have they been accompanied by a rapid shift in dollars, triggering major changes in behavior and fundamentally altering the business.
Today healthcare revenue flows from government and employers through third-party payers, insulating consumers from true costs. In the future, purchasers — government, employers, and individuals — will direct payment to the entities providing the best value, whether it is a clinical team or a sporting goods company, a nutrition counselor, or a website.
In the New Health Economy, "patients" will be "consumers" first, with both the freedom and responsibility that come with making more decisions and spending their own money. These consumers will demand a continuum of well-being, rewarding the trusted advisers that can help achieve that.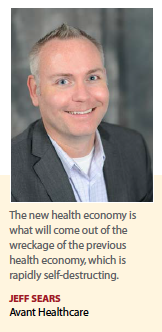 In the New Health Economy, the mere collection of data will be replaced with lightning-fast analysis delivered directly to a care team that anticipates problems before they arise.
Individuals will be co-creators of their health decisions, spending more of their discretionary dollars on tools that help them live well.
In reality, the revenue opportunity in the New Health Economy is much greater than $2.8 trillion, though many more players will be fighting for their share. In one survey by PwC's Health Research Institute (HRI), consumers indicated they are willing to spend collectively up to $13.6 billion a year of their own money on medical products such as health-related video games and ratings services.
Defining the Future
The new health economy is characterized by the collision of two opposing forces: the rising complexity and cost of innovation and the limits on payment and patient access, says Jim Robinson, president, Astellas Pharma.
"Even as science leads us toward precision medicine, our overall healthcare system is heading in a direction where patients and providers have less control over treatment decisions, and top-down cost-cutting is undermining bottom-up innovation," he says. "The healthcare industry has worked hard to clarify and better define quality measures in an effort to improve the delivery of healthcare and improve patient outcomes. A similar effort is needed to ensure that there remain incentives for the pharmaceutical industry to continue developing innovative medicines that, hopefully, will advance the quality of care and the outcomes for patients."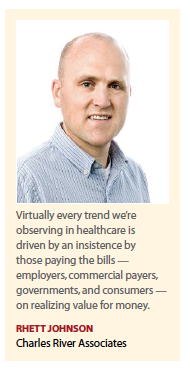 Rhett Johnson, a consultant at Charles River Associates, says the so-called New Health Economy is really just the next chapter in removing waste from healthcare delivery by getting all stakeholders focused on defining and delivering value.
"Virtually every trend we're observing in healthcare is driven by an insistence by those paying the bills — employers, commercial payers, governments, and consumers — on realizing value for money," he says. "This has inevitably led to vertical and horizontal integration in care delivery and payment, pressure to identify and eliminate over-utilization, margin pressure for healthcare products provider fees, and technological advancements that result in better care for less money."
As cost sharing increases, Michael Zilligen, president, Ogilvy CommonHealth Payer Marketing & Ogilvy Healthworld Payer Marketing, both part of Ogilvy CommonHealth Worldwide, says the New Health Economy is one in which individuals are more empowered, and the healthcare system is evolving to help patients engage to get them and keep them well.
"And there are a number of incentives driving this, from triple aim — cost, outcomes, and patient choice — to payment reform to delivery model reform," he says. "This empowerment of individuals, the role of technology and data, and the power of choice have altered the landscape dramatically. And this is as true for payers as it is for physicians and consumers."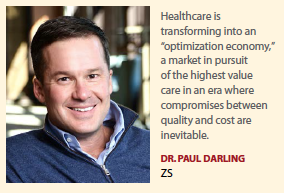 Gil Van Bokkelen, Ph.D., chairman and CEO of Athersys, agrees that the New Health Economy is going to revolve around transformational technologies that improve clinical outcomes, enhance patient — and family — quality of life, and deliver meaningful value to the healthcare system.
"Emerging technologies such as regenerative medicine, gene therapy, and novel healthcare informatics platforms have the potential to transform the way we treat medical conditions that are severely debilitating, expensive to deal with and that dramatically affect patient quality of life and independence," he says. "These include things like stroke, heart disease, serious inflammatory conditions, and other diseases where traditional medical approaches have not been able to provide effective solutions."
Cognizant's Shankar Narayanan, global head of life sciences, says in the virtualized healthcare marketplace, where proximity to providers and barriers to information access is no longer a constraint, patients will be equipped to do more for themselves. This goes beyond insurer and provider accountability to true patient accountability.
"However, on account of the inherent complexity that requires specialized medical knowledge and experience for appropriate clinical decisions, healthcare providers will still play the role of the key decision makers in delivering care," he adds. "This will result in a value-based economy across the value chain, where products and services will be rewarded and penalized for outcomes at an individual member level. It is an economy where payers, providers, and pharmaceutical companies make conscious efforts in measuring and demonstrating outcomes by sharing patient information and best practices — and at the same time — collaboratively engaging stakeholders to invest educated efforts in contributing to treatment decisions, adhering to treatment regimens, and adopting healthy behaviors."
Mr. Narayanan adds that another defining characteristic of the New Health Economy is greater personalization of medicine and broader healthcare.
"The revolution in genomic sequencing is making personalized healthcare a reality especially in oncology," he says. "Today, 70% of all lung cancer patients start their diagnosis with a genomic test.
This understanding of the heterogeneity in diseases will foster greater personalization. One third of all drugs in development today have an associated genomic or proteomic biomarker."
Paul Darling, Ph.D., principal at ZS, believes healthcare is transforming into an "optimization economy," a market in pursuit of the highest value care in an era where compromises between quality and cost are inevitable.
"This new frugal economy has emerged in response to the recent era of excess in healthcare," he says. "For decades, costs escalated without bounds, due in large part to the perverse incentives inherent in a fee-for-service healthcare model. Hard to explain, however, are the high rates of preventable illness and chronic disease that have coupled high costs throughout this period.
"In the optimization economy, healthcare players must trim excessive spending and unnecessary care out of the system," he continues. "Simultaneously, they will be incentivized to deliver more holistic, integrated care to improve patient outcomes or population health. All businesses that operate in this new economy must find their own value apex and strike an optimal balance between improving quality and reducing cost for their customers."
Jamie Powers, Dr.PH., senior industry consultant, health care and life sciences, SAS, agrees that the new health economy will be laser-focused around value to patients.
"We are already seeing early signs of it today, and I think we will see more of this in the years to come," he says. "Within the construct of a heath economy providing value, this will make controlling costs more productive. I suggest that we use the term value more often going forward instead of frugality or spiraling costs.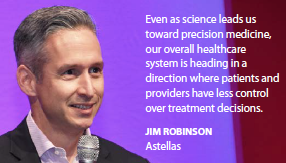 "In the spirit of delivering value-based care and products that support that mission, do we really understand the patients as well as we think we do?" Mr. Powers asks. "I'd like to see even more real-world setting studies where we study a patient's experience with some reasonable parameters but not as stringent as typical randomized controlled trials. Once we really understand the patient, the delivery of care and all the products that support it can be analyzed more intensely."
According to Jeff Sears, executive director, Avant Healthcare, the New Health Economy is what will come out of the wreckage of the previous health economy, which is rapidly self-destructing, and that no one can accurately predict what the New Health Economy will include.
"But we do know that the payer landscape is shifting, the government is becoming more hands-on, evidence and outcomes will rule the day, patients are becoming more educated and involved in their own healthcare plans, and provider power is becoming diffused," he says. "An aging patient population and chronic disease will place increasing stress on the system, requiring care consolidation and collaborative therapeutic initiatives for appropriate patient care."
Faisal Mushtaq, president Allscripts payer/life sciences business unit, agrees that the New Health Economy needs to control costs while effectively caring for an aging population that is growing exponentially.
"Our health system is the most costly in the world and not necessarily providing the highest quality of care," he says. "I would add that we need to do more than just slow the growth of healthcare costs; we need to shrink it as a percentage of GDP. Our health economy is inhibiting the rest of our economy to grow. We need to develop processes to deploy our resources more effectively, not just control costs, while reducing healthcare contribution to the national GDP. We also need to consider not just cost today for a treatment, but the ROI of a treatment across time. For example, some new personalized pharmaceutical treatments may have higher upfront costs, but a greater quality of life and lower costs across time. This type of analysis is not something the industry does very effectively today. IT companies should become active enablers of the healthcare ecosystem."
Improving the System Near- and Long-Term
In the near term, Mr. Zilligen says the industry needs to think beyond the pill.
"Today's new world order requires us all to change our perspective, from traditional brand marketing to one that is service-oriented and value-based," he says. "An approach that provides an unmatched customer experience that enables patients to access services leading to improved quality of care and outcomes is what is needed. Leveraging real-world evidence will help inform the decisions required to ultimately change the behavior of multiple stakeholders in the system."
In the short-term, Mr. Robinson says, the pharmaceutical industry can play an important role in establishing stronger relationships with key stakeholders across the healthcare landscape.
"We can do a better job of listening to the voice of our payers, our providers, and our patients early in the drug development process to ensure we have the right value measures and value proposition in place when we bring an innovative medicine to market," he says. "At Astellas, for example, we are already collaborating with one of our key payers to bring together researchers and healthcare experts to reduce inefficiencies in the management of oncology, urology, and immunology conditions."
The low-hanging fruit for most players, Dr. Darling says, will be to trim operational inefficiencies that already negatively impact their bottom lines. Also in the near term, healthcare funders are imposing new reimbursement models on providers to reward high-value care, rather than high-throughput care.
As providers become more value conscious, they will turn to manufacturers and service providers who offer the best balance between quality and cost in their existing offerings.
"Over the long term, all stakeholders in the healthcare supply chain must engage in developing higher-value products and better infrastructure for value delivery," he says. "One of the biggest barriers to the realization of high-value healthcare is that we do not effectively collect, store, analyze, and share data to drive informed and rational decisions around care. Our current system is ill equipped to determine the true value of treatments and services, especially over the long term. To improve the health of our population, healthcare stakeholders must collaborate to track and reward valuable care over a longer time horizon."
Joe DePinto, president of Cardinal Health Specialty Solutions, believes that pharmaceutical manufacturers can begin building their "value story" early in the product development lifecycle. Rather than focusing simply on clinical research to demonstrate safety and efficacy, manufacturers should consider how they can demonstrate that products deliver better outcomes and reduce total costs of care for patients and payers over the long term.
"Health economics and outcomes research (HEOR) and patient-reported outcomes will become essential tools for driving this change, both in the development phase for new products and retrospectively for existing products," he says.
On the clinical front, Ibraheem (Ibs) Mahmood, president and CEO, DrugDev, says despite advances in technology, clinical trials continue to escalate in complexity and cost. Study sponsors are businesses, not charities, and therefore cannot afford to test every viable drug candidate given unfavorable economics, which means potentially life-saving treatments are not reaching patients who need them.
"Fortunately, our entire industry is passionate about changing the situation," he says. "To do so, we need to standardize on collaborative and beautiful technology that goes beyond the incremental improvements to specific processes we see today and instead fundamentally transforms how clinical trials are run from planning through closeout. We need to aspire to a world in which clinical trial doctors can use one piece of software to guide them through what they are supposed to do and when, from legally signing up to the trial, right through to patient visits; from being paid for their work, to finding the trial in the first place. All should work through the same portal that runs their clinical trial life and seamlessly connects the investigators to everyone they need to work with across the pharmaceutical industry.
"Nobody has this type of clinical trial operating system today, despite the fact that everyone in the industry seems to want it," Mr. Mahmood continues. "Technology vendors need to partner with customers and the academic research community to come up with pragmatic approaches to achieve this goal. By focusing on collaboration, standardization, and providing sites with a beautiful technology experience, we believe our sponsor and CRO customers will be able to improve the system in the near term enabling them to do more trials and bring more helpful treatments to patients around the world.
Mr. Johnson says to achieve better value, the industry needs to define what value looks like, and it needs to measure how effectively it is being produced.
"For example, we need to establish clinically driven standards and guidelines for providers, measure whether providers achieve the standards, and then make those standards transparent to payers and patients will allow measurable quality, in addition to price and instead of vague notions of quality such as reputation, to become a basis of competition for provider services," he says. "Similar outcomes standards could be applied to healthcare products and other emerging technologies. But the first step is to define what quality or outcomes payers, broadly defined — employers, governments, consumers, etc. — are interested in paying for and figuring out how to measure them."
As stakeholders become more interconnected and patients become more savvy healthcare consumers, Scott Evangelista, president, integrated healthcare services, Quintiles, says biopharma companies must continue to look holistically at patients by incorporating educational areas such as diet, exercise and health screening to focus more on health and building consumer communities to drive better patient and population outcomes. Programs that empower patient consumers with more accurate and reliable information about their diagnosis, treatment, and outcomes will enable consumer-driven healthcare to thrive, ensuring that the right patient receives the right drug at that right time, for the right duration of care.
In the longer term, Mr. Johnson says payers, whether they may be the consumer, a third-party payer, or an at-risk provider, need to be empowered to make outcomes-based decisions. He says this can be accomplished through a combination of greater transparency and placement of value judgments in the hands of the ultimate payer.
"Value-based care models that expose providers to the costs of the care they recommend are an early attempt to ensure the decision-making and payment roles are aligned in a single organization," Mr. Johnson says. "These models need to expand and mature and be nurtured with better information."
Mr. Robinson agrees that the industry's pharmaceutical companies must find ways to put value into the system instead of just taking costs out.
He adds that this can only happen when stakeholders across the healthcare system are committed — over the long-term — to shaping new payment models and incentives together to ensure quality healthcare and deliver value to patients.
"As a foundation, all of us need only to look at the many partnerships already established across the country where models that positively impact patient outcomes while bringing value to the healthcare delivery system are being created," Mr. Robinson says.
Mr. Zillgen suggests that there needs to be a focus on customer engagement.
"A recent example is ACO requirements for engagement where some measures include receiving timely care, health education, and shared decision making," Mr. Robinson says. "All of which require or accelerate the need for greater engagement. And true innovation is what will make this possible; innovation on how we integrate services with all stakeholders in the healthcare system; innovation in data capture and analysis; and innovation in the payer, patient, and provider solutions to enhance this engagement, ultimately to improve outcomes."
Dr. Van Bokkelen says there is a need to simplify and streamline the reimbursement systems.
"We need to address the fundamental problems in the intellectual property systems to create meaningful incentives for innovators — and investors — that willingly take on the risk, cost, and years of development effort to generate, test, validate, and ultimately deliver safer and effective treatments for patients," he says. "Right now it's a very complex and conflicted system, with minimal data sharing across constituencies. This impedes the ability to create new, more effective technologies and solutions, and ultimately, that is bad for everyone." (PV)