The number of global smartphone users will surpass 2 billion in 2016, and that number is projected to grow to 2.56 billion by 2018. Many of those users are millennials, a population that is absolutely never ever without its phone.  These more than 2 billion always-on users are potential healthcare information seekers and patients, and to reach them the industry must be prepared for a future that keeps mobile front and center of its marketing and sales plans. And whether the end user is a patient or a physician, the information must be available in every screen format, be user-friendly, and fit easily into the flow of the user's decision-making process.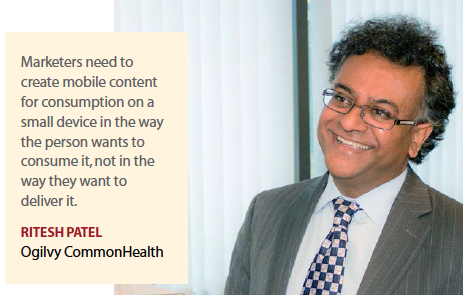 A pretty solid argument for further optimizing mobile is that smartphones are often the first connection some populations have with the Internet. According to Ritesh Patel, executive VP, chief digital officer, OgilvyCommonHealth, global mobile use is only going to continue to grow, and it may soon exceed other means of connecting to the Internet.
"In some parts of the world, like Brazil, the first time somebody experiences the Internet is via a smartphone, not a desktop," Mr. Patel says. "There are parts of this world that are leapfrogging the developed world because they start out with new technologies. They never had the archaic infrastructures, and so they're jumping straight into mobile."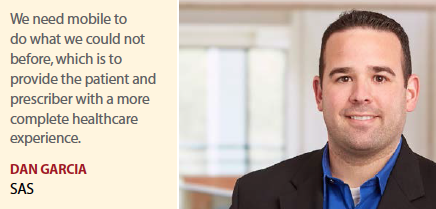 Despite mobile device ownership surpassing traditional computer devices several years ago, most organizations have still continued to address mobile advertising as an add-on to their traditional marketing strategies, says Dan Garcia, principal industry consultant, health and life sciences, SAS.
While this may provide some marginal lift, the real power lies with those organizations that have tailored their marketing approach specifically around the dynamics of mobile.
"The key with mobile is to create quick, targeted, and relevant recommendations to patients, customers, and physicians," he says. "While this sounds simple, this is a significant paradigm shift for organizations due to mobile specific factors, such as a person's location matters — home vs. in store, shorter window of influence with mobile users, and the higher volume and velocity of data that must be analyzed for creation of targeted recommendations."
Organizations need to turn from slower ad hoc analysis of information to creating real-time systems that can quickly remove non-informative data, consider numerous customer characteristics and actions, and stream the recommendation quickly to impact decisions, Mr. Garcia adds.
According to Mr. Patel, very few pharma marketers feel prepared for all of the new elements that the digital age makes available. Today, having a responsive design — a relatively new concept in the marketplace — isn't enough.
"Responsive design has been around for three years and everybody sort of ticks a box and says, 'my site's okay, it's responsive,'" Mr. Patel says. "However, much of the content is not responsive and the way people are now interacting with touch screens, much of the content is missed completely on mobile."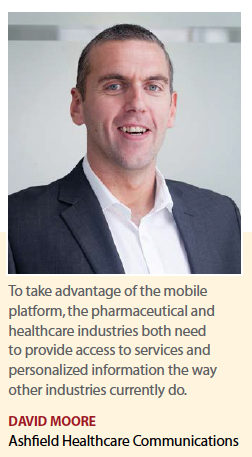 To better facilitate the mobile channel, the industry needs to consider how its messages are received via mobile. Marketers need to ensure that they create content for consumption on a small device in the way the person wants to consume it, not in the way they want to deliver it and that's a big shift, he says.
"We've moved from a very old print model to a website model over the past 15 or 20 years," Mr. Patel says. "The consumer experience on a website is completely different to the experience in mobile. Just basic things like swiping and scrolling when we interact with mobile content are vastly different to the way we interact with content on a laptop or a desktop."
To optimize mobile, marketers need to strive to empower users as well as inform them, similar to new services such as Uber, which have disrupted existing services and created new economies. In other industries, mobile technology has already changed the rules of how consumers engage with content, brands, and service providers.
"In terms of healthcare, I believe that consumers will expect to be active partners with their healthcare providers," says Sid Gokhale, chief technology officer, Guidemark Health. "The global FICO survey says 80% of people would like the option to use their smartphones to interact with healthcare providers."
While consumers already have access to more than 13,000 medical and health apps, the industry has just scratched the surface. The industry will need to make a commitment to innovation, be it mobile-native services or wearables, and have the willingness to commit to infrastructure that supports deeper analytics and an ability to adapt to the interconnected way that content and information is delivered, shared, and processed.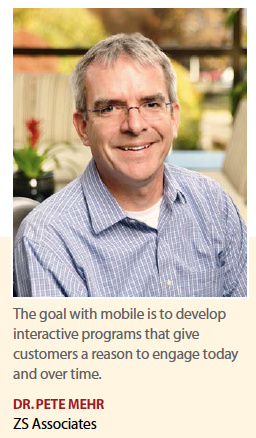 To date, most mobile applications in pharma take content that is already available in other channels and simply make it available in a mobile format, says Dr. Pete Mehr, principal, ZS Associates. This is the classic "fish where the fish are" strategy. Customers use mobile to obtain information, so pharma puts the message on a mobile platform. This push strategy — pharma pushing the message out via mobile — has had a modest impact on customer engagement and sales growth.
"There is a bigger opportunity with mobile," Dr. Mehr says. "The goal is to develop interactive mobile programs that give customers a reason to engage today and to continue to engage over time."
Pharma is just beginning to focus on developing these types of mobile apps and experiences, and pursuing this path will be very productive, he says. Customers have demonstrated that they will do this — think of mobile apps that track your heart rate, how far you ran, how many calories you ate, etc.
While the pharma industry is in the beginning stages of mobile optimization, sometimes still using it as an add-on channel, companies outside of the industry have identified the need for more mobile applications in healthcare and are taking advantage of the business opportunity.
"I think the biggest wakeup call has come from the startups that are disrupting this healthcare business," Mr. Patel says. "Almost all of these companies are completely mobile centric. In the last two years we've seen an explosion of healthcare start-ups that are from outside the industry. They're seeing an opportunity to provide a solution that is worth trillions of dollars and they aren't hesitating."
Shifting Mobile Gears
Tomorrow's marketing model needs to shift from focusing on marketing brands to concentrating more on clinical patient outcomes and increased patient satisfaction and providing solutions through mobile marketing.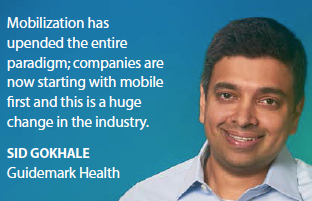 "With the wealth of information available online from regulators, patient advocacy groups, biopharma companies, and patients themselves, the effectiveness of brand awareness messaging is dwindling," says Michael Russo, executive director, digital strategy and innovation, Acorda Therapeutics. "Patients are savvier than before. They follow the research, are aware of what's going on in the industry, and are openly communicating with each other."
In this new environment, clinical outcomes and patient satisfaction as reported by their peers may be more impactful than advertisements. For example, leveraging mobile technology has the potential to reduce site visits and improve the quality of clinical data, e.g., monitoring blood pressure or symptoms in clinical trials. "Biopharma companies need to leverage digital tools like apps, websites, and other customizable mobile solutions to take part in these discussions, to help identify patients who will most benefit from their therapies and to lessen the burden of participating in clinical trials," Mr. Russo says.
Consumers today have the expectation that they can have meaningful experiences with their cell phone in everyday events and tasks. To truly take advantage of the mobile platform, the pharmaceutical and healthcare industries both need to provide access to services and personalized information the way other industries currently do.
"Giving consumers access to their healthcare information in this environment is absolutely valuable," says David Moore, group director, Ashfield Healthcare Communications. "And if we don't address it to keep par with other industries, we need to address it due to the fact that we are starting to see a more consumer-driven dynamic."
Recent consumer research points to the fact that people recognize the value of mobile technology, so there is almost no excuse for a healthcare provider not providing access via a mobile platform, he adds. Especially with more and more of the reimbursement burden landing on the individual, consumers expect the convenience, access to information and transparency through their cell phone that they have with other service entities that are important to their life.
The changing healthcare paradigm requires most pharmaceutical companies to change their focus from being solely on brand performance to the full patient experience, providing the patient with the best possible outcome at a reasonable price, Mr. Garcia of SAS says.
Today, much of the marketing is focused directly at the prescriber, while the patient receives access to websites for general drug information and potential product discounting. While staying within the confines of regulatory compliance, an organization can turn to mobile to provide patients with drug/disease management information, dosing reminders, and couponing.
"We need to look beyond the same old and look to mobile to do what we could not do before to provide both the patient and prescriber with a more complete healthcare experience," Mr. Garcia says.
For example, apps can also be used as a medium between the prescriber and patient for understanding a patient's experience on the drug or to allow the prescriber/patient to see estimated inventory levels at pharmacies to avoid showing up only to find out that the drug must be ordered. By making this information available via mobile, the prescriber can take different actions such as providing samples to hold the patient over until the prescription is ordered or adjusting the dosage of drugs to better manage the patient's symptoms and outcomes.
Mobile is a prime vehicle and an underdeveloped opportunity for providing customer engagement in the specialty markets, as well. The evolution of the pharma business model from one based on products predominately prescribed by primary care physicians to one based on products predominately prescribed by specialists is perfectly timed to take advantage of what mobile can offer.
"The need for customer engagement and connectivity — between patients, physicians, nurses, support groups, etc. — is significantly more pronounced in specialty markets than in PCP markets," Dr. Mehr says. "Mobile is the perfect channel to keep everyone connected and up to date on patient metrics, treatment options, support group meetings, insurance questions, and follow-up appointments, among other topics. We expect pharma to actively develop mobile capabilities across key stakeholders in the treatment process and keep everyone up to date with the latest information."
Beyond switching the focus from brand to service, more importantly, the industry must prepare for a fundamental shift away from marketing to more personalized education, understanding that patients' expectations are changing and they will come to expect a marketing experience that provides tangible benefits. Patient satisfaction is driven by clinical outcomes, but it is also highly influenced by the overall customer experience.
"The mobile revolution plays a role in facilitating both goals — brand marketing and also improving patient outcomes and satisfaction — but the latter is probably a largely untapped opportunity in the industry," Mr. Gokhale says. "This is an opportunity to understand what patients really want and the best way to give it to them; this will ultimately serve both the marketing needs of the brand or sponsor and, with the right set of clinical features, improve outcomes by helping with medication management, compliance, healthcare metric data collection, and more."
Next Steps
The high level of connectivity accessed through mobile continues to grow, and Mr. Gokhale sees two strong themes emerging from this growth: interconnectivity and content relevance.
"Mobilization has upended the industry," Mr. Gokhale says. "This is a huge change in the industry, and the numbers show why — an average mobile user checks a device more than 150 times a day, creating a massive reach opportunity. This level of connectivity will ultimately drive us toward a much higher level of personalized care and improved compliance."
In the future, Mr. Gokhale expects to see the Internet of Things change how the industry reaches its consumers.
"The ultimate vision is that we won't be thinking about a single device or how to optimize within a single channel," he says. "Instead, it will be about multichannel connectivity and how we meet patients and physicians where they want to be met and adapt to how they engage with content and media. For example, leveraging a Fitbit device to record the sleeping patterns of patients undergoing treatment for insomnia and feeding that data to an integrated mobile app to help with medication compliance."
Mr. Gokhale also predicts that relevancy of content and experience at the individual level will bring in a new era of personalization.
"Marketing will ultimately become personalized education, not just targeted messaging," he says.
"Consumers will come to demand it from marketers, and as marketers, we will have the benefit of richer consumer data and newer technologies such as location beacons."
This will fully integrate with the Internet of things to enable the next generation of marketing reach; it's also important to understand that this targeting will support a more proactive and helpful marketing approach.
The next place to leverage mobility is in clinical trials and patient-care delivery. Life-sciences companies need to focus on developing innovative ways to use mobile to lower the burden of participating in clinical trials. Leveraging mobile technology has the potential to permit continuous monitoring, improving the quality of clinical data by providing a health readout that is both more complete than taking episodic measurements and more reflective of real-world conditions.
While wearable technologies provide a wealth of data points for patients and their physicians, the industry must develop ways to efficiently analyze this new and larger pool of data to realize the full potential of access to this information.
"After trial recruitment and patient engagement have been mobilized, the next step is to leverage technology to make a positive impact on how we deliver patient care," Mr. Russo says. "For example, at Acorda, we have built a foundation with our MSself app, which helps multiple sclerosis patients manage their symptoms, potentially improving compliance to treatment plans and health outcomes."
Mr. Garcia of SAS says mobilized patients and prescribers introduce a large opportunity to change traditional methods of promotion.
"When patients and physicians are fully mobilized, the next step organizations need to take is to develop marketing and analytics capabilities that can analyze, score, and provide relevant communications in near real-time, following the flow of data into the system," he says. "Successful mobile promotion requires rapid understanding of a patient's interest and intent, fluidly consuming and analyzing information and then quickly passing back a highly targeted recommendation. While the direct link between the organization and the patient benefits both parties, moving a patient from trial to adoption will only occur if the communication is simple and clearly beneficial.
"Organizations also need to ensure that this shift in mode and content of the communication appears fluid and natural; hence, minimizing the requirement for the patient to take extra steps to acquire this information," Mr. Garcia continues. "To survive in the mobile era that is upon us, marketers must develop models that are centered on patient experiences and their moments of care. Mobile devices enable this seamlessly, with the ability to reach the right patient at the right time with the right message."
"If there was one thing I would suggest to marketers and industry today, it would be to make the marketing model more experience- and moment-oriented," Mr. Patel says. "The moment the patient needs something, companies need to be there. Think of moments. If I'm a patient I'm looking up information at the moment that I get diagnosed. We have to think about those moments. Those moments, if we can get them right, will enable us to further our causes with the people that we're trying to serve."
There are several challenges that present themselves as common missteps the life-sciences industry makes regarding using mobile today.
According to Donna Wray, VP, digital marketing, TGaS Advisors, many clients are not aware that their responsive design is not that responsive. Having a responsive website is good, but optimization for speed and content also needs to be made.
To determine how well a site is functioning, she suggests using a free tool from Google. Just do a search for "mobile-friendly test" and type in your URL.
Although patients and physicians may be ubiquitously be using mobile, on the clinical trial side, much of the data are still inputted through desktops, creating a significant challenge for implementing new mobile clinical trial technologies.
According to Elisa Cascade, president, DrugDev Data Solutions, the organization conducted a 2015 Investigator Survey of 572 investigators from nine countries, and 85% of the sites reported they most frequently use a desktop computer for clinical trial data collection, while use of mobile or tablets is around 15%.
"As a result, technology solutions involving a mobile device or tablet will likely require capital expense at the site level, provision of devices by the study sponsor, or the ability to use the solution on a staff member's or patient's own device," Ms. Cascade says. "And because only 83% of sites report having WiFi in patient exam rooms — 59% in India to 88% in the United States — educating sites on how to train patients for home technology use and training patients directly will be important as more patient-centric technologies become available." (PV)